Recycled products set the stage for new playgrounds
Take a walk through any new playground located almost anywhere in America and one fact becomes obvious: playgrounds just aren't what they used to be.
Designs and even materials have changed dramatically, and the reasons are simple. Adults who buy play equipment for children look for bright colors and imaginative designs - and manufacturers are responding. Safety issues have also led manufacturers to rethink basic play activities. 
Additionally, there has been a changing national attitude toward recycling. After a slow start in the 70's and 80's, recycling is now a way of life in most communities. People have come to realize that our natural resources are far too valuable to be thrown away. 
Perhaps even more significant, empty milk jugs that were once dumped in landfills are now used to provide colorful and durable play equipment.
Recreation Creations Inc., of Hillsdale, Michigan, is a pioneer in the development and construction of park and playground equipment made from post-consumer recycled, industrial reclaim and recyclable materials.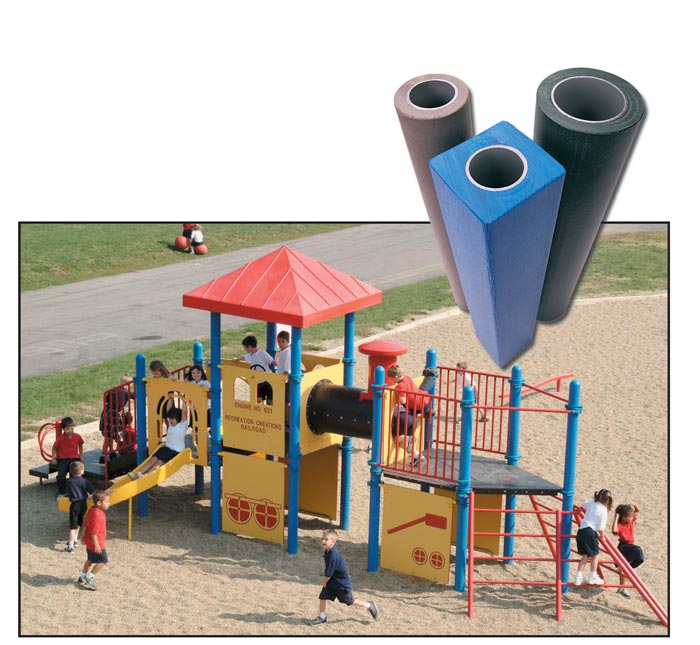 These PlasTECH steel reinforced uprights are made from 96 percent post-consumer recycled plastic with a core of more than 50 percent recycled steel.
"We care about the future as well as good playground design," said company president Curt Shaneour. "That's why we build as much recycled material as possible into our play structures. We've been selling our patented PlasTECH steel reinforced uprights for more than 10 years. The PlasTECH post is a truly superior playground product made from 96 percent post-consumer recycled plastic with a core of more than 50 percent recycled steel.
"In addition," said Shaneour, "our exclusive black Edge-ineering resilient surface containment border is 100 percent post-consumer recycled plastic."
Because of RCI's commitment to recycling, they have initiated several educational and fundraising programs designed to promote awareness of our earth's dwindling resources and to encourage recycling. 
According to Shaneour, RCI is investing in the future. 
The company began producing playground equipment in 1974 and currently offers a full line of age-appropriate, imaginative play structures and site furnishings, including benches, tables, grills, bike racks, litter receptacles, shelters and flag poles. 
"A few years ago we began designing play activities with a theme," stated Shaneour. "Our giant dinosaur structure, Megasaurus, was a hit the moment we introduced it. complete prehistoric theme play area was created with several whimsical baby dino Spring Things, a two-place Pterodactyl swing, Stegosaurus climber and educational panels. Our Salamander-saurus climber is scaled for children under five." 
The company tries to incorporate education themes into children's play experiences, while also doing their part in protecting the environment. 
For example, RCI recently added a History of Flight theme complete with a bright red Baron bi-wing climber, Kiddy Hawk climber, Nebula One Space Center, Astro Shuttle Space Explorer, Whirly Bird and ThunderJet Spring Thing. 
Since children are always looking for activities they can do together, RCI designed a one-piece multi-level slide, the Tri-Wing Flyer, with room for three to slide at the same time. RCI's Tri-Mold Poly Panels are super strength laminated panels and are 67 percent industrial reclaim plastic with permanently etched graphics and never need painting. 
By combining fun play experiences with environmentally friendly materials, RCI is leading the way for the future of playground construction.