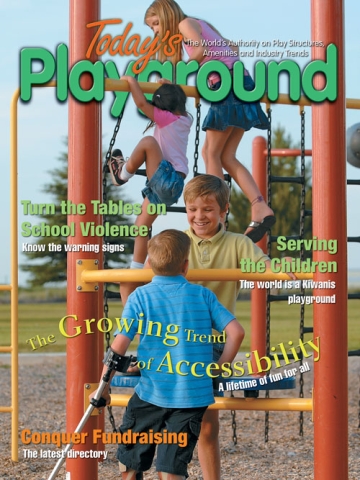 From the Editor: Play for Adults
Remembering the Importance
By Shannon Amy Stockwell 
There are a lot of reasons we play, probably mostly for enjoyment. There's really nothing like watching children play, or better yet, joining in the fun on the playground. Sometimes it's nothing more than pushing a child in a swing, but if adults knew that swinging actually burns calories and works the upper body they might be joining in this activity, in particular, more often. Tom Norquist of GameTime will testify to this. He happens to be one who isn't so content to just supervise. He gets in the game and plays.
Here are some other ideas as to why play is so important for adults. In an article on childcareexchange.com, Bonnie Neugebauer shares how adults play and why they should.
First, it is noted that adults who play normally do so with words and ideas, toys, and inventing props and the needed resources. They not only play with children but with other adults, and because it makes a person feel good to play. It is important for children to have adults who play involved with their lives. This is because these adults serve as an example of the importance of play in life. But Neugebauer also notes that a lot of adults have forgotten how to play, even some in the early childhood field.
Rigid routines to meet the demand for a productive society have taken over. Appearances and order are a driving force in society, and so spontaneity is left out of life. Dr. Joe Frost has been quoted on the importance of spontaneity in children s play, and if you look around you'll likely see many examples of the good it brings.
It is good to read about the importance of play, but it is even better to actually implement it into our lives. The playground manufacturers understand this. That is why you see them at the National Recreation and Park Association Congress and Expo, advertising with Today's Playground and also exhibiting at many early childhood-related expositions throughout the country all year long.
They are so in tune with the importance that many of them have fundraising options for playgrounds as well. Some of them have undertaken research projects on the importance of play and shared the results because they want to get the message to all who are considering playgrounds, and to those who really don't see the importance and what playgrounds do for children. They understand accessibility, safety, maintenance - all facets of the playground.
They understand the battle of childhood obesity and the role the playground plays in combating it. Get to know the manufacturers and what they are about. This is a great mission to be involved in play for all, even adults. Children mirror what they see us do; in fact, they are more likely to do what we do than what we say. It is up to us to set an example of play that can be passed down.
If you haven't read The Dangerous Book for Boys, a book that takes you back to the basics of play, including making the perfect paper airplane, you might check it out. I picked it up for my sons while I was in Tampa for the Association for Childhood Education International conference this past May. It has certainly helped my family remember how important it is to play, and how simple it can be for all.