What playgrounds manufacturers say about designing equipment
No matter where you travel throughout the world, you're bound to find some type of playground equipment. Parks and school playgrounds, as well as many backyards in family-friendly communities, have some form of children's play equipment. But what actually goes into building playground components? Most of us don't think about playground design, yet planning and manufacturing playgrounds require a lot of meticulous engineering and craftsmanship in order to achieve safe, quality playground equipment.
How does the planning process work? When designing playgrounds, many factors need to be taken into consideration. First of all, what types of materials do customers demand? What will hold up against the elements (man-made and natural)? How much will the equipment cost? Do the components meet safety standards? These and many other questions need to be answered in order to produce the highest quality as well as the safest and most cost-effective piece of equipment that a consumer can afford to buy.
GameTime's Anne-Marie Spencer says that their company considers what fits the customer's needs as well as what consumers demand. When asked what materials customers request most often, Spencer says, "It depends on their usage, budget, and region. Galvanized steel is certainly a popular choice."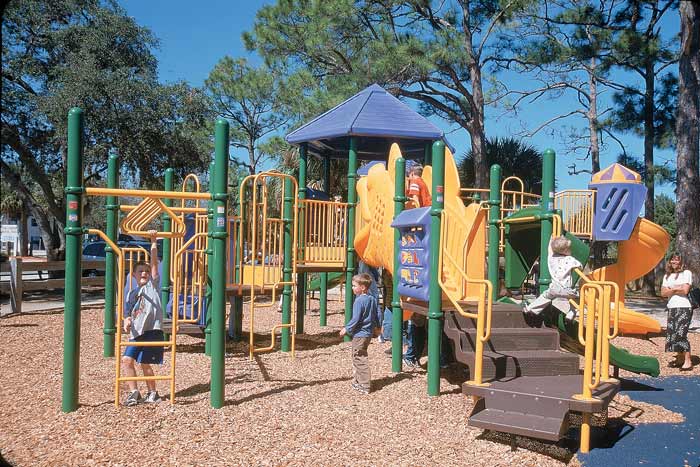 Ron Derk of Playworld Systems, Inc. says that most of their customers order steel and plastic components when building their playgrounds. Although the type of materials used plays a large role in the design of play equipment, manufacturers also take into consideration the need for handicapped features.
Disabled children like to play, too, so handicapped features need to be taken into account when engineers design playgrounds. GameTime teamed up with the Siskin Children's Institute to create the Adaptive Swing Seat, so that all children, no matter what their age or abilities, could enjoy the feeling and freedom of a playground swing. Playworld Systems, Inc. offers transfer stations, wheelchair ramps and accessible climbers for disabled children and they work to make the equipment handicapped accessible and blend it into the design of the playground.
"ADA [Americans with Disabilities Act] is met more by the combination of the designs of specific components and then the use of those components in the layout of a playground," Derk says. "We have the good fortune of being the only playground company who directly participated with the Access Board in the actual formulation of the playground accessibility guidelines, so we have a keen interest in excelling in that area." 
Spencer says that GameTime's, "pre-designed PowerScape, TreeScape and PrimeTime units have ADA requirements built in, so the customer does not have to buy additional components in order to meet ADA guidelines."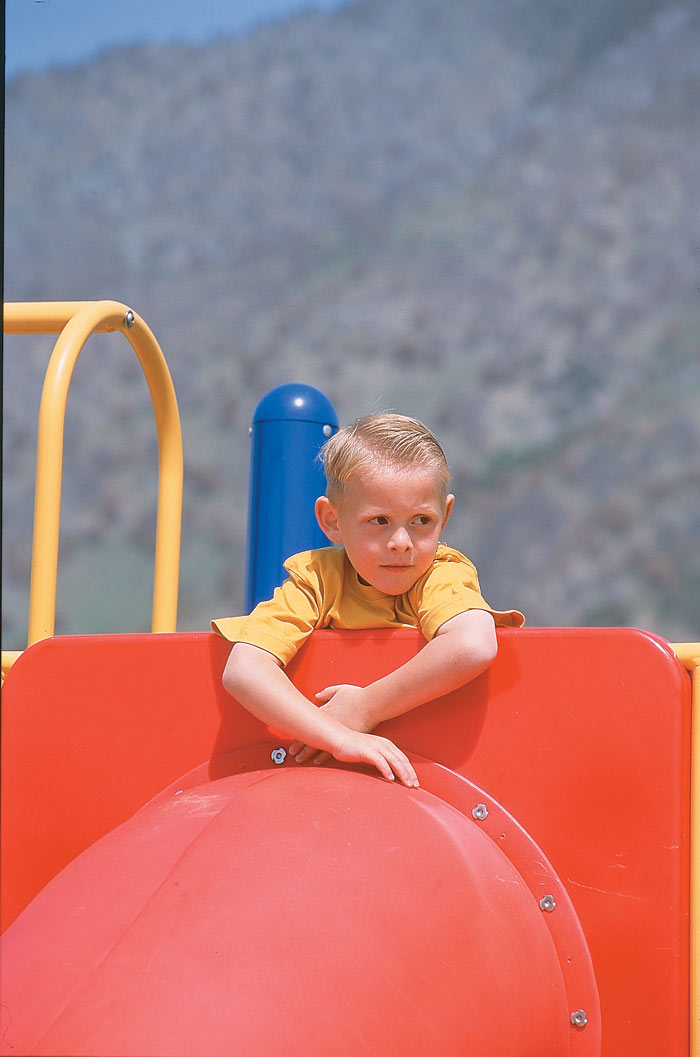 Most playground manufacturers comply with ADA guidelines and design their equipment accordingly, but in order to best assess the needs of clients, manufacturers need to know what the customer wants.
 Both Spencer and Derk say that consulting with consumers provides the best input and they try to work with customers every chance they get. "We're always looking for new ways to offer fun, fitness and development opportunities to kids," Spencer says. "During the development process, we work with experts in safety, education and quality standards to be sure the product is everything children, and their parents, demand. We are also the only manufacturer to conduct independent research with child development experts to ensure that our products attract kids' attention, offer them growth and skill development opportunities and are age appropriate."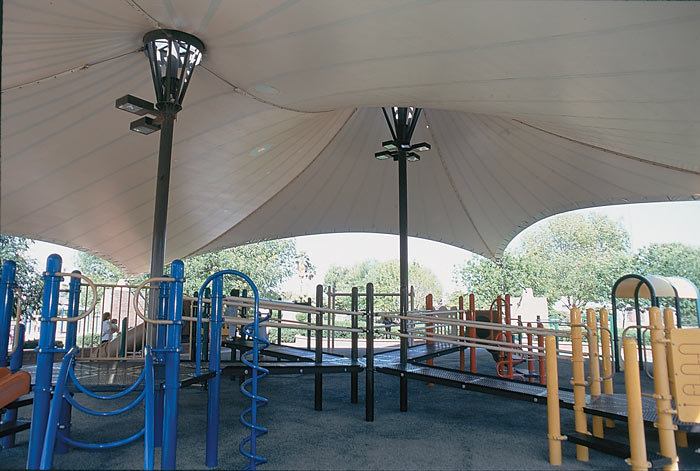 Playworld Systems, Inc. not only discusses equipment design with professionals and parents but with children as well. "We constantly seek input from our customers through focus groups and regular contacts," Derk says. "We also seek the input of the kids who will use the equipment.  After all, if the adults think it's good but the kids don't, we have all wasted our time!" 
All of these aspects play important roles in the manufacturing of playground equipment, but safety still can be considered the number one issue affecting playground manufacturers today. 
Many playground manufacturers, including GameTime and Playworld Systems, Inc., go through demanding tests to ensure their products meet playground safety requirements. "We adhere to rigorous standards when building play systems. We conform to the current ASTM, ADA and CPSC standards, and our products are certified by IPEMA," Spencer says. "We have noted safety experts review our new products as they are being designed to maximize safety, and we listen to their recommendations. We also conduct independent research to ensure that GameTime products provide children with compliant, beneficial play environments."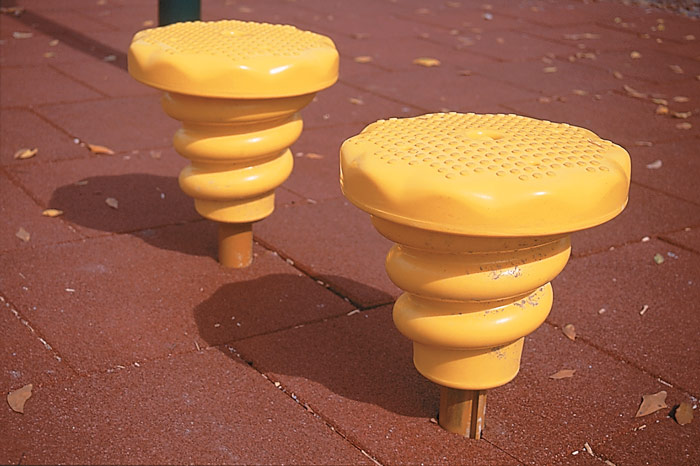 "All [of our] designs meet or exceed the CPSC and ASTM standards and all of our design team is NPSI certified. As a founding member of IPEMA, we have every product we make tested and confirmed by Detroit Testing Labs that it meets all of the standards of F1487. We also meet CSA (Canadian) standards and EU (European) standards for most products" Derk says.
Another safety issue that has recently come to light has to do with the use of CCA (Chromated Copper Arsenical) or arsenic as a wood preservative. Senator Bill Nelson of Florida has written S337, a bill calling for the ban of arsenic/CCA-treated wood in the building of playgrounds and park equipment. S337 has yet to pass, but the EPA has asked the lumber/pesticide industry to partake in a voluntary termination in the manufacturing of CCA/Arsenic-treated wood products effective for 2004. According to the EPA Web site, you can tell if the wood used to build the playground has been treated with CCA/arsenic. It states, "Freshly treated wood, if not coated, has a greenish tint, which fades over time. Generally, if your deck or playset has not been constructed with redwood or cedar, then most likely the deck or playset was constructed with CCA-treated wood."  Although most playground manufacturers have moved on to other materials such as plastics and steel, some still may use treated wood as building materials in park benches and in playground systems.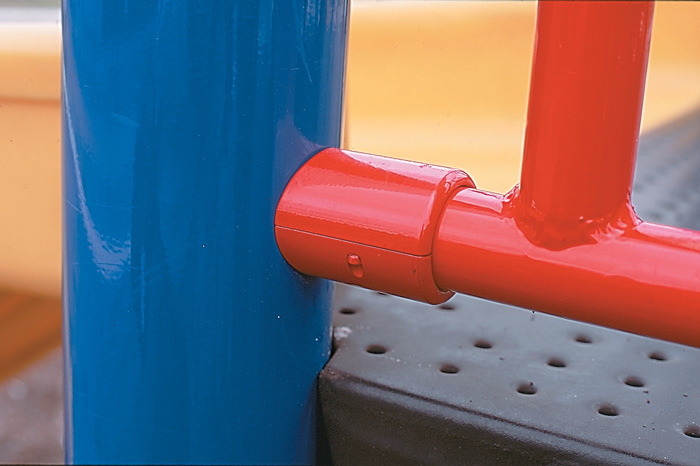 Spencer says, "We do not use CCA-treated wood in our bench selection. We offer benches created of jatoba, redwood, and southern pine, but the majority of them are made of non-wood materials, like powder-coated steel, Tuff Clad coated expanded metal and aluminum."
Derk says that Playworld Systems too has moved away from arsenic/CCA treated wood products. "We do not use any treated wood for any product and have not produced playgrounds with arsenic-treated wood for over 10 years. We eliminated the treated wood in our benches three years ago in favor of recycled plastic."
Many factors need to be taken into account when manufacturing playground equipment. The next time you drive past a playground in your neck of the woods, remember there's more to designing a play area than meets the eye.
For more information contact: