Oct. 24, 2019 (Fort Payne, Ala.) - GameTime is pleased to announce the funding recipients of the 2019 California Park and Recreation Society's State-Wide Healthy Play Initiative. This is the third year for the funding and educational partnership between the California Parks and Recreation Society (CPRS), GameTime, and PlayCore. 
In the training component of the initiative, PlayCore provided CEU-qualified professional development sessions throughout the state to share research-based best practices in playground design and programming. To help put these best principles into action, GameTime implemented the funding component of the initiative with a commitment of up to $2 million in matching funds to be distributed to agencies throughout the state. CPRS member agencies submitted applications for funding to assist with the development of playground spaces that encourage best practice designs for active behavior.
"Building a great playground is an important step in making a successful park. An equally important step is making sure it's a place that meets the needs of families for generations to come," said Robert Barron, Senior Vice President at GameTime. "The educational training and professional development provided by PlayCore equipped parks professionals with research and design best practices to create spaces everyone will love to visit, places that promote physical activity and encourage people of all ages and abilities to play together."
Each playground funded by the initiative will be designated as a National Demonstration Site by PlayCore. National Demonstration Sites are part of a nationwide research project to collect anonymous usage data about the park and its long-term impact in a local community.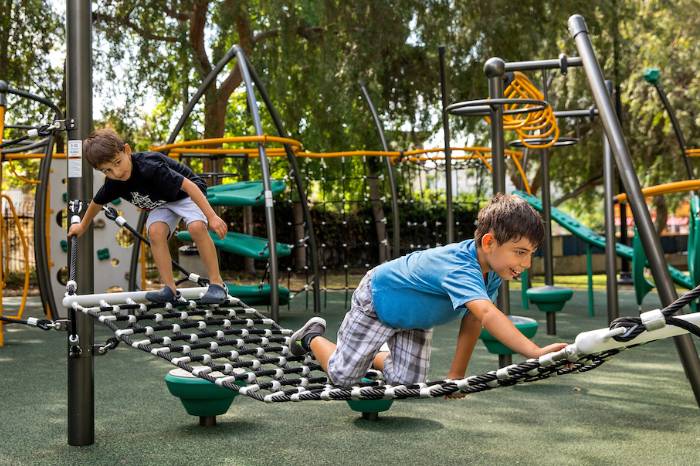 Stephanie Stephens, Executive Director of CPRS said, "We've seen over the years how our Parks Make Life Better® initiative impacts our leaders and communities. The training equips our leaders to put research into action within their communities; and in turn, we see kids and their parents having fun and being active on playgrounds that are designed with a purpose." 
The funding recipients are:
City of Santa Clara
City of Oakland
City of Atascadero
City of Bishop
Paradise Recreation & Park District
City of Davis Parks & Community Services
City of Lathrop Parks & Recreation
City of Victorville Community Services Department
City of Palmdale Recreation & Culture
Fairfield-Suisun Unified School District
City of West Sacramento Parks & Recreation
City of El Cajon Recreation Department
City of Irwindale
City of Long Beach Parks Recreation & Marine
City of Menifee
City of Encinitas
City of Watsonville Parks & Comm Svcs
City of Eureka
City of Pleasanton Library and Recreation
City of Pacifica
City of Perris Community Services
City of Selma
City of Novato Parks, Rec. & Comm. Svcs.
City of Dinuba Parks & Community Svcs.
City of Santee
City of Cerritos Rec Svcs Div
Sunrise Recreation and Park District
Fair Oaks Recreation & Park District
City of Oxnard
City of Huntington Park
The specific funding amounts for each of these projects will be determined once designs are completed and approved by the related agencies.
About PlayCore 
PlayCore helps build stronger communities around the world by advancing play through research, education, and partnerships. The company infuses this learning into its complete family of brands. PlayCore combines best in class planning and education programs with the most comprehensive array of recreation products available to create play solutions that match the unique needs of each community they serve. Learn more at playcore.com.
About GameTime 
GameTime is a leading manufacturer of commercial playgrounds, custom play spaces, and outdoor fitness equipment. Headquartered in Fort Payne, Alabama, and with distribution around the world, GameTime has been dedicated to enriching childhood through play since our founding in 1929, and work to create play environments that make the world a better place for people of all ages and abilities. Learn more at gametime.com.
About CPRS
Founded in 1946, CPRS is a nonprofit, professional and public interest organization with just over 4,000 members statewide.  We advance the profession by being the best source of resources, tools, advocacy and events that then strengthens California's public parks and recreation industry and our professionals.  CPRS unites members and creates networks across disciplines and agency boundaries to achieve together what we cannot do alone.