In this blog series, we're covering the 6 steps to creating your perfect park and playground, starting with:
Concept & Budgeting
Safety Surface & Shelter
Play equipment
Now, it's time to plan for the installation that will work best for your project:
Professional install
Self-performed
Supervised installation/community build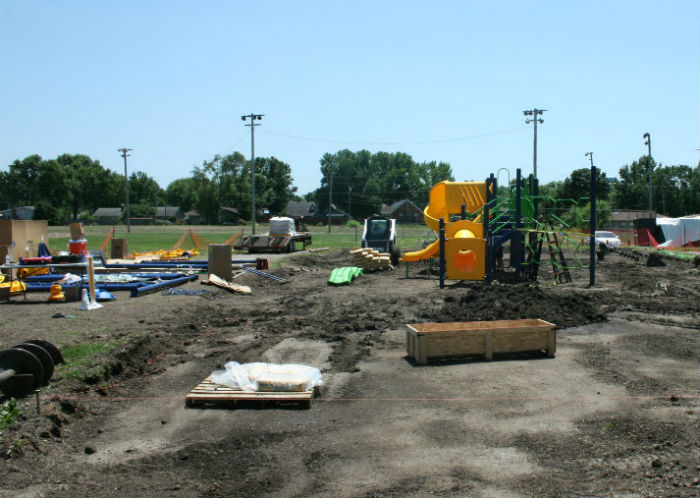 Professional Installations
Professional installations are done by experienced, insured and manufacturer certified installers who provide a turnkey service. That means they will receive the play equipment, lay out the playground, install and assemble the equipment according to manufacturer specifications and do the clean-up. It may include basic site preparation and surfacing installation, too. Typically, there is a one-year installation warranty.
The biggest advantage to a professional installation boils down to experience. This is their day-to-day job, which means they have methods to get the job done proficiently and expediently.
At ABCreative, all our installers are NPSI (National Playground Safety Institute) certified, giving you confidence that the play equipment is compliant with all safety guidelines.
Self-Performed Playground Installations
Self-performed installations mean that the purchaser or someone they choose will do the installation and assembly of the play equipment. Often, this is the least expensive installation method; however, it is important to know if your volunteers have the experience needed.
If you choose this method, here are some things to know:
Your product warranty is not affected with a self-install; however, you do not receive an installation warranty.
The components of a playground structure will arrive in a full-size semi-trailer. Many components will be packed and palletized together, making them quite large and heavy. Offloading of this equipment will be your responsibility. The truck driver will not have any tools or ability to help.
Your site may need additional work such as cleaning the site of trees or surface rock.
Always be sure to contact your local utility companies to mark water, gas and electric lines before digging. Take time to locate any private assets the utility companies do not mark such as cable, phone, irrigation, etc.
Check with the Consumer Product Safety Commission and the American Society for Testing Materials for guidelines on equipment use zones and positioning regulations.
Supervised Playground Installations
Supervised installation and/or a community build make a great combination, giving you the best of both worlds at a lower cost than a professional installation.
Many of our customers choose to do a playground installation this way because it not only builds community pride, but there is now an investment from the community in the playground. This investment leads to community stewardship, ensuring the playground maintenance is kept up, the playground is used properly and taken care of.
A supervised installation gives you the experience of a professional installer and helps with coordinating volunteers.
It is typically priced by the day. This means you can decide how many days of help are needed and fit within your budget.
This overview is based on a project consisting of a playground installation only. If your playground is part of a larger project, then your playground installer will work with the owner and the project manager to coordinate scheduling and installation.
One last note, be sure to keep copies of the following for each playground equipment area:
Detailed installation records
Inspection records
Maintenance records
Repair records
Ready to Get Your Project Started?