St. Louis, MO – SportsPlay Equipment, Inc., a Missouri-based, privately-held firm with offices in St. Louis and manufacturing plants in Park Hills, MO, has announced the introduction of a revolutionary new playground product – the Wheelchair Accessible Merry Go Round from SportsPlay.  This innovative product enables children of ALL abilities to play TOGETHER  side-by-side.   For decades SportsPlay has been a playground industry leader with its line up of various sizes of merry go rounds, but this is the first wheelchair accessible merry go round of its kind.
Wheelchairs can be easily rolled onto the merry go round surface, which sits flush to the ground.  Swing gates provide a secure setting for riders, along with handrails. Wheelchair brakes and the smartly-designed gates keep the children safely stationed on the spinning ride.  There is also a built-in governor to control maximum merry go round speed.
SportsPlay is a leader in providing play equipment for children of all abilities.  The new Wheelchair Accessible Merry Go Round complements SportsPlay's unique wheelchair platform swing, one of its top-selling playground products in the U.S. and worldwide.  SportsPlay also manufactures the JennSwing® and The Cubby® ADA swing seats as well as many other ADA compliant products for children with special needs.
SportsPlay Equipment's Director of Marketing, Scott Meyer, explained, "SportsPlay saw the need in the U.S. market to develop a merry go round which could accommodate children of all abilities, including those confined to their wheelchair.   While other manufacturers introduced inclusive spinners, there remained a void. We've been working on the development of the Wheelchair Accessible Merry Go Round for a number of years and couldn't be prouder of the opportunity it represents for these kids to play right alongside all their friends on the playground."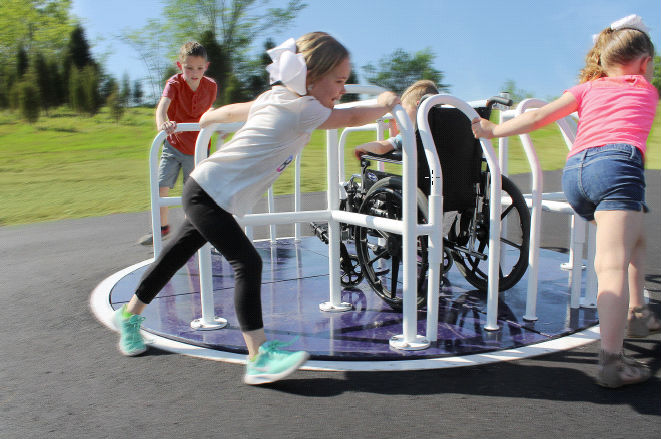 The Wheelchair Accessible Merry Go Round from SportsPlay is installed utilizing poured in place rubber safety surfacing or rubber tiles safety surfacing.  SportsPlay also plans to share an instructional video which highlights the ease of installation of the new product. This will likely be posted soon on the company's YouTube Channel, which features several dozens "how to" and demonstration videos.
SportsPlay will sell the Wheelchair Accessible Merry Go Round exclusively through its network of authorized SportsPlay Equipment distributors only.  The product has a manufacturer's suggested retail price of $6,999 yet it's hard to put a price on the fun this product provides while allowing kids of all abilities to play together.
For more information on SportsPlay Equipment, please visit our website at www.sportsplayinc.com or call 1-800-727-8180.