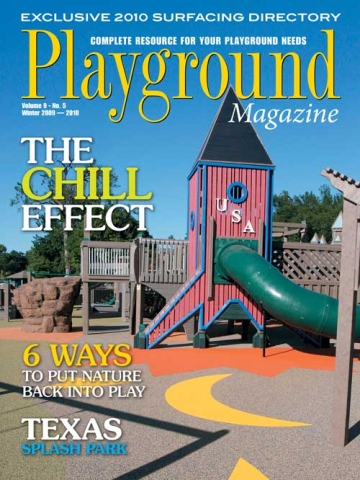 You can learn a lot of things at an event like the National Recreation and Park Association's Congress and Expo. The collection of knowledge at the NRPA is really astounding.
There were a lot of really smart people there.
I learned a great deal about the playground industry, what's currently going on, and what the future looks like. It was a great opportunity for me.
However, sometimes learning is simply a realization of sorts. My realization didn't necessarily happen in Salt Lake City at the Congress and Expo, rather it was over the two or three months prior to the NRPA event, during and then after.
This realization is more of a thought I've been having—or a series of thoughts. I'll try to explain.
Earlier this summer, I went out on a photo shoot with some children at a couple of different playgrounds in eastern Idaho. It didn't take too much coaxing to get the three kids along on the photo shoot to play on the equipment at the different playgrounds. But I was looking for certain shots and was giving directions, asking them to climb this way or use one certain piece of equipment over and over. I think it got boring for them pretty quickly because they weren't necessarily able to roam and play as they pleased.
After going to the last playground we were using in the photo shoot, we were basically done and I was looking through the photos I had taken, just to make sure I had what I thought I wanted. Momentarily, I stopped focusing on the three children. When I was done looking at my photos, I looked for the children. Interestingly, they were over in the shade of a tree, sitting on the grass, playing with some ladybugs. I say interestingly because here was this nice playground with lots of great equipment and there they were, playing with nature and immersing themselves in the outdoors.
Now fast forward to the NRPA Congress. One of the newest "movements" in the playground industry is to integrate play equipment into a more natural setting with one of the goals being to get children back into nature.
Why? One of the presenters at the NRPA Congress, Fran Mainella, explained why. "Today's children, as well as adults, are becoming increasingly isolated from nature and the outdoors."
This idea was repeated time after time at the Congress.
And some major playground manufacturers have responded by designing and manufacturing equipment that can accomplish both physical activity and being in natural surroundings like trees and water and the like. We've detailed some of those efforts in past issues of Playground Magazine, including this issue with Margaret Ryan's story, "Natural Playgrounds: Six Ways to Put Nature Back Into Play." 
Some might view the playground manufacturers' move to combine play equipment and natural settings as just another way to make money.
And the downside to that is? These companies should be cheered for making efforts to follow the research showing the positive effects of natural play.
I visited with a lady from South Africa who made presentations during a couple of different seminars at the Congress and during the course of our conversation, she mentioned how amazed and fascinated she was at the playground equipment on display at the Expo. I was a little taken back at her amazement and she, noticing my reaction, asked me what I used to play on when I was a kid. I told her it was mostly metal playground equipment anchored on top of asphalt and dirt. She said that's the way it is today in South Africa with none or very little of what was on display at the Expo in Salt Lake City.
Here's my "realization" moment, which just came to me a few weeks ago. This is a generalization I know and I know there are many contributing factors, but I couldn't help but wonder if those children in South Africa and in other similar situations aren't more connected with nature because they don't have the luxury of amazing playground equipment to recreate on. They find their "entertainment" in other ways, like nature in its most basic form. Dirt and trees and bugs and animals and water and shrubs and hills and stuff that's around them. Out of necessity, they make their own fun.
I simply find irony in the situation. Here, in America and other supposed developed nations/areas, we're trying to reconnect children with nature based on convincing research and studies that say our children do better when exposed to nature and the environment, while in South Africa or other places, they're trying to come up with better playgrounds for their children so they have something to play on.
Ironic, indeed.