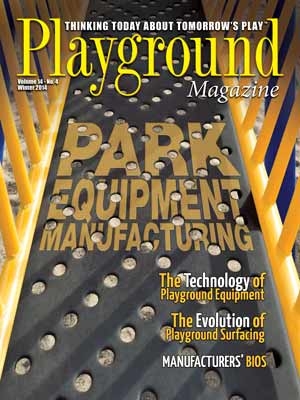 I love playgrounds, and I love hanging around playgrounds when there are kids there having fun. Having been an independent playground builder for over thirty years has given me first hand knowledge of playground equipment and playground surfacing. I was around at the beginning of the CPSC and ASTM documents, and I have watched as manufacturers have adapted to these guidelines to provide quality, durable, and safe playground equipment. 
Personally, I am very proud of our industry and the steps we have taken to ensure that parks and play areas receive great options for design, strength, play value, and safety. Today you can choose from thousands of components in dozens of colors produced from a variety of manufacturing materials. Manufactured playgrounds are taller, faster, and more fun than ever before. Arizona has a fifty-foot net climber; there are playgrounds on rooftops in Idaho and underground playgrounds in New York. There are playgrounds that are multiple acres in size and can accommodate hundreds of children of all abilities. Today's playgrounds are simply awesome.
The 1980s were tough times for playground equipment manufacturers. The development of safety specifications resulted in a period of uncertainty about the future of playground equipment and its potential. I remember building boring playgrounds in the late '80s and wondering if play was actually ruined by implementing manufacturing and safety guidelines. Of course, playground equipment and playground surfacing manufacturers have not ruined play, but in fact they have developed play equipment that moves more, lasts longer, is more affordable, and has better play value than what you or I played on.
This gives us cause to celebrate playgrounds and play areas as beneficial to our health and well-being. I am confident that the playground industry will continue to develop and manufacture wonderful play components. If you want to really tease your brain, try visualizing playgrounds fifty years from now. If you have some good ideas, get in touch with a manufacturer and get the idea into your local park!
Go play today!