Below-grade or above, molded polystyrene geofoam eliminates obstacles to imagination.
Architecture is an opportunity; a chance to explore the edges of possibility by pushing beyond the boundaries of before. Today, through a combination of inquisitive talent, careful craftsmanship, and the nearly unlimited capacity of an innovative building material, designers around the world are creating incredible environments of every scope imaginable.
Versatile Site Fill
Laura Solano, a landscape architect and principal at Michael Van Valkenburgh Associates (MVVA) in Cambridge, MA has 37 years of experience in landscape technology and sustainability.
"Nature has a willful wildness about it, an unpredictability and when it's contrasted against the hardness of a city, a harmonic conversation happens," she says. Solano enjoys solving landscape challenges in complex urban contexts where innovative approaches to stormwater management and incorporating sustainable soils and materials are vital to success. Among materials, Solano has high praise for an unsung hero in her tool kit - molded polystyrene geofoam.
"MVVA has been working with Geofoam for 25 years, using it in places that no one could imagine," says Solano of the rigid foam often incorporated as a lightweight fill beneath landscapes. Molded polystyrene is a cellular plastic material molded into Geofoam blocks, which are stacked or sculpted to create dynamic landforms in tight spaces. Atlas Molded Products is North America's largest manufacturers of molded polystyrene and strives to be an asset to designers and an ally to builders.
"Topography is essential to crafting a landscape that intuitively guides the user," continues Solano. "Geofoam allows us to add undulation in landforms built over structures without adding tremendous weight. Carefully done, the results are natural and beautiful."
One Bennett Park, a high-rise residential infill project MVVA completed in Chicago, illustrates the point brilliantly. One Bennett Park boasts an abundance of amenities and a wonderful community green space at its doorstep. An existing parking structure on the site was to be maintained, so a portion of the new building and the park were designed to be built over the garage, which is where Atlas Geofoam comes in.
"The existing garage has limited loading capacity so significant landscape contouring wouldn't have been possible if the garage deck had to be loaded with soil," says Solano. "Geofoam was key because this two-acre landscape rises as much as 24 feet above grade in some places."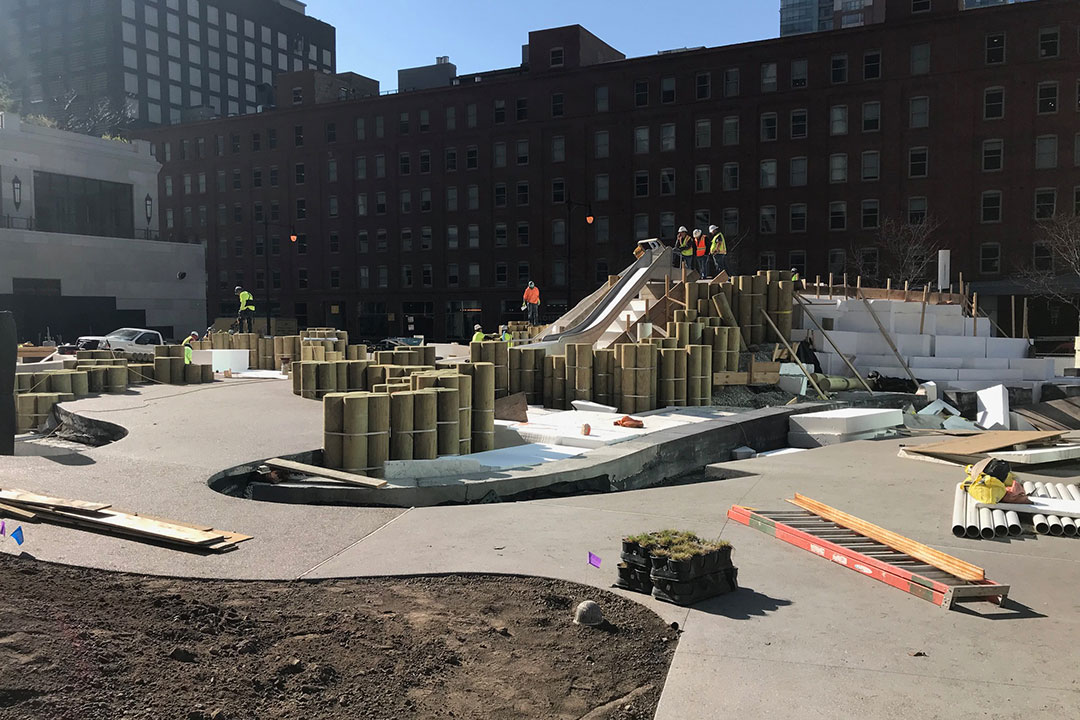 The new park includes a play pad with slides built into a hillside, a climbing forest, kid cabins, and a walking path winding around a community lawn rimmed by shrubs. A shady grove of trees offers secluded meeting spots and thoughtful breaks in fencing facilitate cross-block pass-throughs.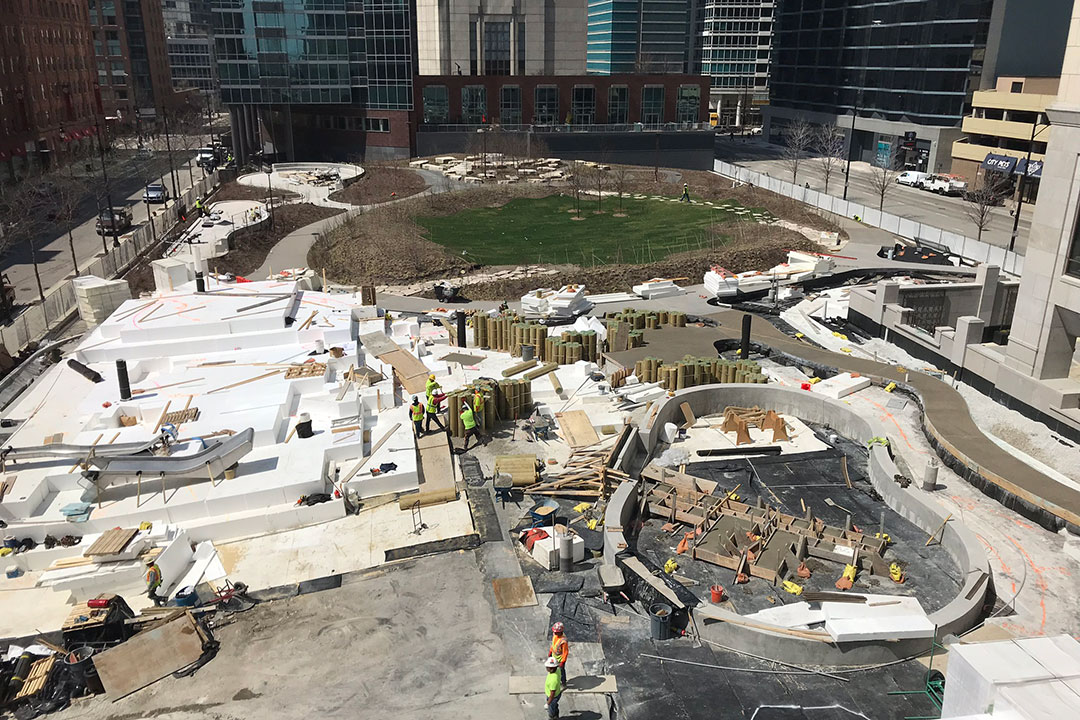 "Neighborhoods are very important in Chicago. This park offers something for everyone," continues Solano. "A flat landscape doesn't inspire; our work is sculptural with lots of topography."
Roof Deck Fill / Building Insulation 
Originally completed in 1924, Kansas State University's Memorial Stadium faithfully served as home to the Wildcats' football team until 1967, when a new stadium was opened. In the many years since Memorial Stadium has remained a fixture of campus life and in 2015 the University undertook a program to revitalize and repurpose each of Memorial Stadium's wings as forward-thinking campus amenities.
"As a K-State graduate, it was a real treat to participate in a creative transformation that will extend the life of the stadium," shares Sean Zaudke, a Vice President with Gould Evans, the architecture firm responsible for the west wing building's transformation.
Gould Evans' portion of the project entailed a complete gut and renovation to accommodate a fully modern black-box theater for the Purple Masque Theater, which had been located in ad-hoc facilities in the east stadium. One challenge K-State faced early in design was what to do with the concrete risers, originally built as spectator seating for the stadium, that double as the roof of each wing building. The plan was to transform the majority of the seating into green roofs to reseal the wing buildings, while aesthetically enhancing the stadium and making a strong statement about environmentally conscious design.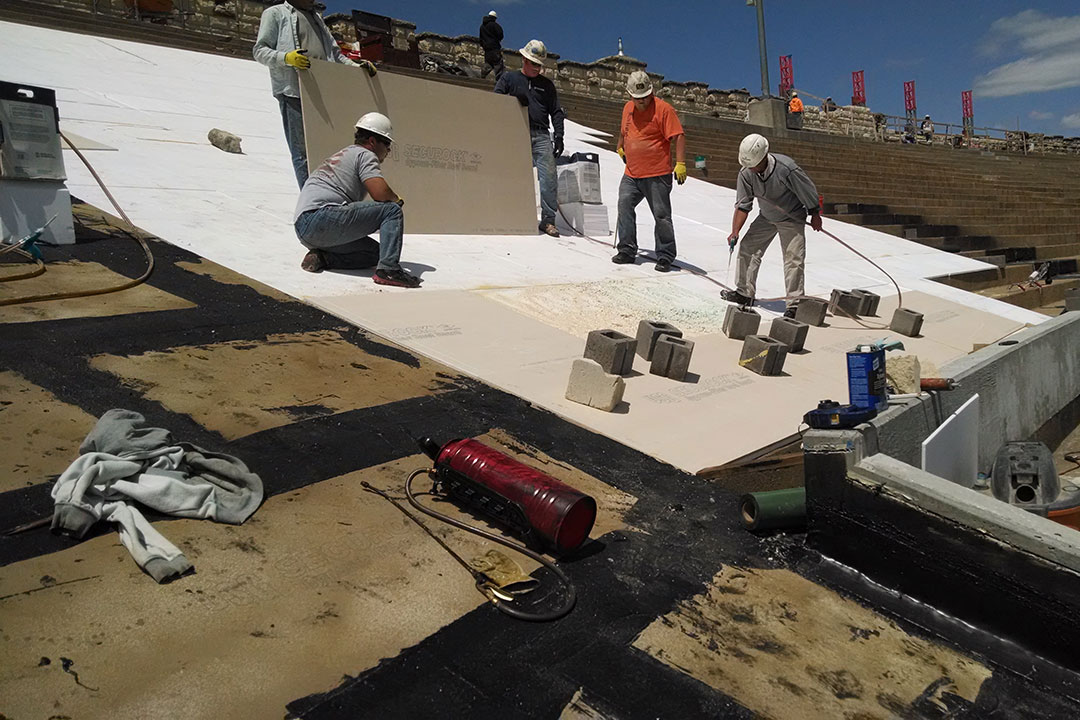 "Initially, the thinking was to patch the concrete and then cover the stands with a layer of soil to develop the desired contours," continues Zaudke. "However, when the structural loading report came back it was clear we couldn't add a tremendous amount of weight to the roofs and still comply with today's building code requirements."  
To solve the structural loading issue, the team turned to Geofoam from Atlas Molded Products. At about one percent of the weight of traditional earth materials, Atlas Geofoam provided a lightweight material to fill in the rows of seats without overburdening the roofs. Ultimately, the upper two-thirds of seating was filled reducing the seating capacity from 17,500 to approximately 1,000 per side. The Geofoam was covered with soil and planted with native species of wildflowers to create a sloped prairie hillside bisected by a running track.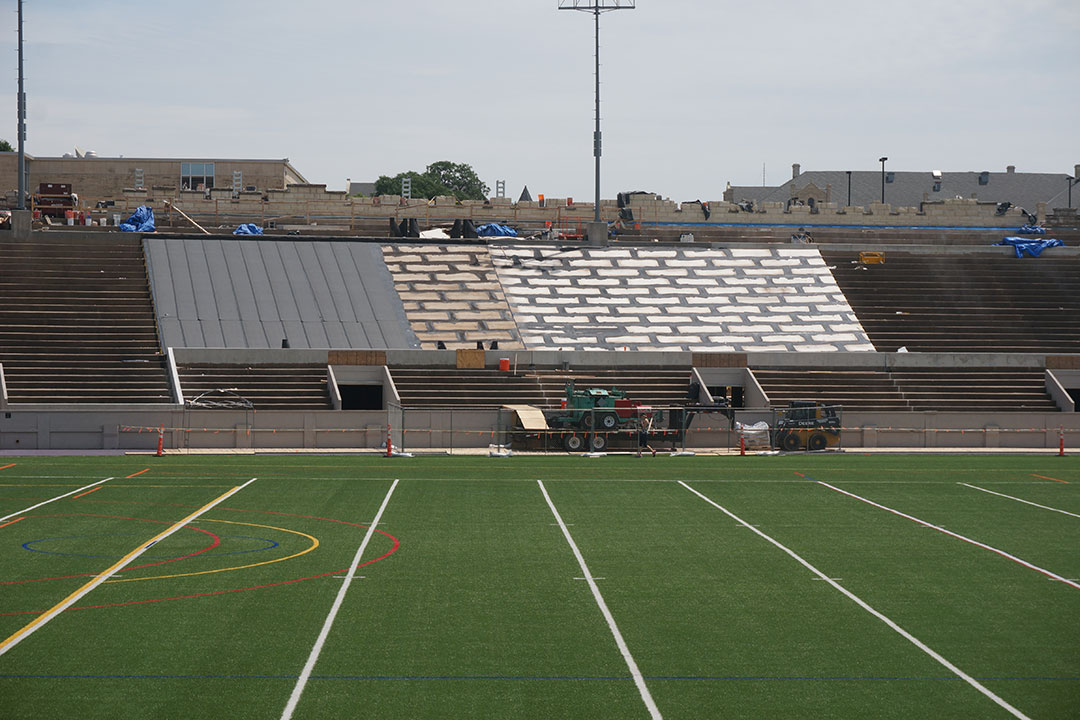 "The Geofoam is lightweight, has a tremendous R-value that remains constant over the product's entire life cycle, and doesn't absorb water. This also makes it great roofing insulation," shares Zaudke.
Creative Concepts
When FFRK Architects of Salt Lake City, UT was hired to design a new Butterfly Biosphere for Thanksgiving Point, architect, Justin Wallis, AIA knew they were up for the challenge.
"This was an amazing design opportunity from a creative standpoint," says Wallis. "We recreated a Costa Rician rain forest in the middle of Utah."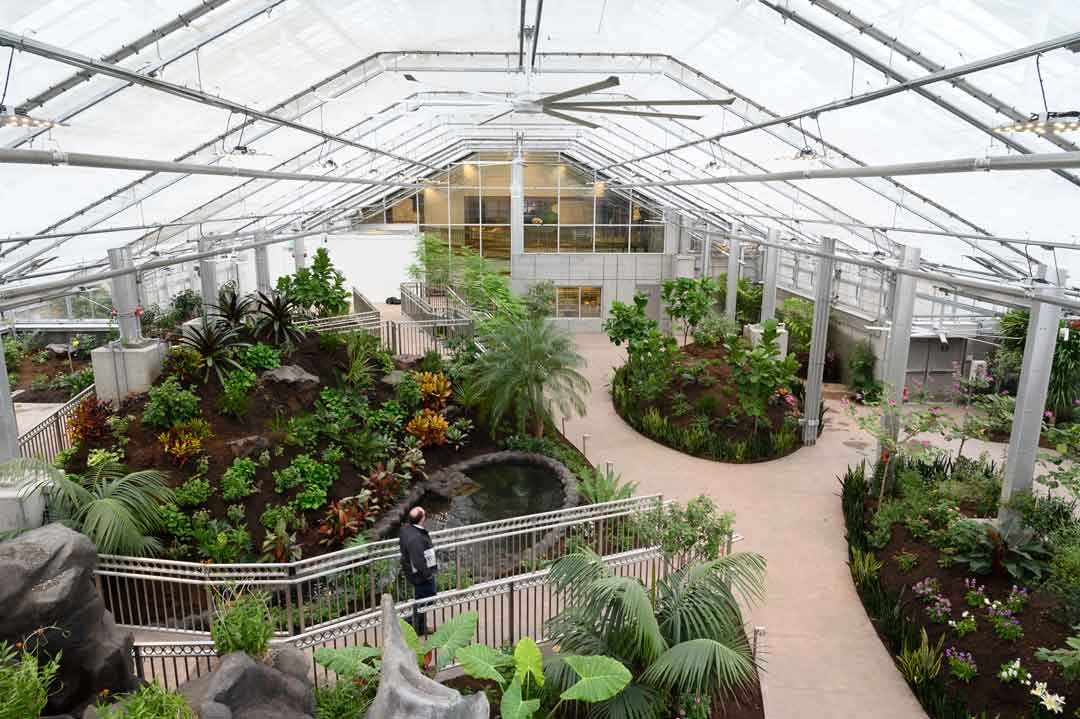 Thanksgiving Point is a non-profit farm, garden, and museum complex that draws on natural wonder to cultivate learning. The Butterfly Biosphere is a 45,000-SF facility consisting of an interactive discovery space; a nature-themed indoor playscape; and the living conservatory. At 10,000-SF, the conservatory is the largest of its kind in North America. The challenge of articulating a hyper-realistic, ADA accessible, tropical jungle indoors is something the team at FFRK will never forget.
"The Butterfly Biosphere invites users to look closer at small but significant invertebrates, in an exploratory setting," says Wallis. Home to more than 1,500 butterflies and dozens of species of tropical plants, the conservatory combines acute thermal control and ventilation systems with a landscape of dense vegetation and rock forms. "The design needed a dynamic topography of hills and sloped pathways meandering through the conservatory. Geofoam from Atlas Molded Products allowed us to create that topography."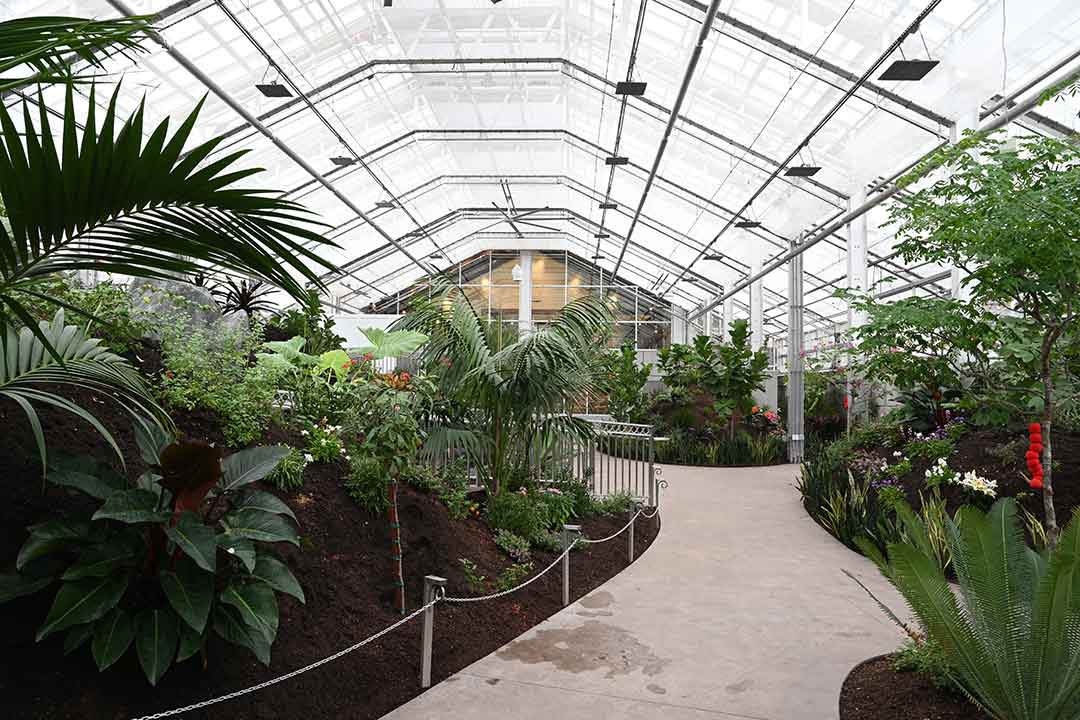 The compressive resistance of Atlas Geofoam ranges from 2.2 pounds per square inch (psi) up to 18.6 psi at one percent deformation. Stacking blocks as the base material allowed FFRK to conceive of an ADA-accessible pathway through the conservatory that rises six feet above the concrete floor. Gripper plates placed between layers of blocks secure the foam in place during construction.
"Geofoam makes an ideal building material where the design requires a unique, sculpted form that is lightweight but still very durable," says Wallis. "It allows craftsmen to articulate very complex, detailed designs. It is easy to correct mistakes or change directions and once it is coated, it's extremely strong and solid."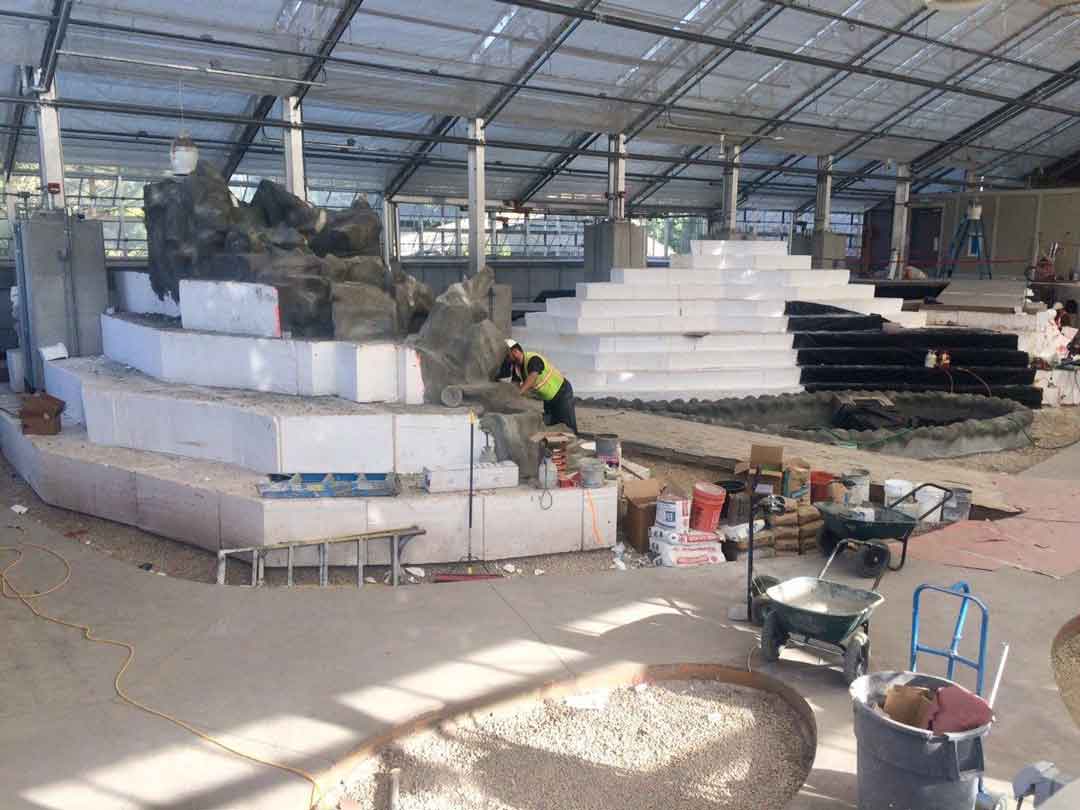 The stacked geofoam blocks were shaped into rock walls and then carefully coated in glass fiber reinforced concrete (GFRC). GFRC uses high-strength, alkali-resistant glass fibers embedded in a concrete matrix, which is applied over the foam to form a hard cement shell of less than an inch thick in the exact form the artist renders. Painted in rich detail to reveal the hillside's geomorphology, the rock formations are then filled with dirt and planted with tropical plants and trees. Populated by thousands of butterflies and managed by the Butterfly Biosphere's team of specialists and the exotic ecosystem comes to life.
"Using Geofoam allowed us to think three-dimensionally about what the experience could be," finishes Wallis. "We created accessible paths that fluidly change elevations among realistic carved rock, landscaped mountains. We created an entire ecosystem exactly as we imagined, and the Geofoam never restricted us."
Imagination is the cornerstone of creativity. Molded polystyrene Geofoam from Atlas Molded Products helps push the possibilities of architecture beyond boundaries on assignments of all sorts.