Heightened awareness of playground safety has progressed rapidly in just the last 20 years. Among equipment manufacturers, safety awareness is evidenced by one-piece designs for spiral slides, which reduce the possibility of clothing drawstrings being caught in a seam. Products that allow openings only smaller than three inches or larger than nine inches, thereby reducing the likelihood of a child's head or body part becoming trapped, is further evidence of increased safety awareness among manufacturers.
Safety awareness among playground builders is evidenced by the common knowledge that a six-foot minimum safety clearance is required around a playground structure or component. Additionally, owner awareness about the need for safety surfacing, options in unitary and loose-fill materials and the depth required to adequately cushion the impact of a child's fall to the surface is also evidence that America's playgrounds are safer than ever. And yet injuries requiring emergency room treatment continue to occur every day. 
The American Academy of Orthopedic Surgeons estimates that more than 509,650 injuries related to playground equipment cost society 9.8 billion for medical, legal,  liability, pain and suffering, and work loss expenses.
Most disturbing are deaths that still occur from playground-related injuries. Yearly fatality estimates range from 17 to 22 deaths. That translates to more than one child per month each year. From January 1990 to Aug. 1, 2000, the U.S. Consumer Product Safety Commission collected data and recorded the full gamut of playground-related fatalities. The hazard pattern of these reported incidences is as follows: 82 deaths from hanging, 31 deaths from falls, 24 deaths from tip-over or collapse of equipment. Of the remaining cases, eight were from entrapments or equipment impact, and 22 had no available information about the pending circumstances.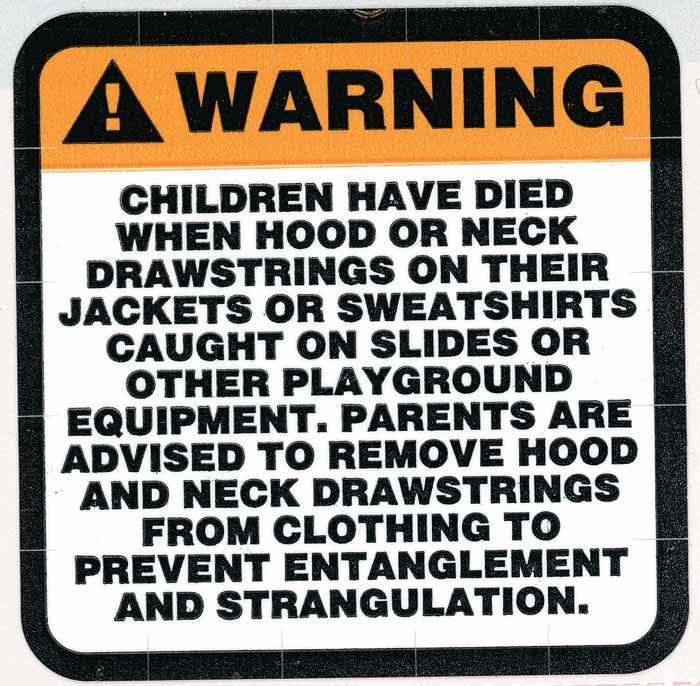 The commission reports that one incident involved a child who was strangled when a cord that had been tied to a slide platform became wrapped around his neck as he went down the tube slide. Another case involved a five-year-old who had a sled rope around her neck while climbing the slide ladder. When she fell from the top platform, the sled caught on the railing. A six-year-old male was believed to have been balancing on his bicycle seat while trying to untangle the rope of a trapeze bar from an overhead horizontal bar. The victim's bike helmet and head got caught between the trapeze bar/handhold assembly and the cord that suspends the trapeze. The helmet's chinstrap tightened around the child's neck and cut off his oxygen supply. A near-death circumstance involved an 8-year-old girl who was sliding down a slide during recess when the cords of her hood became entangled in the poles of the slide. Her teacher was on the scene to free her, but she suffered a brain injury from near strangulation.
Statistics collected and compiled in The ABC's of School Injuries in Utah by the Utah Department of Health Violence and Injury Prevention Program, in collaboration with the Intermountain Injury Control Research Center at the University of Utah, reveal that more than two-thirds of school injuries occur on the playground or playfield. Nationally, school settings accounts for 45 percent of all playground-related injuries that require emergency room assistance. According to the New York State Department of Health's Bureau of Injury Prevention, traumatic brain injury is the second leading diagnosis of all injuries sustained on playground equipment in the state of New York.
For all the measures we've taken in the past two decades to make playgrounds safe, injury statistics make playgrounds seem like dangerous places. Some might conclude that playgrounds should be done away with altogether: "If you don't build it, they can't get hurt.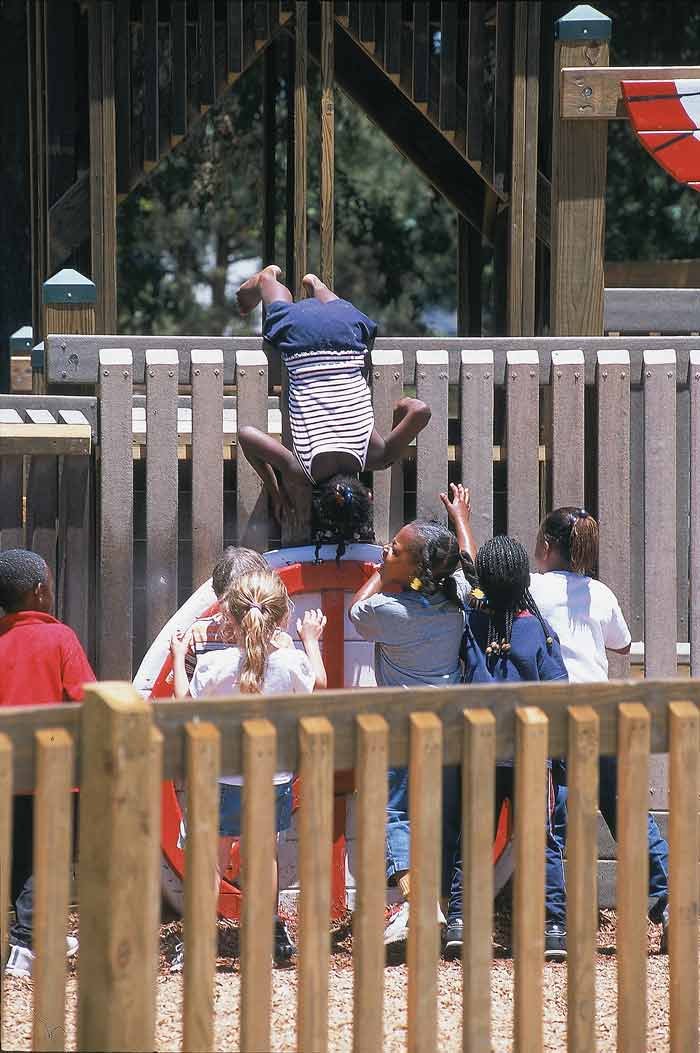 Yet almost instinctively, we recognize the need for play and play settings. As one expert stated, "Children need to run, and hop, and jump, and do all the other things that kids do…", to become fully developed both physically and mentally. Playgrounds provide the perfect setting for children to socialize and make friends. In the words of the authors of Play and Child Development, "A social play environment is the most natural and challenging environment and thus the most stimulation for children's development. Although a full range of motors skills can be nurtured though adult-directed activities, the opportunity for children to engage in physical movements related to spontaneous, natural play is needed as well. Young children particularly need to be outdoors where there is space for all kinds of physical movement as they engage in play activities alone or with their friends. Moreover, they need time and opportunity to participate in the social, sociodramatic and cognitive elements possible in physical play."
But when we take our children to the park to swing, is our primary concern about the development of our child's brain or motor skills? Or do we just want to have fun? When we send our child to the neighborhood park to meet a friend at the slide, do we think they may fracture a bone, or worse, sustain a debilitating injury or even die?
The next step in the evolution of playground safety involves teaching the primary users of playgrounds—children—about their role in playing safety. Our focus must be directed at making child safety awareness information more readily available to children. Educators, parents, playground owners, manufacturers, and even builders have a part in teaching playground safety to kids. We must increase children's awareness of playground hazards, teach children safe play habits and provide support to adults as they reinforce appropriate playground behavior.
When referring to hazards on playgrounds known to cause serious and fatal injury to children, the Consumer Product Safety Commission says, "The incidents and circumstances surrounding them illustrate the child's lack of awareness of the inherent dangers of using the playground in conjunction with objects that are not part of the structure."
A variety of ongoing efforts to teach playground safety awareness to children are found in local circles as well as nationally. Landscape Structures Inc., a playground equipment manufacturer, makes playground safety information available to children through the popular cartoon character Arthur. Other playground equipment manufacturers are also looking for ways to distribute safety message to children.
National organizations, such as the National Program for Playground Safety (NPPS), funded by the Centers for Disease Control and Prevention, have always dealt with the need to teach children as well as supervising adults about playground safety. In addition to training and certification for adults who supervise children at the playground, the NPPS has created the Kid Checker program. The program allows children to take part in identifying potential hazards at the playground.
Slyde the Playground Hound has emerged as a national playground safety icon whose sole purpose is to promote playground safety awareness to children aged 2 to 12. Through the medium of games, books, cartoons, and assemblies, children are exposed to Slyde's safety messages.
For example, in 1995, the Consumer Product Safety Commission published Guideline for Drawstrings on Children's Clothing to inform manufacturers, retailers and consumers of the voluntary effort to prevent drawstring deaths. The guideline calls for eliminating drawstrings from necks and hoods of children's upper outerwear, such as jackets and sweatshirts. This important safety message—combined with cool-but-careful antics of Slyde the Playground Hound enables children to identify with the complicated issue of drawstring hazards. They remember to "Tuck It In, Or Take It Off," a safety message from their trusted friend Slyde. In addition to safety and the playground equipment itself, Slyde the Playground Hound addresses safety issues, such as dealing with bullies and strangers.
An excellent example of a playground owner who accepted the challenge of creating greater safety awareness at a local level is risk manager Stephen Finley, who created a program called "Play Cool at School" for students grades K-3 in the Denver public school system. This comprehensive program addresses adult issues, such as selecting equipment and supervising students, but focuses on children and their responsibility for safe use of equipment. Children were consulted on the development of the program by participating in the selection of the mascot Pazi the Parrot, whose job is to assist instructors in teaching children how we use equipment safely.
Childhood is one of the greatest gifts we're given in this life. The joy, frustration, and growth that occur from the ages two to twelve help develop the characteristics that we exercise as adults. We'll never eliminate every potential playground hazard. But because we know hazards do exist, we must continue to learn from our past, share what we know and move forward.