Inflatable Offer Flexibility to Schools and Recreational Facilities
You can find them at the local used car lot or the Macy's Thanksgiving Day Parade. You can use them for corporate retreats or family reunions.
The inflatable industry includes more than the backyard bouncer that you rent on a Saturday afternoon for your daughter's tenth birthday party. Although the traditional bouncers make up about 70 percent of the nationwide units, according to Benjamin Moseley, editor, and publisher of Inflatable News, the bouncers make up a much smaller portion of the industry's income.
Where the inflatable activities are gaining ground are in activities geared toward adults. Parks and recreation departments are putting up inflatable climbing walls in racquetball courts during off-peak racquetball hours and increasing the traffic in their recreation center. Companies are using the portable activities for advertising, training, and recreation.
"There are any number of things you can do with them," Moseley said. " In Las Vegas, they are planning an inflatable parade as an entertainment event. There are no less than 5,000 designs and the variety of activities is tremendous."
Although the inflatable activities are still most appealing to young people, the activities will also bring a belly laugh to parents and other adults.
"They are just good, clean fun," Moseley said. "The only thing that the kids can get hurt on is each other. The kids get that big, belly laugh that they do when they are on them. The funny thing is 40-year-olds laugh the same way when they are on them."
Schools are also getting in the act, using them in everything from physical education classes to school fundraisers and parties.
"P.E. classes, especially in cold areas, are using the inflatable obstacle courses as a winter activity that gets them away from the same old gym sports," Moseley said. "The kids race through the course, have a lot of fun and still get the exercise they need from the class."
The inflatables are also relatively inexpensive and storage is almost a non-issue. According to Moseley, the cost to purchase an inflatable is between $4,000 and $12,000, while renting an activity is about $300 per day. The setup time is about 10 to 15 minutes and the entire inflatable can be stored in just a few feet of space.
"You can bring a truckload of inflatables and have a whole amusement park in an hour," Moseley said.
Recently, there has been an increase in the frequency of activities such as inflatable sumo wrestling, jousting or boxing. These activities are especially popular among teenagers and older youth.
But besides being a way to add activities to a function with smaller expense, Moseley believes inflatables can be a welcome addition to any park.
"These (inflatables) obviously don't have the durability of playgrounds, but they can add something new and exciting to a more permanent structure," Moseley said.
One strength of the inflatable activities is the safety involved. Supervision is minimal, as many of the activities have one way in and one way out. Also, the materials used in the construction of the activities are so basic that little can go wrong.
"It's vinyl with air in it," Moseley said. "The problems we've seen with them have been operator error. If they are properly anchored to the ground and adequately supervised, there will be no problems."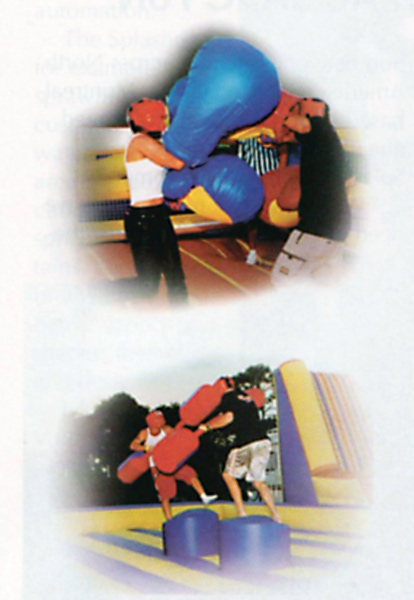 Activities like boxing and jousting are increasingly popular among teenagers.
Moseley also believes that the future looks bright for the industry. Part of this optimism may come from the adjustable nature of the industry.
"These allow parks and situations to change very quickly," he said. "If an activity loses popularity, it isn't as difficult to adjust to fit demands."
In fact, the flexibility of the inflatables has even been utilized by our military. Recently an inflatable obstacle course was sent to the marines to provide something for them to do that could be set up on the deck of a ship.