St. Paul's Episcopal Church at 228 S. Pitt St. in Alexandria, Virginia recently completed a courtyard renovation project.  The courtyard is situated between its historic sanctuary, designed in 1817 by famed architect Benjamin Latrobe (designer of the US Capitol), and its parish school.   The school houses classes ranging from pre-K and elementary to Head Start childhood programs.
Replacing an older asphalt surface, this new courtyard features paving brick over a reinforced concrete slab.  The sloping brick surface with a new subsurface drainage system eliminates pooling water, a deficiency of the previous yard.  Installation of tent anchors will allow accommodation for multiple church and school functions, even in inclement weather. "This revamped courtyard now provides a spacious setting for a variety of uses," says John Cole, RA, project architect for Alexandria-based Cole & Denny Architects.  "We relocated the children's play area off to one side to better serve all functions." The playground equipment, surrounded by a resilient padded surface, provides a safe recreation area for all to enjoy.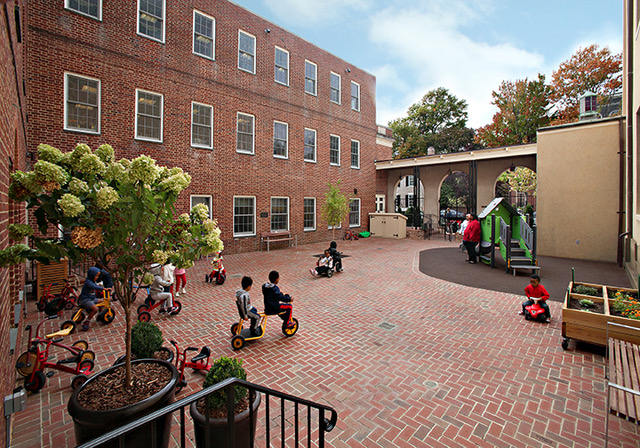 Completed in September 2017, funds for this three-month $154,000 project were raised entirely through parishioner donations.  Cole & Denny worked on planning and design with Sue Setliff, St. Paul's Parish Administrator. Lisa Eskew, St. Paul's Junior Warden helped with project management. "Watching John and Sue's vision unfold into this beautiful new yard was a pleasure.  With all the parishioner names on bricks and benches, you can tell this project touched every corner of our church."
"Our courtyard is the most utilized piece of parish real estate," says Oran Warder, St. Paul's Rector.  "With three separate schools operating during the week, plus weekend activities, we needed to make this more flexible space."  Located in the heart of Alexandria's Old Town historic district, expanding the courtyard was not an option. It had to be redesigned within a limited area, with maximum space utilization between the church and school buildings.  
"This courtyard is more appealing and secure than before," Warder adds.  "No longer just a playground, we now have the capability for hosting activities that will enhance our outreach to the community."  
St. Paul's has a rich history.  From spearheading the creation of the Virginia Theological Seminary, to use as a Federal hospital for Union troops during the Civil War, the parish has been an established place of worship for Episcopalians for over two centuries.