There's a saying among families who have loved ones with special needs, "for us, by us." Simply put, if you are going to create something with accommodations for accessibility or for people with special needs, include those people in the design and planning processes. That's precisely the approach the city of Hoover, AL., located a few miles south of Birmingham, took when creating the state's largest inclusive playground.
Designed by GameTime and J.A. Dawson & Company, GameTime's exclusive representative in Alabama, the 15,000-square-foot playground and 7,000-square-foot splash pad provide universal access and were designed to provide play and recreation opportunities to people of all ages and abilities. City leaders and disability advocates spent the last two years preparing the EXPLORE inclusive playground and splash pad at the Hoover Metropolitan Sports Complex. 
A local citizen originally proposed the idea of an all-inclusive playground to Mayor Frank Brocato in honor of his daughter Carly. Carly has a rare disability known as CDKL5 which causes severe developmental delays. And now, Carly's Clubhouse is a central feature of the new playground.
Mayor Brocato sought out many organizations and specialists to consult on the necessary amenities to ensure EXPLORE went beyond the requirements of the Americans with Disabilities Act (ADA) and into a fully-inclusive environment. Among those involved with the project was Dee Nance, the City of Hoover's Community Services Officer with a degree in therapeutic recreation. Nance played a crucial role in the funding and research of the Hoover EXPLORE project. From 2016 - 2019, Nance raised $2 million in funding.
"We hope this is just the beginning for a project like EXPLORE. An all-inclusive playground should not limit itself to only meeting the needs of those with physical disabilities," says Nance. "This playground is truly universal; it has something for every ability. We want everyone to feel at home here." EXPLORE includes activities and amenities for every person,
The city of Hoover chose GameTime, a PlayCore company specializing in inclusive play, to design and construct the new playground. Utilizing the research found in Me2®: 7 Principles of Inclusive Playground Design® developed by PlayCore and Utah State Center for Persons with Disabilities, GameTime and J.A. Dawson created a space that provides equal access, exciting play activities and opportunities for social interaction between children and families of all abilities. The purpose of unique inclusive play programs is to provide educational resources for communities that wish to move playgrounds beyond minimum accessibility to create more usable outdoor play environments that recognize everyone's right to fully participate in equitable play. Inclusive play environments intentionally address the physical and social inclusion of people of all ages and abilities. The Seven Principles of Play include: 
Be fair
Be included
Be smart
Be independent
Be safe
Be active
Be comfortable 
EXPLORE includes a multi-level, accessible treehouse called "Carly's Clubhouse," accessible musical instruments, sensory play activities (including interactive panels with adaptive switches), and a variety of swings, slides, and climbers. The entire play area rests on poured-in-place rubber surfacing to provide accessible routes of travel throughout the space. There are shade structures on the playground equipment, as well as throughout the many seating areas to maintain a cool, comfortable environment.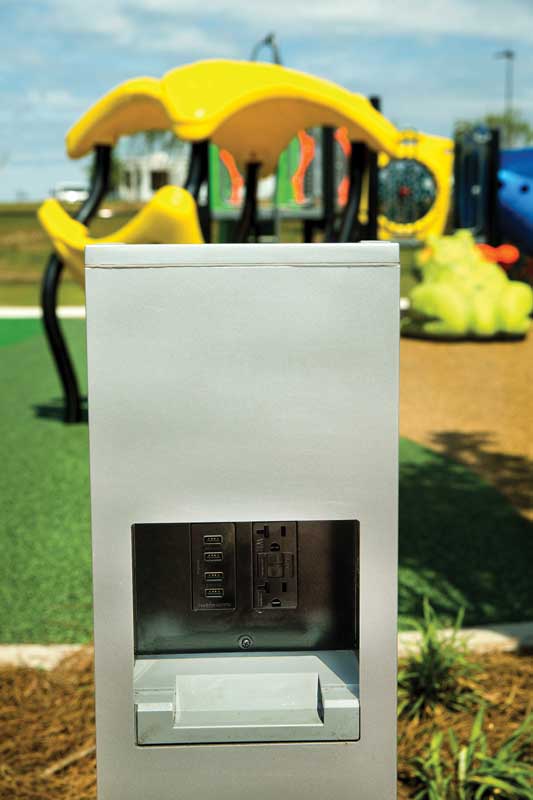 Designers considered every aspect of the space to make sure it was a place that accommodated every possible need. There are charging stations throughout the play environment so parents can charge communicative devices, wheelchairs and other mobility devices, or mobile phones. The chargers ensure no one has to leave the park early when a device has a low battery. Users can plug in and continue playing. There are also quiet, motorized paper towel dispensers in the restrooms. Quiet dispensers are essential because many hand dryers and towel dispensers are very loud. People on the autism spectrum or who are affected by a sensory processing condition are often uncomfortable around loud noises. In a confined space like a restroom, this creates a problematic situation and frequently causes families to leave a park or playground earlier than expected. The restroom also includes a changing table with a capacity of 300lbs, perfect for families who need assistance with an older child or an adult. The table is motorized and lowers to a height of 12 inches for persons who use a mobility device. 
"We were excited to cut the ribbon and welcome the Hoover community and surrounding communities to Hoover EXPLORE. This playground opens the door for not only children with disabilities but parents and caregivers with disabilities to engage in the freedom of play with their loved ones," says Mayor Brocato. "This is going to make an incredible impact, and we are so honored to be a part of it."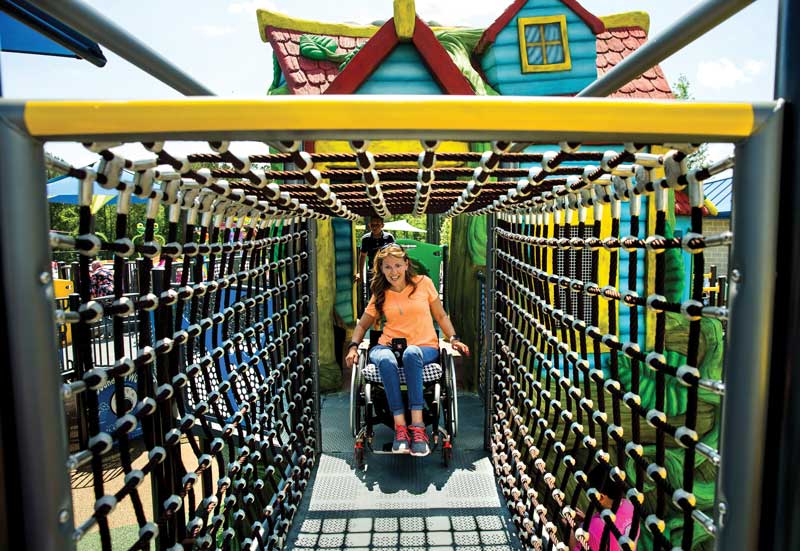 EXPLORE received National Demonstration Site designations from PlayCore for inclusive play, nature-based play, and youth physical activity. The National Demonstration Site™ (NDS) program of excellence recognizes a community's commitment to advancements utilizing research-based best practices in play and recreation spaces and promotes their efforts through media announcements, data collection and white papers, and presentations to national assemblies of educators and parks professionals. GameTime helps communities gain national recognition for their commitment to building communities through play and recreation. There are five National Demonstration Site designations awarded by GameTime's parent company, PlayCore. These designations recognize communities that develop play and recreation areas based on design and usage best practices. Qualifying sites receive certification and signage, are added to a national database, vigorously promoted in regional and national publications and presented as best practice examples in outreach and educational seminars. 
For more information about the Hoover EXPLORE inclusive playground, or to bring inclusive play to your community, contact the GameTime representative in your neighborhood.