When it comes to spaces for children, we often think in terms of playgrounds; however, there are more opportunities for children to engage and experience the outdoors than on a traditional playground. Today, we see more creative spaces such as outdoor gardens and outdoor classrooms where children can learn more about nature and enjoy a more adventuresome play.
Outdoor musical instruments only serve to enhance these spaces, offering accessible and ADA compliant features, making the spaces meet the needs of children of all abilities.
Children's Healing Center
Children's Healing Center, Grand Rapids, MI, is a year-round recreational center for children who have weakened immune systems. The Center built an outdoor garden to give children who may not otherwise have the opportunity to go outside and play a place to interact, form friendships and bond.
Percussion Play musical instruments, including the Babel drum, Duo and Tubular Bells, were chosen because they enable multiple children the chance to play together at the same time adding to the garden's accessibility and interactivity. Easy to clean and maintain stainless steel and aluminum musical instruments provide safe, clean play for children with compromised immune systems – and the children love them, too.
"We are extremely happy with the instruments and our children love them. And so do our neighbors who have commented how glorious it is to hear the children outside playing them!" said Deb Winn, Program Coordinator at the CHC.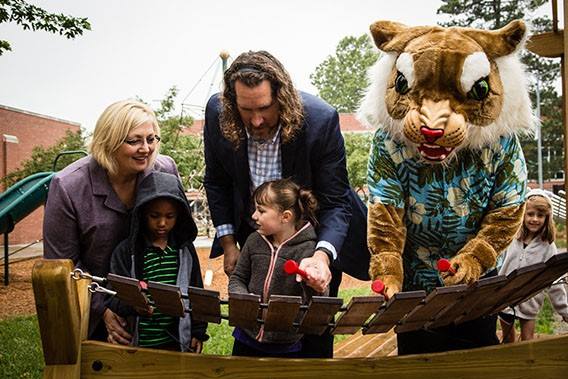 Horace Mann Laboratory School
The Horace Mann Laboratory School, Maryville, MO, located on the Northwest Missouri State University campus, provides future teachers a novel way to gain field experience and an opportunity to work with professors and classroom teachers as they prepare to engage students of their own. When it came time to relocate the traditional playground, the school decided to extend the concept already in place for the early childhood outdoor space and develop an outdoor classroom. (Calling it an outdoor classroom was very intentional as it was never meant to be "just" a playground.)
An inviting space was designed that brought nature into the learning experience for the children and was very much curriculum-driven. For instance, there are rain barrels to catch rainwater the children can use to water plants in the garden bed.
And, there is a musical stage with outdoor musical instruments to enhance the learning experience. Specific Percussion Play instruments were chosen for their pleasant sound and their accessibility.
The Duo, accessible on both sides, has room for anyone in a wheelchair to pull up to it and play, and its curved design makes it easier for those with a limited range of movement to reach all notes. In addition, it promotes intergenerational activities.
The larger set of Chimes makes it easy for children of any age to play whether standing or sitting in a wheelchair.
The Marimba, with its mellow, warm rich sound, looks like hardwood, blending well with the natural concept of the outdoor learning center.
At Percussion Play, we are passionate about helping you add creativity, harmony, soul, and energy to your outdoor environments