I had the honor of attending the grand opening of Shady Lane Park in Houston, TX on Oct 10, an event which capped off the National Recreation and Park Association Congress. The project is the 4th in a series of "leave behind projects" designed to create lasting legacies in the cities that host the Congress, and was a collaboration between NRPA, PlayCore, the City of Houston, and several other partners and advocates. Although I have attended a lot of grand openings and ribbon cuttings over many years in the recreation industry, it seems there is something new to be learned from each one, some nugget of wisdom that continues to point out and make one truly understand how important parks and green spaces are to people. Shady Lane was no exception, as it pointed out how unique and imaginative design can encourage people of all ages to simply come out to play.
Shady Lane was a shining example of a new trend in playground and park design, departing from the normal "pipe and plastic" construction associated with commercial playgrounds, and promoting a city's heritage through themed play, interpretive signage, and imaginative design. Shady Lane Park had needed attention since Tropical Storm Allison came ashore in 2001, dropping almost 2 feet of rain and flooding many neighborhoods throughout the city, including approximately 13,000 homes in the area around the park. The 12.4 acre Shady Lane Park featured an almost two decades old playground that showed heavy signs of use but was still beloved to the many families in the area who come to Shady Lane Park for its walkability and proximity to their homes. Now, the park is an amazing example of how themed play can be a teaching tool, a family oasis, and a connection to the history that creates pride of place in a community.
A park in its purest form creates a space for people to connect to nature and unplug their mind and body from the stress of everyday life. A well-designed park is a place where memories happen. Memories that are rooted in childhood and become part of who we are as adults, memories that shape the very heart of what is important to us and what we decide to pass down and share with our families. At Shady Lane Park, the stage is set to create a wealth of treasured memories, while illustrating the history of Houston in the days before skyscrapers, cell phones, and fast-paced life. Combining elements of a nature park and restorative green space, education center, water play areas, and active recreation, this park was designed to be meaningful and memorable, turning a flood-prone area into an attractive jewel for an underserved Houston community.
The park includes play structures shaped like treehouses, a life-size bayou boat set in a cleverly designed mini-wetland, logs to crawl through, alligators to climb on, and a spray park that features a little bit of all of the above in a fanciful, imaginative layout. Interpretive signage throughout the park shows images and shares history of the landscape, animals, and indigenous plants found in these pre-settlement days. Landscape design by Merrie Talley of Talley Landscape Architects ties the park elements together with indigenous plants that promote the natural splendor and history of the area.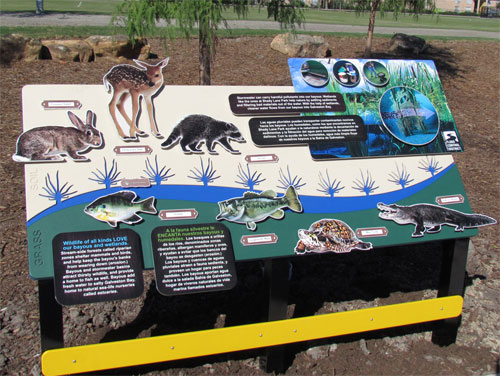 In that single day, I was witness to a wealth of lifetime memories that I had the honor of watching take shape before my very eyes. There were the father and daughter that held hands while reading to each other of the indigenous animals that lived in the area before it was settled, then discussed why they hadn't seen any of the animals, which prompted the little girl to say "I think we need to do a better job of sharing with animals. They have a right to live here too." In that moment, an advocate, an enthusiast, a conservationist may have been born, changing the path of life to one focused on preservation of our resources. I witnessed another mother, struggling with a fussy baby, who placed her small son in an adaptive swing seat, then marveled at how he fell asleep almost immediately to the gentle rocking of the swing. She turned to me with an amazed look and said, "this is better than his cradle, and we can be outside! I just live across the street, I think we'll be coming here a lot."
But what amazed me the most was how the parents who attended the grand opening were with their children…really WITH them. No cell phone conversations, no distracted half listening, these parents were actively engaged in the act of play, from imaginative play in the life-size bayou boat which harkened the days of Houston's swamps, to the moms and dads who pocketed their phones and romped in the spray park jets, getting their clothes soaked to the bone as they frolicked together with their children. One child, who asked her mother if she was going to answer the ringing phone in her purse, looked stunned (and thrilled) when the mom replied, "No, we've got to go hide from the alligator, come on!" While I certainly understand and embrace the importance of child-directed play, the wonder of watching these children involve their parents, who were suddenly available and open to imaginative play, was nothing short of wondrous. They were just as amazed by the huge treehouse play structures, and I think I saw more adults interacting with and having their photo taken "in the mouth of the gator" than children. (Yes, I was one of them!)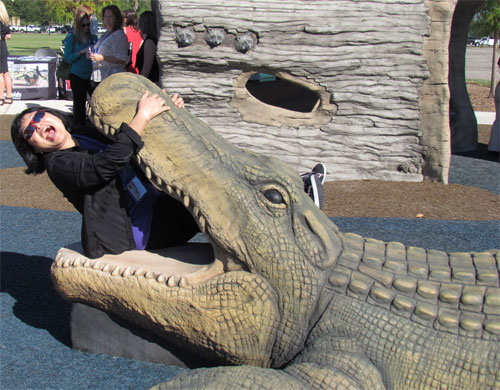 In a park that was designed to promote the history of a city, I cannot help but feel that I was witnessing history being made anew, in the memories that were being created before my very eyes among a lucky bunch of families who made the decision to simply be together and foster human connections instead of electronic ones. And in that magical afternoon, I forged lifelong memories of my own. As a person fortunate enough to be involved in the play and recreation industry, the greatest joy in the world is seeing children re-living a moment that had me enthralled as a child, with equal happiness and excitement. The very act makes me feel like a child again while promoting a strong feeling of satisfaction as I witness these very special moments, and a renewed sense of pride in the people that I work with every day, whose sole mission is to build communities and memories through meaningful play and recreation.