Basketball is one of the most popular sports around the world. The rigorous sport makes an excellent activity for kids of all age groups as it gets all their pent up energy out, improves coordination, and boosts creativity. Playing basketball also helps kids appreciate the significance of strategic thinking and teamwork. 
No wonder, basketball is considered to be the fastest-growing sport in the world. FIBA (International Basketball Federation) states that globally nearly 450 million people play basketball. This number keeps growing each year. 
The strong passion for this game has made having a public basketball court in the neighborhood a raving trend. Even households with empty backyards are transforming the space into a basketball court to shoot hoops in their free time. 
If you are planning to build an outdoor basketball court for kids, here are a few tips to guide you. 
Decide on the Size of the Court and the Hoop Height
According to the NBA and NCAA regulations, a full-sized basketball court should be 94 feet long and 50 feet wide (28.65 m long and 15.24 m wide). However, high school and junior basketball courts are smaller. For instance, junior courts measure 74 feet long and 42 feet wide.
When planning a playground or residential backyard basketball court, the player's age, level of play, and the available space are important considerations. For instance, if you are building the court in a small area of your backyard, you need to go for a half-sized court. On the other hand, you can plan a full-sized court on a school playground.
The height of the basketball hoop will vary as per the player's age. In the case of junior high and high school, the rim is exactly 10 feet from the ground. 
Plan the Layout
One of the most critical aspects of building a basketball court is planning its layout. For this, you'll need a basketball court stencil, tape measure, tamper, and paints to mark the lines on the area. 
Here's a blank layout of a basketball court. The size may vary depending on the area available. Check out this post from Youth Hoops 101 which offers layouts for a variety of courts.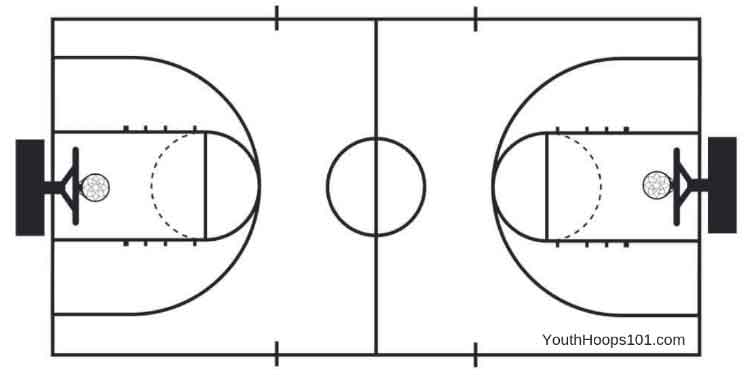 Choose a Suitable Court Surfacing
The basketball court flooring should ensure maximum comfort, transform energy to them, and keep the little athletes safe. Moreover, since the court surface is subject to high-intensity activities, the floor should be durable and easy to clean and maintain. 
The common basketball court flooring options include hardwood, concrete, and asphalt. Each of these flooring materials has been used in basketball courts as they offer a smooth and unobstructed area while offering the perfect bounce in dunking movements. 
Often sports floors of basketball games are required to accommodate other non-sporting activities and games. If that's the case, you need a surface like epoxy surfacing that has strong wear, impact, and pressure resistance. The surface doesn't fade even after years of jump shots, running, and other quick moves. Also, epoxy surfaces are known to reduce the echo effect that's created in the sport. 
An increasing number of Americans looking to build basketball courts are hiring local epoxy flooring experts to install these floors as they are versatile with an excellent grip. Plus, they have endless design possibilities and can be customized to suit your preferences. 
Invest in the Right Accessories 
Besides planning the layout and considering a suitable flooring option, you'll need to invest in basketball court accessories like court lighting and training aids. You'll need accessories like a 300W LED light for outdoor lighting, LED basketball hoop lights, basketball goals, adjustable goal systems, and multi-functional training aids like a ball rebounder system. 
Bottom Line
Basketball courts are a great place for kids to practice the sport and develop important developmental skills. If you are building a court in your neighborhood, backyard, or facilities like schools or recreation centers, the tips shared above will help you in your endeavor.