It's almost summer! It took a long time to get here this year, but it is finally here. For me, summer has always meant swimming, sprinklers, and sunbathing. I love water. A water exercise class has been the only exercise I have kept up with. I just love going to the pool and reading a book (with sunscreen on, of course), and then jumping in once I get too hot.
There are many reasons I love the water. It is probably the same reasons so many people love the water. Playing in water has restorative properties: it alleviates stress and helps to regulate emotions. Many of us take a long bath to relieve stress and take refreshing showers when we are overwhelmed. I get my most creative ideas when showering.
Children get this benefit and much more when they engage in water play. It provides opportunities for children to experiment with math and science concepts, strengthen their physical skills, advance their social and emotional skills, and enhance language development (Crosser, 1994; Hendrick, 1996). Water play stimulates the senses and helps further brain development.
Children love playing in the water. It is why age-old childhood pastimes of damming streams, making waterfalls, washing dolls' clothes in a bucket of water, jumping through the sprinkler, and playing with measuring cups in the bathtub continue to engage children of all ages.
For some children with disabilities, water proves especially beneficial. A majority of children on the autism spectrum are attracted to water. Lori McIlwain of the National Autism Association theorizes that water compresses the skin calming them down "like a big hug." They love the feeling of weightlessness. Water also has the benefit of helping them balance.
The great thing about water play is that people of all ages love it. This means that families with children of many different ages and abilities can enjoy a family activity that makes everyone happy. Here are some tips for staying safe in the water.
Over the last 10 years, we have seen the opportunities for inclusive family water play increase. One of the reasons for this is that in 2010, the Department of Justice published updated regulations under the Americans with Disabilities Act (ADA). These regulations adopted the 2010 Standards for Accessible Design, which for the first time contain specific accessibility requirements for swimming pools, wading pools, and spas.
The 2010 Standards require swimming pools, wading pools, and spas to have an accessible way for people with disabilities to enter and exit the pool. This means you are seeing many more wheelchair lifts at swimming pools at hotels, recreation centers, and fitness centers. In many new pools, planners are creating a sloped entry which is a much more universal solution; everyone then enters the pool the same way.
Another reason for increased opportunities is the great expansion of splash pads. In fact in North America, splash pads have been at the top of the list for planned additions at facilities of all kinds for several years running" (Recreation Management 2011). Vortex, a world leader in aquatic play, has zero-depth aquatic "playscapes" which eliminate standing water preventing drowning and the need for lifeguards, making them a financially viable alternative to pools for park and rec departments.
What I love about splash pads is that they are inherently inclusive. There are no access issues for people who use mobility devices. They are basically flat and they offer brushed concrete, non-skid surfaces, which ensure steady footing. I have seen parents cover their child's wheelchairs with plastic bags and then they are ready to go.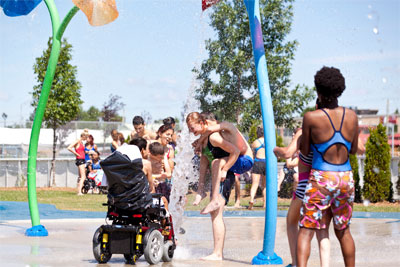 When visiting a great inclusive playground in Indiana,
Taylor's Dream,
I had so much fun watching the children playing together on the splash pad. The children chased each other and ran in and out of the water, regardless of whether they used their legs or wheels to get around.
In many of the designs, the splash pad is divided into three areas: a toddler/preschool area, a school-age area, and a teenager area. This means that everyone can join in at their own developmental level. While at Taylor's Dream, I had a great conversation with a mom of a child with autism. She said that her son loved the splash pad; he would play in the areas where he could control when he would get wet, so there was no surprise. You could hear him laughing across the park. For that mom, it meant that her family was doing "normal" activities. She didn't need to find a specialized place for him to play.
In addition to the explosion of splash pads, we are seeing many more water parks that offer things for all children to do. Near my home outside of Pittsburgh is Idlewild Park and Soakzone. Idlewild has won the Best Kids' Park in the World by Amusement Today for the last three years. There is a reason for this — they listen to their customers. The number one requested addition to the park was a lazy river.
Lazy rivers are another activity that people of all ages and abilities enjoy. You get on an inner tube and it floats you around what is basically a water track. However, at many lazy rivers, there are various access issues, but the one that just opened at Idlewild has eliminated all of those issues.
It has a zero-depth entry which makes getting in is as easy as walking into the water -- no stairs to climb while carrying your child down to reach the river. It only has a depth of 2' 4". Unlike other lazy rivers, this one allows parents to walk through the area to more closely supervise their children.
I have found that when designers listen to parents during the planning stages, they end up creating a much more inclusive environment. This is because parents are used to dealing with children with different abilities — a 5-year-old needs something different than a 10-year-old. I would expect that other parks that are adding lazy rivers will adopt Idlewild's designs and usage philosophy.
So gather up your family and go enjoy your neighborhood pool or splash pad. 
Pictures courtesy of Vortex Aquatic Structures International Inc.