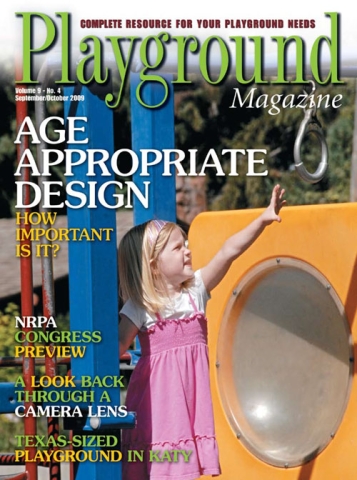 One of my favorite sections in Playground Magazine is the Dream Space.
I don't really know where the title Dream Space came from for that section, but it fits. As I think about the name Dream Space, though, I guess it certainly can be interpreted a couple of different ways. Some readers might look at it from a child's point of view as a real great place to play—a child's dream playground. Just this year we've highlighted some spectacular playgrounds, including the Katy Play Station, located in Katy, TX, in this issue. What kid wouldn't want to play there? Mine sure would.
On the other hand, other readers might think of it from the playground industry side where it really is a dream space in which all those involved realized a dream come true when the playground opened and children started to climb, jump, swing and walk all over it. What person involved in the playground industry doesn't want to have a signature playground that he or she can proudly claim a hand in helping design, build, plan or somehow have a part in?
Even I take some pride in showcasing these spectacular playgrounds in the pages of Playground Magazine and I haven't even seen one in person yet. I really enjoy showing off the work of others, especially when it comes to the playgrounds we've covered in the  Dream Space section.
I do have a dilemma, though.
Just in the few months that I've been editor, I've had several Dream Space ideas come across my computer and my desk—really amazing playgrounds that deserve some sort of national recognition and kudos for a job well done in the name of and for the sake of children. There are lots of times when I wish I had more editorial pages to fit more stories, pictures, etc., in the magazine but it's especially when I see all the great playgrounds that I'm feeling that way.
But I have to choose one for each issue. Only one. And that means, now that we've scaled back the number of issues of Playground Magazine to four per year (for the short term, I hope), that I have to pick just four for the entire year. That might sound easy—after all, it's only four—but quite the contrary. It's one of the hardest editorial decisions I have to make.
How do I choose just one for each issue? It's tough. They're all great. How do you explain to someone that you won't be able to highlight his playground in the magazine because you already have enough or it's just not quite spectacular enough? Yea, it's not that easy.
Just when I've got one picked for this or that issue, another really good one comes along. Or I hear about another one that piques my interest. Needless to say, I usually have plenty to choose from.
But I want more choices. I know that our readers have seen some pretty amazing playgrounds across the United States, Canada and the rest of the world. I want to hear about them and maybe, just maybe, be able to showcase one of them in the pages of Playground Magazine.
So if you have a lead on an amazing playground, please send me some info and I'll check up on it. There really is no criteria other than it should be unique in some way. It would be fun to see some amazing Canadian playgrounds or even something from Mexico or other parts of the world.