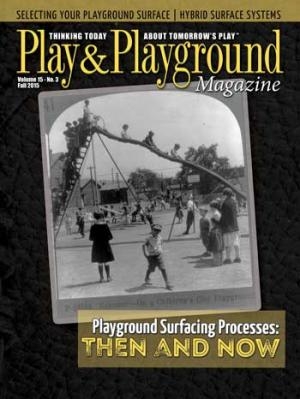 Playground surfacing is a complex subject. It is the most misunderstood and controversial issue for playground designers and owners concerning play environments today.
As a playground contractor, I have installed dozens of types and brands of playground surfacing. I am very familiar with loose-fill and unitary surfaces, and I like them all for their own strengths, but they also have their own limitations. Even with my vast experience, each playground project has required research and understanding of more details than just pricing and accessibility. Product longevity, adaptation to local climate, maintenance (or lack of maintenance), local flavor and opinion, drainage, and topography should all be included in a decision on what surfacing will be placed in a play area.
Hard stable surfaces and impact attenuation surfacing attributes are at odds with each other. Accessibility demands hard surfaces to navigate the play area; safety from falls requires shock-absorbing materials to minimize the potential of injuries. Even if they weren't at odds, it is not as simple as if 2 inches of rubber is good, 4 inches should be twice as good; or if 12 inches of engineered wood fiber is good, 24 inches should be great. And there is not a "one size fits all" solution to playground surfacing, since each play area has its own needs and designs.
This issue of Play and Playground Magazine examines the history of surfacing products used on playgrounds and how they have developed through the years. Natural turf to synthetic turf, wood chips to rubber chips, and rubber mats to poured-in-place surfacing are all investigated.
Since the early 1970s, the push for safety has brought us many choices of products, and each has its strong points. The U.S. Consumer Product Safety Commission (CPSC) and ASTM International (ASTM) have both worked through the years on developing standards and guidelines for using various surfacing products. These standards continue to be reworked, and they have become quite controversial. Safety is the important consideration, but the high cost of changing surfacing to meet new standards causes many to question the feasibility of making the standards more stringent. A clear description of how ASTM International works in its development of surfacing standards is outlined in this issue of Play and Playground Magazine.
The International Play Equipment Manufacturers Association (IPEMA) has also approved a new certification program for surfacing manufacturers, which allows manufacturers to have their products validated to show that they meet the ASTM standards. This furthers IPEMA's commitment to playground safety and aids consumers with the assurance that the playground surfacing they have chosen meets current standards and fits their needs.
Since the advent of the Americans With Disabilities Act in 1990, playground designers have been faced with the issue of accessibility, which has greatly impacted the use of playground surfacing. Making accessibility and impact attenuation work together is a dilemma. With this surfacing issue and our last issue on accessibility, Play and Playground Magazine has tried to provide a great place to start to understand the complex subject of choosing playground surfacing.