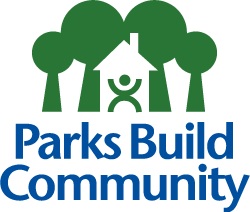 National Recreation and Park Association's Parks Build Community initiative is a nationwide effort that demonstrates the transformative effect of parks on the health and vitality of communities. The vision to build and revitalize parks as thriving gathering places for youth, families, and adults is one shared by NRPA, the park and recreation industry, and nonprofit partners as well as the thousands of park and recreation professionals who develop and maintain these treasured public places.
To date, NRPA has spearheaded six Parks Build Community projects, each located in host cities where the association held its Annual Conference 
[ www.nrpa.org/Conference ]. The seventh is underway and scheduled to be completed in September 2016, in St. Louis, Missouri. These massive undertakings would not be possible without the support and buy-in of local officials and residents at the project host site and the vital contributions of corporate partners. Following is a comprehensive overview of past Parks Build Community revitalizations and a sneak peek of what to expect at Trojan Park next fall. 
---
Washington, D.C., 2009: Marvin Gaye Park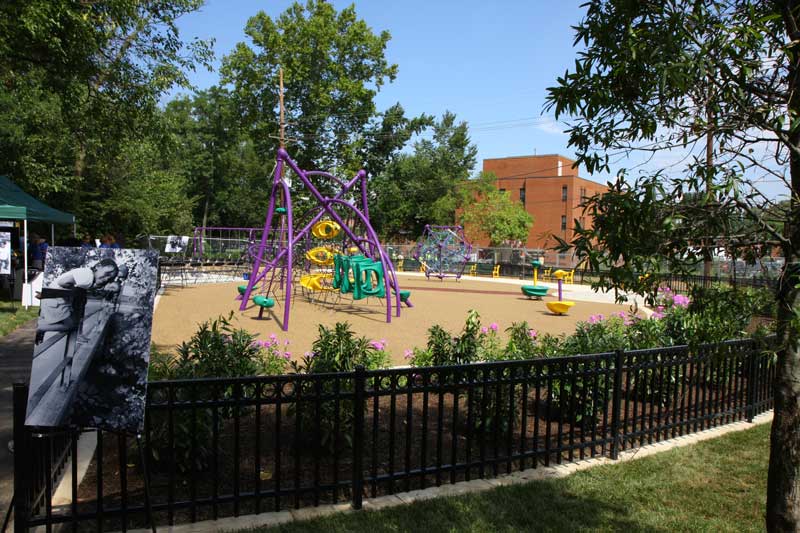 For its kickoff project, NRPA collaborated with Washington Parks and People, George Mason University, and the Washington, D.C. Department of Parks and Recreation to help revitalize Marvin Gaye Park in Northeast D.C.
The site includes a state-of-the-art playground for children, made possible by $400,000 in donations from Playworld, KOMPAN, PlayCore, and Surface America. NRPA's industry partners on this project also oversaw cleanup and beautification of the surrounding area, and supported a number of education and job-training programs for the neighborhood kids.
---
Atlanta, Georgia, 2011: Selena Butler Park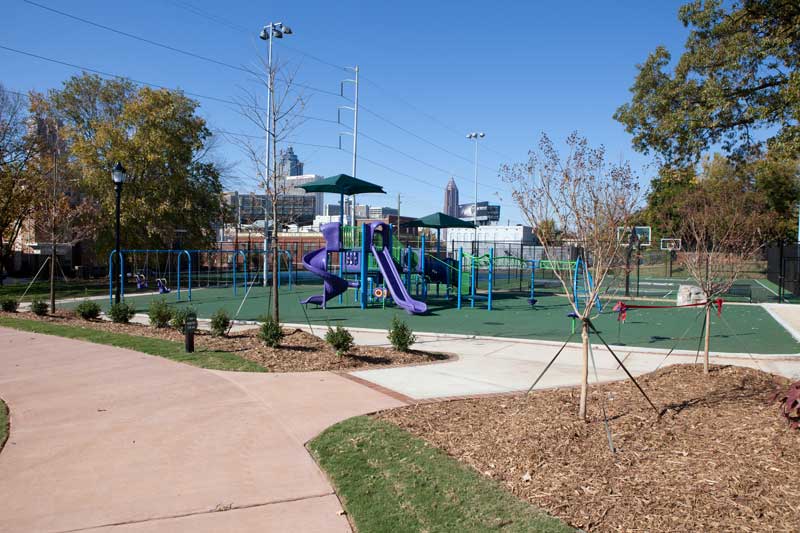 NRPA, along with the Atlanta Department of Parks, Recreation and Cultural Affairs, and the Atlanta Housing Authority, and with valuable contributions from industry partners, including PlayCore, Converse, The Health Education and Communication Center of Atlanta, and Superior International Industries, revitalized Selena Butler Park. The park is rich in African-American history, located just blocks from the Martin Luther King National Historical site and named for Selena Sloan Butler, one of the original founders of the National Parent Teacher Association.
Revitalization included the installation of an active use plaza with picnic tables, park benches, alternative outdoor games, game tables, and waste receptacles as well as a picnic/grill area, new playground equipment, a corner plaza, refurbished multipurpose field, and community garden area.
---
Los Angeles, California, 2012: El Sereno Arroyo Park
The site for the park at El Sereno was a 1-acre parcel of unused land owned by Caltrans, the state transportation agency. It was intended to be part of a never-completed interstate highway connector. Sitting vacant for decades, the parcel originally caught the eye of the Los Angeles Department of Recreation and Parks in its search to bring more local parks to underserved urban communities.
The extraordinary efforts of the Parks Build partners for this site—Trust for Public Land, Los Angeles Neighborhood Initiative, and the Los Angeles Parks Foundation, under the leadership of the Department of Recreation and Parks—produced a jewel of a park for the area's young children. It now features:
A nature-play garden adapted for younger age children and funded by a grant from the First 5 Commission;
A full state-of-the-art, 4,000-square-foot playground donated by PlayCore; and 
An adult fitness zone, walking path, picnic tables, benches, and four beautiful art mosaics. 
---
Houston, Texas, 2013: Shady Lane Park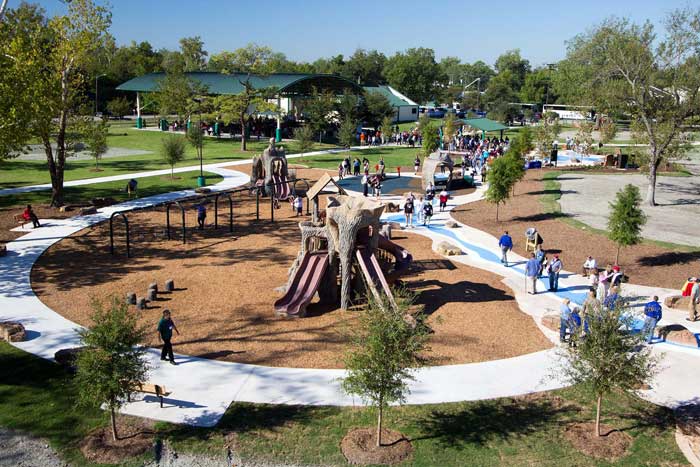 Shady Lane Park's original features included a small community center, an outdoor basketball court, soccer fields, and a modest playground, all of which were heavily used by members of the community, many of whom walk to the park. This park and community center serve a predominately Hispanic and African-American community, which consists, in large part, of families with young children.
Now, when visiting Shady Lane, community members find a completely revitalized and renovated park thanks to the work of NRPA, Houston Parks and Recreation Department, Houston Parks Board, and almost a dozen partners. New features include a nature-themed playground that celebrates the natural environment and bayous in the play area, a water play area, a climbing log, a tree house, a mini-wetland complete with a replica bayou boat that can be used for outdoor education, outdoor fitness equipment, and new trails and access points.
---
Charlotte, North Carolina, 2014: Lincoln Heights Park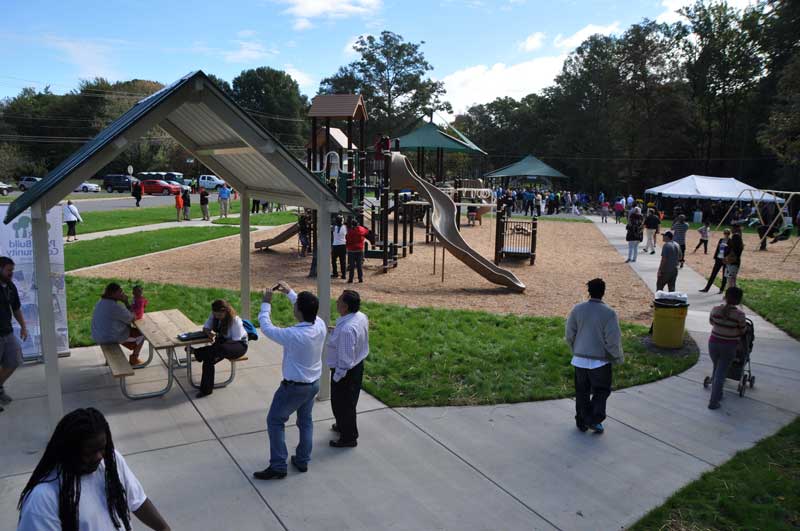 The Lincoln Heights Neighborhood Park opened in 2011 and featured a playground, community garden, gravel walking trail, and picnic tables. NRPA's Parks Build Community initiative focused on improving access to this space and increasing recreation options to the neighbors of the park in this economically disadvantaged neighborhood.
NRPA, along with Mecklenburg County Park and Recreation and partners Playworld, Greenfields Outdoor Fitness, Polygon by Porter Corp., and Cornilleau USA, added:
Children's play equipment, including a Unity Climber dome, a Rushmore hill feature, a NEOS 360 game structure, and a Cruise Line flyer, courtesy of Playworld. These features are intended to create more "high-five moments" for the children in the neighborhood;
Five open-air fitness stations to help residents get active;
New pavement for Lincoln Heights' half-mile walking trail, along with a paved access point on the park's long southern edge; 
Shelters;
An outdoor ping pong table; and 
Updates including a basketball half-court with water fountain, revitalized open-play field, and improvements to the community garden.
---
North Las Vegas, Nevada, 2015: Joe Kneip Park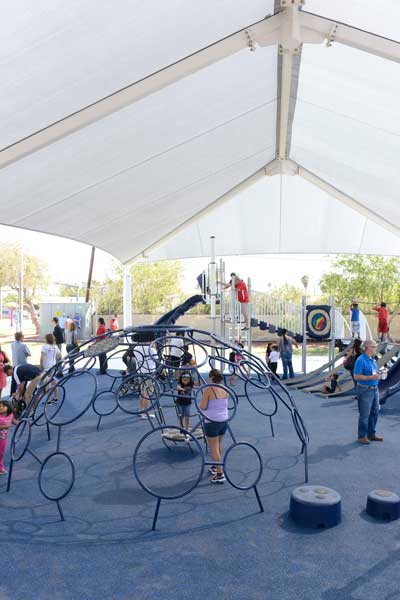 Joe Kneip Park received more than a facelift. NRPA and its partners—including Playworld, FlexGround, Public Restroom Company, Musco Lighting, Greenfields Outdoor Fitness, iZone Imaging, WhiteWater, BCI Burke, Sun Ports, Mirimichi Green, and Shade 'n Wet—gave this park new guts with the expectation that they would pump new life into the community.
Children and families in this underserved community can now enjoy a shaded play area, a splash pad, updated restroom facilities, safe surfacing, an outdoor gym, picnic amenities, and more. 
---
Wellston, Missouri, 2016: Trojan Park Revitalization
For 2016, NRPA is partnering with Great Rivers Greenway, the regional parks and trails district in the St. Louis region, and the city of Wellston, Missouri, to transform a vacant lot into a vibrant community park, which will be known as Trojan Park. The vision for the project is simple: Expand opportunities for residents of all ages to be active and enjoy each other's company. The ultimate goal is a dynamic gathering space to experience new ways to play. Family reunions, live music, pickup basketball, or summer days on the splash pad are just some of the reasons this park will be a place where people come together. 
Thanks to the generous support of project sponsors to date, such as Greenfields Outdoor Fitness, BCI Burke, Forum Studio, and GameTime, this park is slated for completion before the 2016 NRPA Annual Conference opening ceremony, to be held Saturday morning, October 8, 2016.
---
For 50 years, NRPA cultivated its reputation as an indispensable partner for park and recreation professionals, industry experts, and thought leaders in our field. Now, for six years and counting, that commitment has manifested physically in the Parks Build Community projects that benefit hundreds of thousands of residents and visitors. 
To keep abreast of this initiative, visit www.nrpa.org/parksbuildcommunity. To learn more about NRPA and its ongoing mission to advance public parks, recreation, and conservation for the benefit of all, visit www.nrpa.org.