Welcome to Giant's Playground
The giant is patient, lying still, while sneakers trample and kick him, hands pull his beard and fingers, and endless photos are snapped of him. Three-year-olds climb into the giant's mouth and curl up on his tongue. Older kids climb the giant's foot, hand and bent knee, although one outstretched arm is too tall for most.
West Potomac Park on Haines Point in Washington, D.C. is a multi-cultural playground for children of all ages. It is not unusual to discern up to a dozen or more languages being spoken on a busy weekend or to see native dress from these countries. And despite many varied opinions about ongoing world conflicts, children from these nations peacefully playing together.
At Haines Point there are two full-size golf courses, a miniature golf course, tree-shaded picnic benches, a two-structure formal children's playground and, of course, The Awakening statue.
This is a massive, segmented sculpture done by J. Seward Johnson, Jr., heir to the Johnson & Johnson Band-Aid fortune. Johnson has made a career of creating hyper-realistic public sculptures of city dwellers doing simple, normal things like sitting under a tree, reading a newspaper, skateboarding, talking or hailing a cab. In creating The Awakening, Johnson broke his own mold, so to speak, by playing tricks with scale to create an immediately recognizable fantasy.
If the giant stood up, he'd have a great view of the Potomac River all the way down to Alexandria on one side and of the National Mall on the other. But he's not going anywhere. All of his imaginary body and most of his limbs lie deep in the earth at Haines Point. Only five body parts rise above the surface.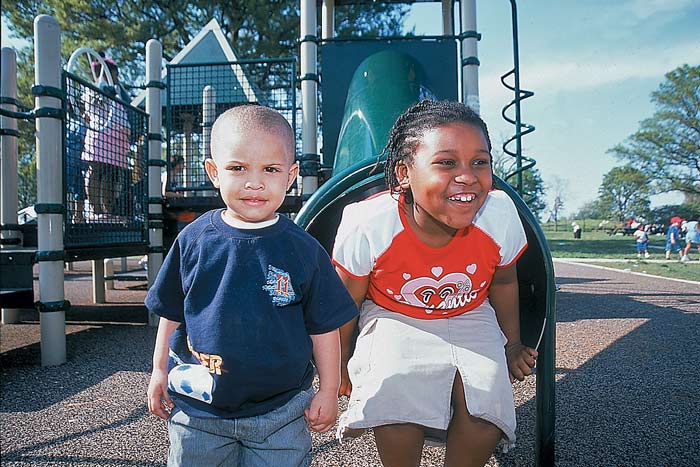 Judging by the look on his face, the giant apparently had a rough night and isn't quite ready to meet the day. Maybe he seems to be roaring and thrashing because he could use a bit of the hair of the dog that bit him.
The formal children's playground structure is divided into two sections spaced approximately a hundred feet apart. This was purposely done to ease the potential for overcrowding, which is readily apparent during periods of maximum use, especially on nice summer weekends. The structure was installed by MidAtlantic Structures of Baltimore, Md. and fabricated by Columbia-Cascade from Washington State.
The J. Seward Johnston awakening giant may seem perpetually grouchy, but as one of the most popular sculptures in town, he seldom lacks playful company. His five sand-cast aluminum body parts sprawled out across the lawn form a wonderful trompe l'oeil artwork that sparks the imagination, conjuring images of Gulliver in Lilliput, or Abe Lincoln come down from his monument to lie on the grass. To many Buddhists, the emerging giant symbolizes the human awakening from the imprisonment of material concerns. He could also be Jack's beanstalk giant, who landed hard when the plant was axed (another reason for the giant's grimace). One of the few playful public sculptures in Washington, The Awakening makes a great diversion from the nearby monument core—if you happen to read your guidebook closely enough.
The giant has been a District resident since 1980, the year of the Eleventh International Sculpture Conference that scattered 500 sculptures throughout the city. The Awakening was the only one of those artworks to stay, mainly because its maker placed it on permanent loan to the US Department of the Interior, which owns the land.
Most of the giant's interactions with the public have been pleasant ones, but he has had some run-ins with automobiles that would have been fatal for his frequent guests. Over the years, his hand, head and outstretched arm have been damaged—all three accidents resulted from motorists taking a nearby hairpin turn too fast. In each case, Johnson made necessary repairs. For a short time, the giant's face went back to the sculptor's Princeton, N.J. studio for work, and the statue had to do without.
The East Potomac Golf Course nearby has one regulation 18 hole course and two nine hole courses. The Red Course is for beginners with nine holes—1,311 yards–par 27-short game. The Blue Course is the longest with 18 holes—6,599 yards-par–72-long game. The White Course has nine holes—2,505 yards-par­–34-medium game.
The East Potomac Miniature Golf Course is an acre, and the 18 hole course is suitable for any skill level, adult or children.
After being closed for renovations, the East Potomac Tennis Center reopened to the public in April 2004. It has indoor and outdoor courts, seasonal membership or walk-in court rental, tennis lessons and racquet stringing. The public facility has 24 courts (10 clay and 14 hard) and includes lighted evening play, as well as a practice wall.