Play researchers, industry professionals, and enthusiasts convened at the US Play Coalition's third Conference on the Value of Play to share findings, raise awareness, and promote play throughout life. The conference, held at Clemson University from Feb. 26-29, attracted individuals from academia, healthcare and medicine, education, child development, kinesiology, playground equipment manufacturers, surfacing companies, architecture, parks and recreation, professional organizations and advocacy groups. Play Conference attendance was its largest ever—with more than 265 participants, a 25 percent increase over last year.
"We are absolutely thrilled with the continued excitement the conference is building," Fran Mainella, co-chair of the US Play Coalition and visiting scholar at Clemson University's Department of Parks, Recreation & Tourism Management, said. "Our increasing attendance is validation for the interest in the importance of creating a lifetime of play."
"The US Conference on the Value of Play provides a valuable forum for sharing strategies and best practices for creating opportunities for play," Tom Norquist, IPEMA secretary and Voice of Play Board of Advisors, said. 
The conference's series of keynote speakers began opening night with an address from Mr. Li Weiting, deputy director general of the Shanghai Administration of Sports. Li's speech, titled "Better Sports, Better Life," focused on the best practices for incorporating sports and physical activity into all aspects of citizens' lives. By sharing what's worked in the heavily sports-focused city of Shanghai, Li helped conference participants think more broadly about ways to incorporate physical activity and play into their daily lives. He also shared information about a successful, traditional play park in Shanghai.
Monday morning, Dr. Geoffrey Godbey, consultant, speaker and professor emeritus in the Department of Recreation, Park and Tourism Management at Penn State University, discussed the importance of play throughout the human life cycle in his keynote address, "Taking the Benefits of Lifetime Play Seriously."
In addition to the keynote speakers, the conference included several featured speakers and more than 70 educational sessions for attendees to choose from based on their personal and professional interests. The sessions covered topics ranging from multi-generational play, community development through play, integrating play into academic curriculum and international play strategies.
A key highlight was Dr. Stuart Brown and Managing Director of the National Institute for Play Megan Tulac's discussion of the forthcoming IPEMA-supported project, the online Encyclopedia of Play. Tulac received one of three $3,000 research grants awarded at the conference to further this work. The encyclopedia will compile relevant academic research on play in a Wikipedia-style format, free and accessible to all. The encyclopedia, which is expected to launch later this year, is a groundbreaking resource that will help build the credibility of play science.
Also speaking was two-time Olympic Gold Medalist Michele Smith, reprising her popular appearance from the 2011 conference, this time covering the importance of childhood play in athletic development.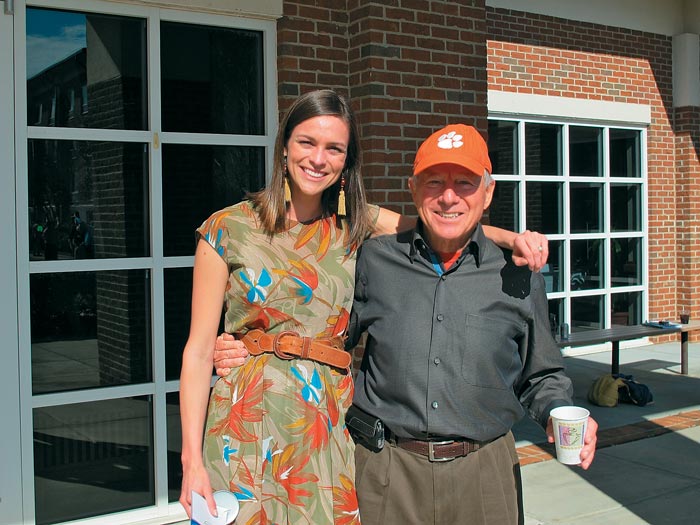 Dr. Joe Frost, honorary chair of the 2012 Conference on the Value of Play, Parker Centennial Professor Emeritus at the University of Texas and a member of the Voice of Play's Board of Advisors, spoke on "Intergenerational Research on Play, Health, and Well-Being: What Works?"
New for the 2012 Conference on the Value of Play were two optional off-site play tours to the Children's Museum of the Upstate in Greenville and Clemson University Outdoor Lab. As usual, conference attendees also were encouraged to play together during a one-hour outdoor play session. Presenters and authors, including Frost and IPEMA Board of Advisors member Dr. Stuart Brown, signed posters and books for attendees during a one-hour session on the conference's final night.
For the second consecutive year, Dr. Frost and Danielle Marshall, director of community engagement at KaBOOM!, presented research grant awards. This year's recipients were Megan Tulac (as noted above), Reva Fish from SUNY College at Buffalo State and Andrew Kaczynski from the University of South Carolina. Fish's grant will help her continue her work exploring Head Start teachers' beliefs about their teaching practices as they relate to play. Kaczynski's project is looking at how differences by gender and race/ethnicity affect youth physical activity within park activity areas.
This year's conference had an active social media presence, with a virtual community coalescing around the hashtag #cvp12 and generating lively discussions throughout the conference.
The conference was made possible by its host, Clemson University, along with the generous support of Platinum Champion for Play Landscape Structures; Champion for Play Playworld Systems; Platinum Sponsors PlayCore/GameTime and Vortex Aquatic Structures; Silver Sponsors Allied Tube and Conduit, BCI Burke, John and Bobbi Nau and Little Tikes Commercial; and Bronze Sponsors Duke Energy and the International Play Equipment Manufacturers Association (IPEMA). US Play Coalition partners for the event included KaBOOM!; the Springfield–Greene County Park Board in Springfield, MO; and the Marsha Ward Fellowship. 
The US Play Coalition was founded in the summer of 2009, following the inaugural Conference on the Value of Play. The Coalition's primary purpose is to link previously unconnected people and organizations that value play and promote its importance in human and societal development. 
For more information about the activities from the US Play Coalition, including government involvement in ongoing committees in areas of coalition building, research, communication, advocacy, and guidelines, visit  "http://www.usplaycoalition.clemson.edu" www.usplaycoalition.clemson.edu.
For more information about IPEMA's Voice of Play advocacy initiative, visit  "http://www.voiceofplay.org" www.voiceofplay.org.