The world is changing and so should we. Why change? Why choose to do things differently? Why bother? People everywhere need each other. Children and adults miss socializing. So, my suggestion to you readers is to invite your family & friends to play virtually.
I am not sure when my first virtual experience was last year. My dynamic assistant, Christine, and I may have started to use Zoom since we could not meet in person. Whatever my first virtual experience was, I sure am glad that I continued to have the opportunity to communicate and see people, although it was done through a computer screen or an electronic device.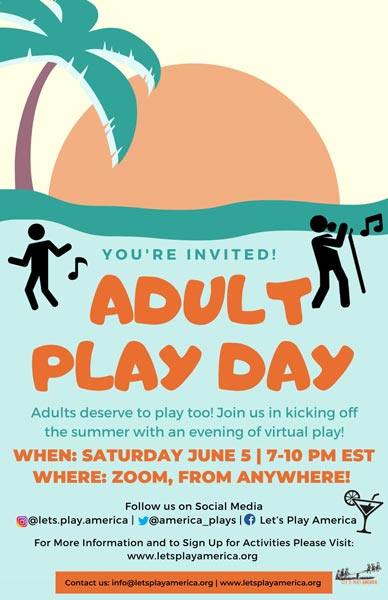 Schools had to adapt quickly when the Covid-19 virus hit. Many teachers and students are now spending a good part of their school day virtually. My hat is off to both the students and teachers for making the best of things. I know it was not the same or easy.
I worship regularly at Takoma Park Presbyterian Church. I have been so thankful to a church member named Joe. Joe is gifted in technology and every week he sets up his computer in church, a link is sent earlier in the week, so folks like myself can easily join in before the services start.
There are several other church members who do their part such as, our Preacher, the Choir Director, the Choir member who sings for us. In pre-Covid times I used to pick up three of my "super senior" friends and drive them to church. Now I get to hear their voices on the Zoom during the church meet and greet. Sometimes I see my wonderful friend Colleen's face when we screen share. This is not quite like playing with Colleen at our weekly Tuesday Night's Game night, but it is special to see and hear everyone's voices.
As the Executive Director and Co-Founder of the nonprofit Let's Play America, life seemed to come to an abrupt halt when I realized that I could not organize any public gatherings to provide play opportunities anymore. 
LPA decided to write a Virtual Play Day Handbook. The Virtual Play Day Handbook will tell you all about how you can plan one too. When finished, the Virtual Play Day Handbook will be available for order on our website in the spring. For the first Play Day Handbook, you can order it at letsplayamerica.org/toolkits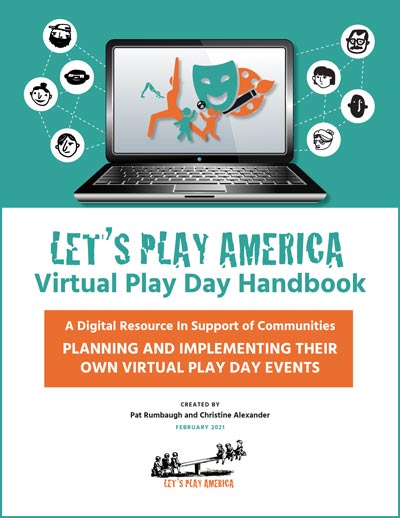 Virtual gatherings, meetings, and events have become my new way of life. I'll admit I would much prefer to see people in person, but that is not happening. I am used to virtual now, and now I actually look forward to these experiences.
Most days I strive to fit in my own play. Daily I go for a playful walk. In the past couple of months, I have added yoga classes back into my schedule, once or twice a week virtually.
I am fortunate to be in two book clubs. One of the groups (where I am one of the younger members) now holds a monthly virtual book club discussion. This has been working out pretty well and I am thankful to Roberta and Sue who got Zoom memberships and invite us all to play and discuss the book. Yes, I said, "Play." To me, I define play as anything you choose to do that gives you joy. Chatting with friends about a book is play to me.
In September 2020 Let's Play America held our first Virtual Play Day. The Play Day turned out to be a whopping success. LPA planed another Virtual Mid-Winter Play Day on February 14, 2021, maybe you were one of the people that participated with us. We are planning our Adult Play Day for June 5 that will most likely be virtual, check our website close to the date www.letsplayamerica.org 
From the September 2020 Virtual Play Day, I was filled with heart-warming joy when I saw the participants of all ages enjoying the activities. For example, Christine taught us all how to make a jellyfish out of a plastic bag and a piece of newspaper. That was one of the many fun experiences. 
For New Year's Day, I invited my extended family to join in on a Zoom call. We had family from Florida, Maryland, Pennsylvania, and Virginia participating. I have three siblings and we all joined in with our spouses and children. It was fun and playful to catch up with everyone and to see each other. Yes, I do think everything is playful.
Sara Bowersox, the editor of this publication, told me she and her family have been holding family virtual game nights. Another friend Mary told me she had attended a friend's virtual happy hour. Mary's family received Let's Play America's 2020 Spirit of Play Award, because Mary, Tom, and their daughters, Nina and Lucy, have been helping us encourage people to play for years.
I have been a member of the US Play Coalition since 2011. This past spring 2020, the Play Coalition had to move their annual Play Conference from in-person to online. I thought Stephanie Perler-Garst, their Executive Director, effortlessly juggled the switch from an in-person conference to an online event. Stephanie came up with the idea for weekly Play Chats. These virtual one-hour Play Chats were so much fun. What could be more fun than a bunch of people discussing a play-related topic? Now that's playing!
A couple of years ago at the Play Conference, I met Kara Stewart-Fortier at www.playgrounding.com. Kara has interviewed me twice for her podcast on play-related topics. In 2020 Kara interviewed me virtually on a Zoom. It was so much fun to answer Kara's questions about our Play Day Handbook and Virtual Play Days, that LPA was planning. For those readers looking for more play topics, I highly recommend listening to Kara's podcast. I have listened to several of them and had a fabulous time speaking with Gary Ware, (The Play Guy) virtually on another Zoom. Another playful experience that I thoroughly enjoyed.
While reading the Play and Playground magazine's last edition I read Joann Robertson's article on social media. Joann and I have since connected and had a couple of Zoom calls that have had us both laughing. Joann is now helping LPA with our social media. I look forward to meeting Joann and playing with her in person, but for now, I am enjoying our virtual time together.
Readers, no one knows for sure when we can safely play together in person again. But one thing we do know is that we can all reach out to people and play. Invite your family and friends to play virtually. Until next time, keep playing!
---
Photo is Jen Bryne who co-led "Craft Jam & Sock Puppet Make'n Shake," with LPA's Executive Assistant, Christine Alexander for February 14, 2021, Virtual Play Day. Jen is an LPA Board member and the owner of www.livecreateplay.com