The Fred Rogers Institute wants to honor people who helped their community this year. See the recipients of the 2023 Fred Rogers Helpers Award.
When I received the phone call that I was receiving one of the Fred Rogers Helpers Awards all I could think of were all the people that have helped me over the years. I am truly honored to be recognized by the Fred Rogers Institute. A representative is joining my Birthday/Celebration event, on Sunday, September 24 (see the flyer). I look forward to thanking as many people as possible at this event and at our upcoming 15th Annual Play Day (see the flyer).
As a former physical education teacher and coach, I always enjoyed helping my students and players develop their skills, so they could enjoy playing a variety of activities. During my career, I often wondered if fun free play as I experienced was declining. I started to research free unorganized play and discovered it was indeed declining, just as I had suspected. In 2009 I founded a play committee in Takoma Park, Maryland where helpers came out of the woodwork to support us. We held our first Play Day fifteen years ago and many of those original helpers are still helping us today.
Some of my former students at Washington International School helped volunteer at the Play Days. Then we discovered students in Montgomery County, Maryland receive community service hours toward graduation, so we have had teens helping set up Play Days and other events, invite attendees to play, and help clean up for the last fifteen years. I love working and playing with people, especially energetic teens and adults. We could not offer nearly as many activities at our Play Days without the help of these volunteers. I'm so grateful
As years have gone by, our name and outreach have expanded. In 2014 we became the nonprofit Let's Play America. During early COVID when we could not hold Play Days in person, we held three Virtual Play Days. Many of our helpers lead activities virtually. After the Virtual Play Days, we wrote two Play Day Handbooks. Our handbooks can be ordered on our website. One example after another shows how people from all walks of life have helped us with our play events. Businesses donate equipment, supplies, and refreshments while individuals donate their time and expertise.
And we are always grateful for any monetary donation no matter the amount.
Here are some examples of our community's helpers:
The Takoma Park Community band is comprised of adults who enjoy playing music. For years the band has been performing at our Play Days. This past year we formed a friendship with the Silver Spring, Maryland School of Rock House band. This band is filled with teens twelve to seventeen years old. Both bands help make Play Day lively and entertaining.
The City of Takoma Park has also supported us for many years. The Public Works Department helps transport our play equipment to and from Play Day. They also bring several BIG vehicles to Play Day for the Touch-A-Truck activity.
The kids and adults love climbing the trucks. Library staff join us at Play Day for reading time in English and Spanish, board games, and Comic Jam. These activities add to the 25+ activities we offer and provide something for everyone. The city of Takoma TV staff joins us as well to interview people about what they enjoy playing at Play Day. Jacob Krucoff along with city TV staff have produced a 3-minute video that shares what our nonprofit does (see Jacob's fantastic video work below).
Individual volunteers also provide important volunteer support. Since the first Play Day Judy Jaffee, the Dress-up Lady, has led the very popular dress-up activity. In 2015 our play team decided to start giving the Spirit of Play Award and Judy will be receiving the Spirit of Play award this year. I feel so fortunate to have someone like Judy help after all these years.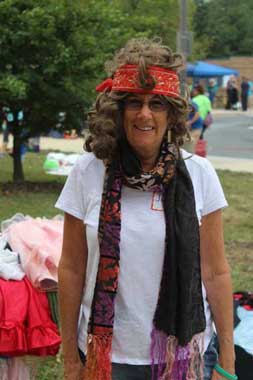 If you want to help your community by holding a Play Day, you  can receive funding from the nonprofit www.changeX.org by applying for the Play Day Project. This is an incredibly helpful funding resource that will help you with expenses for your Play Day. You may receive $5,000 if your play team is approved. 
If you would like to help our nonprofit Let's Play America, reach out to us or consider donating to us. Donations and volunteers help keep our Play Days free, because we believe everyone deserves to play.