On Wednesday, March 29, 2017 county residents, youth and local leaders joined Mecklenburg County Park and Recreation, Charlotte-Mecklenburg Police Department Metro Division, and Cunningham Recreation for the second Healing Communities Through Play™ playground build at Druid Hills Park in Charlotte, NC. More than 100 volunteers worked together; police officers, youth and residents side by side, to build a playground.
Healing Communities Through Play™ is a new initiative that hopes to rebuild community trust and relations between local residents and law enforcement officers through building a playground. The program provides opportunities for police officers, youth, local residents and leaders to interact, communicate, get to know one another and focus on our commonalities rather than our differences.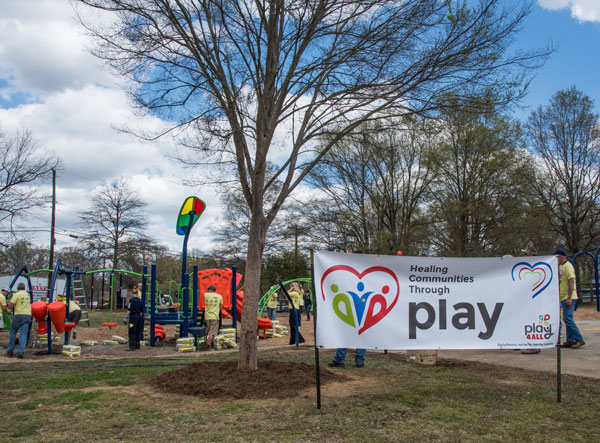 "It's a small idea, but one that can hopefully change negative perceptions and have a positive impact on our local communities," says Officer Chelsea Kidder with the CMPD.
Late September 2016, Play 4 ALL, an extension of Cunningham Recreation, Healing Communities Through Play™ pilot project was done in Ferguson, MO. The City of Ferguson leadership including Mayor and Police Chief, St. Louis area Fraternal Order of Police, Ferguson Parks and Recreation Department, community youth and local residents all came together in a cooperative effort to build a playground, and bring the power of play to the Ferguson Community Center.
"Our Healing Communities Through Play™ initiative is a small step in the right direction. These Healing Communities playground build projects are just one way of helping rebuild community relations and trust, and hopefully have a positive impact on future generations," said Scott Cunningham of Cunningham Recreation.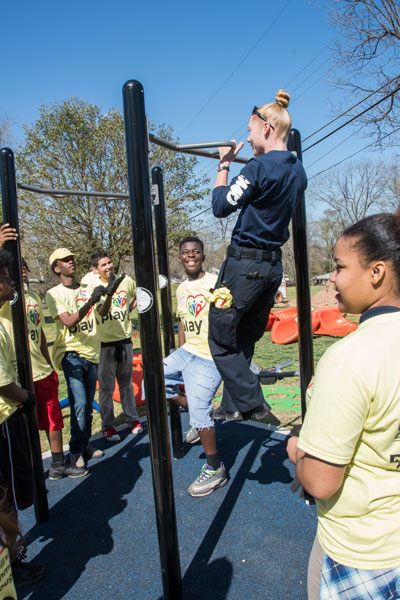 Play is a great equalizer that powerfully and neutrally reaches people. Play transcends boundaries and speaks to our universal humanity. Regardless of people's origin, race, socioeconomic status or ability, play bridges presumed differences and fosters connections. In a polarizing world, play brings people together. What is fractured can be reassembled, stronger than before. It takes trust, goodwill, community service and a common vision built upon mutual respect.
"We have a couple of other cities working on a Healing Communities Through Play™ project, and we truly hope see these begin to take hold and pop up in numerous cities across the country," says Victoria Schmidt Babb, Director of Play 4 ALL. "It's time to work together for a common goal, and mend what is broken for the betterment of our communities and our children."
For more information on how you can bring this initiative to your city to foster healing and reconnect your community, please call us at 800.438.2780 ext. 139 or email us at [email protected]. Let the healing begin.