KaBOOM! is Booming Behind Hammond
Walk into Darrell Hammond's office, and you quickly understand why he's involved with an organization named KaBOOM! It looks like a bomb went off in there.
Three stories above the hustle and bustle of the street sits Hammond's perch, a corner office in the nation's capital. Upon being ushered into his office, one encounters mountains of paper stacked high atop what is assumedly a desk. And amongst the tangle of chairs, tables and file cabinets are perched, placed and tossed dozens of toys. And not the kinds of toys that one would normally associate with an extremely successful, 29-year-old CEO. Rather than BMWs and yachts and foreign motorcycles, Hammond prefers the company of stuffed animals and Tinker Toys. His office looks like much like the bedroom of an 8-year-boy - or at least the kind of bedroom and 8-year-old boy would dream about.
And it probably should. Hammond, along with seven brothers and sisters, spent 14 years in an orphanage near Chicago, so dreams were often the best he could do. And while he's managed to make many of his come true, it's making the dreams of others come true that drives Darrell Hammond.
"I know that a lot of times for me as a child, play and fun was the way for me to release anger, anxiety and also to celebrate my childhood," Hammond says. "And I think that too many kids, unfortunately, are not getting the same opportunity."
Hammond tells the story of a recent visit back to the Windy City. A friend suggested that he take a walk down an alley, "And as soon as you get there, it will become very apparent what you're looking for." Hammond walked down the alley and came to a sudden stop when he encountered a large sticker on a garbage Dumpster that read: "This is not a playground. Do not play here."
Hammond continues, "Fundamentally it became very obvious to me that kids were playing in the alley. They were playing in garbage dumpsters. And so the way the community did something about it was to put those stickers on there.
"What we should be looking at is the community and finding out why there is no playground." Since co-founding KaBOOM! With Dawn Hutchison five years ago, Hammond has been asking - and answering - that question a lot. But while the KaBOOM! team can lay claim to over 240 community-built playgrounds, he estimates that over the last two years, the $2 .5 million non-profit organization has been contacted by 12,000 communities in need of new playgrounds.
Fortunately Hammond knows how to meet a challenge.
Thanks to the Mooseheart Children's Home and the Loyal Order of Moose - "Millions of people contributed to my health and well being," he declares. - Hammond managed to graduate from high school and earn his Eagle Scout award. He then went on to study politics and government at Ripon College, and it was during his time in Wisconsin that he discovered his life's work. While debating between "having a real career in the business world and my compelling need to help other people," Hammond joined a friend at a Leathers & Associates playground build.
"It was a pretty amazing experience," he recalls.
By the time he left Ripon, Hammond knew which direction he wanted to go and received a fellowship from Northwestern University called Urban Studies. It was while focusing on "urban ills" that he came to know John P. Kretzmann and John L. McKnight, authors of a book titled "Building Communities from the Inside Out: A Path Toward Finding and Mobilizing a Community's Assets." Hammond says he came to realize that while some communities may be deficient in such tangible things as money, that every city or town still had something going for it.
"It might be spirit, or it might be a larger percentage of senior citizens," Hammond says. "Whatever it is, organize around it."
Before long, Hammond was studying the efforts of community-built organizations such as Leathers & Associates and Learning Structures, learning the process behind getting playgrounds built in needy communities. After aiding in some builds of his own in Ohio, Hammond says that he and his associates found our four things: "First, the industry wasn't meeting people where they were at. If you didn't have money, no one would give you their time. Second, we found that while communities may be ch ild rich and playground poor, they may not have an organization - a PTA or a PTO - that could plan something th is massive. The third thing we found is that their access to resources was much more limited, or perceived to be much more limited. And the fourth thing is that fundamentally they just didn't have the confidence to do the other things.
"So we said, 'Geez .. . I betcha if we help communities with those things, more playgrounds would be built in lower income areas and minority areas."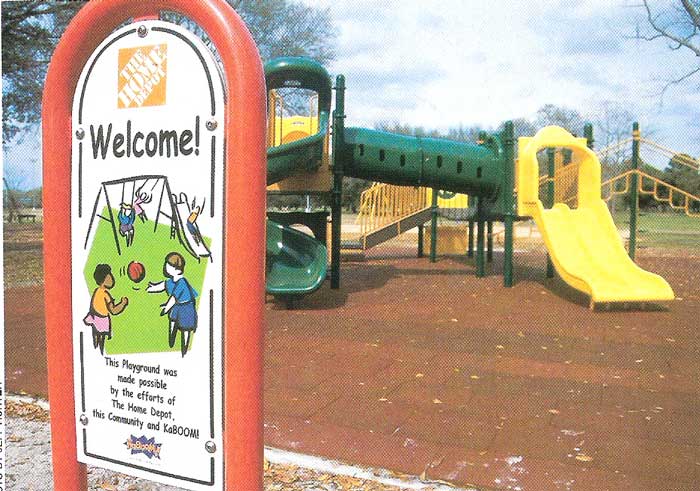 So KaBOOM! exploded on the scene in 1996. Hutchison came up with the unique name that, according to Hammond, refers to "an explosion of hope and opportunity and possibility and what can be."
He continues as the grin on his face gets wider and wider, "It starts as this little tiny rumor, a little whisper, and then it builds into this crescendo. It builds when more people get invested, when more people get involved, and when more people take responsibility for taking action."
Because that idea has become so popular, KaBOOM! is continually expanding its sphere of influence. While Hammond runs the Washington, D.C. office, Hutchison serves as president and oversees the office in Chicago. KaBOOM! Recently opened two more locations in Atlanta and San Francisco, and the organization has its sights set on building 100 playgrounds this year - nearly double the number it helped construct in 2000. In addition, KaBOOM! Plays host to the Playground Institute each spring, a two-day conference in Chicago where attendees can learn the "nuts and bolts" of the community-built process while also participating in a playground build.
One major key to the success of KaBOOM!, however, has been its ability to garner support from corporate America. Home Depot has been a partner from very early on, while other big companies such as Nike, CNA insurance and Motorola are currently working with Hammond and his team.
"They do it because it's the right thing to do and it's great P.R.," Hammond says of the company sponsorships. "And it's a great way to get their employees involved in the community in which either their headquarters are in or where their employees live."
Many companies help supply the labor for KaBOOM! builds, often as part of a convention or corporate retreat. Hammond says more than once he's overheard an executive say, "There's no way this is going to get done in one day," upon f irst showing up at the build site.
"Of course as the day goes on, the posts go up, the decks go in, the structure starts to come together, the slides go on, the safety surfacing goes in, the concrete goes on and soon the executive is patting himself and his friends on the back saying, 'See, I told you we were going to
get this done.'
"The confidence really grows through the course of the day."
Because of the successes that KaBOOM! has generated, Hammond has received quite a bit of recognition. He's rubbed shoulders with Colin Powell and Al Gore at a playground in Philadelphia, shared the stand with Hillary Rodham Clinton in Ireland and was recently named to the "40 Under 40" list by (rain's Chicago Business magazine, an honor Oprah Winfrey received a decade ago. Instantly likeable, Hammond is full of energy and blessed with a great sense of humor. He has the vision of Henry Ford and the compassion of Albert Schweizer with the personality of Chris Farley.
"I enjoy fun," he says. " I'm very passionate about what I do. And I like to surround myself with people who are passionate. "And I have what I would call a 'justice nerve' - when I see something wrong, then I go do something about it."
=======================
People are Eating KaBOOM! Up
Ben & Jerry's add a new flavor to lineup
KaBOOM! is now so cool that it can be found in your grocer's freezer.
Ben & Jerry's, the innovative ice cream maker known for its social mission, is partnering with KaBOOM! to build new playgrounds. A portion of every sale of its all-new flavor KaBerry KaBOOM! will go to fund three new playgrounds: one on the East Coast, one on the West Coast and one in the Central United States.
"We're thrilled to be part of the positive changes that building much needed playgrounds can brings," says Ben & Jerry's spokesperson Molly Hanlon "This program is a great fit with Ben & Jerry's longstanding philosophy of giving back to the community, and our new KaBerry KaBOOM! flavor is all about playfulness. This red-and-white combination of strawberry and blueberry ice creams is leaded with tongue tickling white fudge-covered cracklin' candy, then kissed with a blueberry swirl!"
Each of three Ben & Jerry's sponsored playground builds will be constructed by local area grocery stores. convenience stores and scoop shops, while other retailers around the country will have the chance to develop playgrounds of their own. A team of Ben & Jerry's employees will also descend on Boston to help construct a playground there this spring.
As for KaBerry KaBOOM! itself ... "It's very good ice cream," says KaBOOM! CEO Darrell Hammond. "If you let it melt in your mouth, you get the sensation of Pop Rocks. And if you just eat it, it's like eating strawberry ice cream with rice krispies."