Fundraising can help build new school pleaygrounds
The school playground in my neighborhood was a place to play before, during and after school. If you weren't there, you were square. Although we didn't have fancy equipment, the swings, monkey bars, and slides provided us with hours of entertainment. We also had a merry-go-round, but there was one problem; the merry-go-round didn't "go-round." It was more of a merry-go-stuck. This piece of equipment had rusted and seized up. We could no longer spin it around and I can tell you there was nothing "merry" about that. If you needed to rest, it provided you with a good place to sit, but you couldn't do anything else with it. Needless to say, it was time for the merry-go-round to merrily-go-away. I don't know if the concept of replacing it ever crossed the minds of the school officials. Perhaps it did, but my school probably didn't have the funds to install a new piece of playground equipment.
Lack of funding for school playgrounds should no longer be a problem because many fundraising opportunities exist for schools to raise enough money to build a better play area for children.
If your school has a playground that needs refurbishing, first take inventory of what needs to be done. Does the play area need a new slide, a new swing set or a new playground altogether? Your school should have an idea of what's needed before beginning a fundraising campaign. Moneyraising.com, a fundraising website, says schools should determine how much money they'll need for the project because "It is much better to set a realistic goal and achieve it with one great project." So how does your school establish how much money they'll need? Again, it goes back to the type of equipment needed as well as how much the school needs. Once your school has contacted a playground manufacturer and knows the cost of the equipment, then the time has come to raise funds.
Gary Carnow, Ed.D., the Director of Information and Technology Services for the Alhambra School District in Los Angeles, says when starting a fundraising program for your school, you should consider these seven steps, (courtesy of Scholastic.com).
Be sure to develop a fundraising objective. Know what the school wants to spend the money on, as well as how much they want to raise during the year.
What type of fundraising does your school have an interest in?
How long will the fundraiser last? Will it run only in the fall, spring or throughout the entire year? Will the fundraiser occur annually and will the school look to for outside help (a fundraising agency) to manage their fundraiser?
Will your community support fundraising or do they object to spending a lot of money for goods they can buy cheaper elsewhere? If the community opposes the fundraiser, the school may consider having an event or asking for direct donations. 
Fundraisers need volunteers. Sign-up sheets usually don't work, so contact parents directly. Make the volunteers feel appreciated and write them a "thank you" card, send a flower or have a volunteer tea when the fundraiser ends. Also, be sure to have the specific responsibilities drawn out and introduce parents to one another. 
Follow the law! Consult an attorney (perhaps a volunteer parent) and check to see if the fundraiser the school wants to sponsor does not violate any state laws, especially before having a raffle or casino night. If you want to sponsor a sporting event, check with the school insurance carrier. And before beginning anything, check with the school board to see if they even allow fundraising. Know the school board policies.
How profitable will the fundraiser be? Be sure everyone's hard work will "pay off." Do not put a great deal of time into a project that doesn't generate a lot of funds. Walkathons and jogathons produce a large sum of money in a relatively short period of time. 
After going through the seven steps, it's time to begin the fundraiser and many fundraising organizations and programs can help raise funds for your school needs. For example, during the past few years, Yankee Candles have become quite popular. GBI Marketing in Bernardston, Mass., sponsors the Yankee Candle fundraising program. When your school sells Yankee products they stand to make a substantial profit. GBI says, "Your group will earn a 40 percent profit on all Yankee Candles sold and 30 percent on all accessory items." That's a lot of revenue that can go toward a new slide.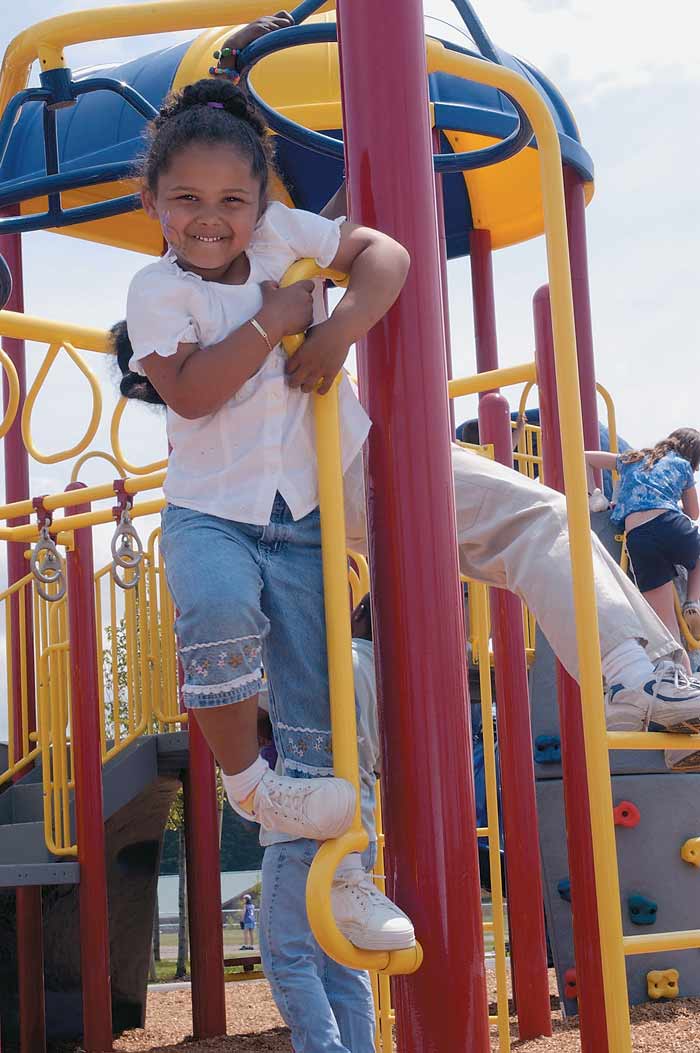 You also have the old standbys. Candy, pizza sales and 'Market Day' raise a substantial amount of money during the school year and help offset the cost of playground equipment. Krispy Kreme doughnuts has a fundraising program too, and since most everyone loves a tasty, fresh donut, Krispy Kreme can bring in the dough (no pun intended!). With the Krispy Kreme fundraising program, your school buys the doughnuts at fundraising pricing (half price), then sells the doughnuts at full price. The school then keeps the profits. Krispy Kreme offers other alternatives to selling the doughnuts themselves. They offer a certificate program, where patrons buy the certificate and go to their local Krispy Kreme to pick up the doughnuts at their leisure. They also have "Partnership Cards," where patrons can receive a dozen free doughnuts with the purchase of the same. Each time someone visits Krispy Kreme, the patron's card will be punched and the Partnership Card can be used up to 10 times.
Another form of fundraising has to do with recycling. I'm not talking about aluminum cans or newspapers, but instead about recycling old cell phones and laser and ink cartridges. Through the Funding Factory, schools can earn money for playground equipment by collecting old cell phones and used ink cartridges. Each item has a point value. Your school's points then accumulate in an online account managed by the Funding Factory. Allison Felix, Program Coordinator for the Funding Factory says that since each item has a different point value, the cost of the item you want to purchase should be known beforehand. "There is no specific number of cartridges or points that you need to get playground equipment," she says. "Each cartridge is worth a different point value. Each point is equal to $0.40. If you find playground equipment that you want, you can find the price and figure out what your points equal to in dollars, and then you know whether or not you can buy it." The school does not have to pay any type of fee for participating in the Funding Factory program because they provide the boxes, labels, and postage. The school then sends the items to the Factory.
Felix says the school should use all of its resources to collect old cartridges and cell phones and that means asking local businesses for help. "I suggest that when schools register, they immediately order our free custom fliers to send out to businesses. The best way to get cartridges and cell phones is through getting business supporters." She also feels that through recycling, the school not only helps itself, but it also contributes to saving the environment. "I feel that this is a great way for schools and non-profits to make money for much-needed equipment," she says. "It doesn't cost a thing and there is no selling involved. Not only are they getting equipment and cash, but they are saving the environment as well."
The Funding Factory works in partnership with GameTime and together they've provided schools throughout the country with playground equipment. Anne-Marie Spencer, Marketing Manager at GameTime, says their equipment can be ordered through the Funding Factory online catalog. "Once they (the schools) have reached the point level that corresponds with the value of the equipment they want, they are redeemed through the Funding Factory's online catalog. All of our pre-designed playgrounds and freestanding equipment are eligible, so a customer can start with something small, or keep saving to get a really large playground." 
Spencer adds that GameTime has other fundraising options if the Funding Factory does not meet a school's needs or desires. "Besides our partnership with the Funding Factory, we have built an extensive database of grants that a customer can access to help fund their new GameTime playground," she says. "Our sales representatives can help them design a unit, then provide images to feature as a visual part of their grant proposal, then the customer can search the GameTime grant resource list to find a grant that might fund their particular project." She also says their company only works with foundations interested in helping build playgrounds and that GameTime can help schools when it comes to grant writing. "Unlike other grant source programs, the one we have assembled includes only Grant foundations that might consider the funding of a playground. We also have a document that helps take the mystery out of grant writing, with a comprehensive "how-to" on writing a grant." 
Fundraising can be fun and exciting for students and the school. Students learn the importance of raising money for a good cause and help their school acquire funds to provide them with a playground. School playgrounds not only allow kids to have fun, but they help educate as well.