Hartford, Conn. (June 16, 2017)—Coach Kevin Ollie wants to give every child a shot, regardless of their abilities.
Today, Coach Kevin Ollie, inspired by athletes with disabilities, opened his first inclusive basketball court paired with an adjoining barrier-free playground—"Kevin's Kourt" at South Windsor, Conn. community center (150 Nevers Rd, South Windsor, Conn.)—with a special ceremonial "Net" raising. Teaming up with Coach Ollie in the "Net" ceremony were South Windsor Mayor Carolyn Mirek and members of Ryan Martin Foundation & Hospital for Special Care Junior Wheelchair Basketball program and the South Windsor Unified Sports Program.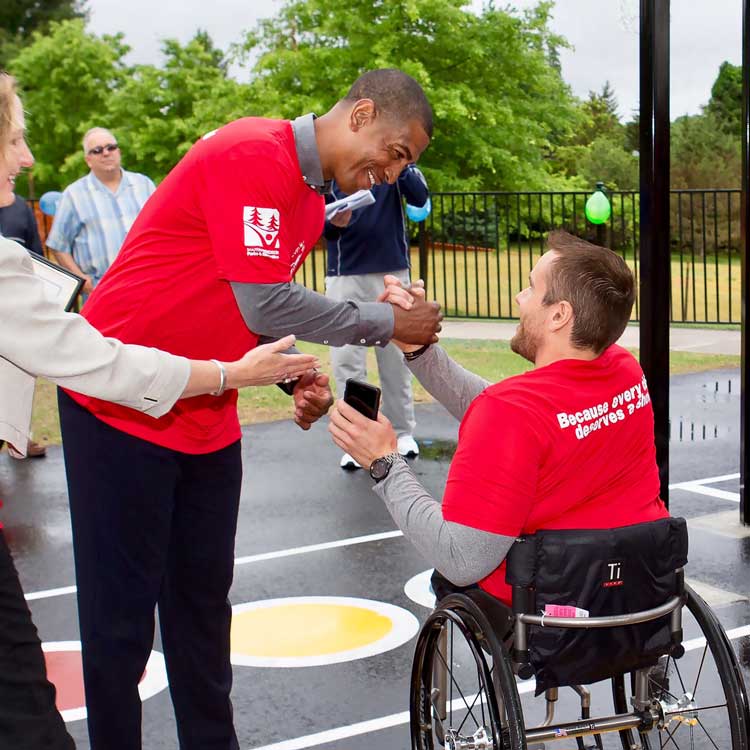 Kevin Ollie announced two additional Kevin's Kourts will open this summer in West Hartford and Waterbury.
"Kevin's Kourt" is a project of the Kevin Ollie Charity Classic, which helps support programs serving more than 22,000 people with disabilities. "Connecticut is my home so I'm especially excited building 'Kevin's Kourt' throughout the state," said Ollie. The Ceremony was also the opportunity for Kevin Ollie to announce 2017 Kevin Ollie Charity Classic to be held August 20-21, Lake of Isles and Foxwoods Resort Casino.
"Kevin's Kourt at the South Windsor community center features ten stations created by Bankshot™, which has pioneered inclusive basketball play structures based on total-mix diversity and universal design. The distinctive red "Kevin's Kourt" logo anchors the corners on the 40' x 50' court..
"The Town of South Windsor applauds Coach Kevin Ollie and his team of supporters who made this wonderful community sports facility a reality," said South Windsor Mayor Mirek.  "Working together with the Kevin Ollie Charity Classic/21st Century Tolland Fund, the South Windsor Community Foundation, Vincent and Diane Prestileo and more than dozen sponsors 100% of the costs for building the South Windsor Kevin's Kourt was totally unwritten. The building of 'Kevin's Kourt' shows how working together we can level the playing field for everyone."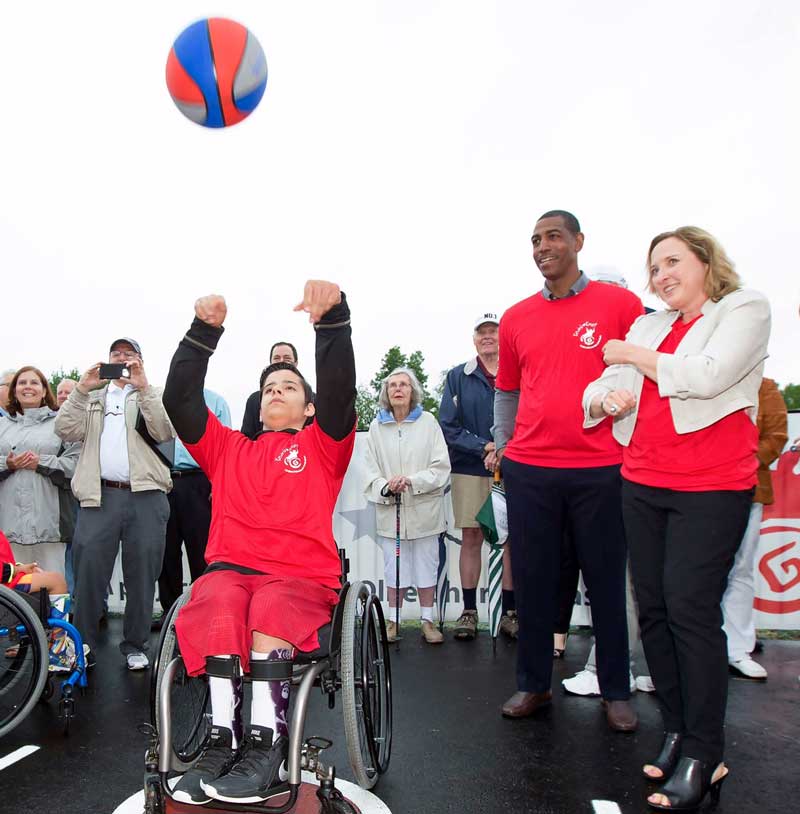 "'Kevin's Kourt' does not happen without a team behind it. So I wish to thank Jim Galey of Fuss & O'Neill Design Build, Jay Sloves of Elkinson + Sloves, Inc., and support sponsors including Earth Dynamics, LLC., Jay Landscaping, Costa & Sons, Design Professionals, Connecticut Valley Fence, JayPro, Savings Bank of Manchester, Sign Pro, South Windsor Parks & Recreation department and Rick Bernstein and Nate Schilberg of the Kevin Ollie Charity Classic," Ollie said.
"'Kevin's Kourt is more than building a court. It's about creating inclusive support programs because every child deserves a shot," Ollie said. "So as part of this commitment we've teamed up with the Ryan Martin Foundation to host series of "adaptive sports" clinics at all our Kevin's Kourts."
The first South Windsor adaptive sports basketball clinic was held following the ceremony with members from South Windsor Unified Sports Program and the Ryan Martin Foundation and Hospital for Special Care Junior Wheelchair Basketball Team. Other clinic dates will be announced.
"'Kevin's Kourt celebrates inclusivity and the power of sports to unite people with differences," Martin said. "'Every athlete has the right play and compete together despite perceived limitations. That is what 'Kevin's Kourt' is all about."
To support Kevin's Kourts please visit KevinOllieGolf.org
About Kevin Ollie Charity Classic: Now, in its 31st year Tournament proceeds have underwritten many programs and athletic events for athletes with disabilities on the world stage and weekend warriors including Paralympic Gold Medalist Paul Nitz, Ivan Lendl's Wheelchair Tennis Camp, Connecticut Sled Hockey, The Miracle Field in West Hartford and special racing chair for Coach Ollie's former UCONN team mate Steve Emt—serving more than 22,000 people with disabilities in 22 state programs.
About Ryan Martin Foundation (RMF):  Founded by Ryan Martin, RMF, a 501 c3 Foundation, is much more than basketball. RMF offers four programs that prepare athletes with disabilities to succeed in life on and off the court. RMF programs include Wheelchair Basketball Junior Program (year round program with Hospital For Special Care, Wheelchair Basketball Youth Camp (which is held in Philadelphia, PA, Windsor, CT, Clark, NJ, Marshall, MN and Madrid, Spain; Basketball Camp for Wounded, Active Soldiers—RMF is developing basketball camps with the U.S. Army for soldiers living with new disabilities
About Bankshot: Founded on the belief that sports and play structures should be open to all, the Bankshot™ game was invented by Rabbi Reeve Brenner as the first Total-Mix, non-exclusionary game that wheelchair athletes and the able-bodied can play together with neither at a disadvantage. The inspiration for the game came from a cousin who, as a wheelchair athlete, is now able to participate with the rest of the community.