Multigenerational play has been driving playground design for the past several years, and this "trend" won't be going anywhere anytime soon. I hesitate to call it a trend because the functionality and benefits of playgrounds thoughtfully designed to encompass the entire community just makes sense.  A multigenerational playground doesn't focus solely on the child, but on people of all ages and abilities, so that anyone who visits the playground will find something to enjoy. It's no small feat, but when it comes together it creates a space that is entertaining and valuable for the entire community. 
Benefits of Multigenerational Play
Play is transformative. Not only is playing together fun but when families play together everyone benefits. Multigenerational play provides significant physical, emotional, and social benefits. Research shows that children who play with adults demonstrate greater creativity and higher levels of language and problem-solving skills. Research also shows that adults who engage in play with children experience dramatic psychological and health benefits such as reduced stress, improved mood, greater cognitive skills and enhanced relationships.1
While it may seem obvious that adults and children play together, a study2 from the United Kingdom suggests that's not the case. Renowned psychologist Tanya Byron surveyed parents and children across the U.K. and discovered:
1 in 5 parents say they have forgotten how to play with their children
55% of children desire more play time with parents and grandparents
1 in 3 parents feel like video games are appropriate multigenerational activities
75% of children prefer outdoor play with parents or grandparents over video games
With so many benefits, and a generation of children and adults who are not engaged in play with one another, it's critical that communities provide a place for children and adult caregivers to play together.
Designing a Multigenerational Play Space 
A successful multigenerational play space considers the needs of everyone in your community. By incorporating best practice design strategies in the areas of nature, inclusion, and fitness, communities can bring adults and children together, create parks that are neighborhood centerpieces and help families reconnect with the outdoors and with one another. 
Nature
According to the National Institutes of Health, 80% of Americans utilize local public parks for recreation and physical activity.3 That makes parks an obvious choice for creating multigenerational play spaces. Naturalized play environments are more attractive and comfortable for adults, encouraging caregivers to spend more time outdoors with their children. The following guides developed by the Natural Learning Initiative at NC State University in partnership with PlayCore should be considered to incorporate nature into your playground.
NatureGrounds is a program that brings nature to the play environment. It represents a dramatic shift in the playground design process and encourages unstructured, free play in nature. Integrating native plantings like trees and shrubs into a manufactured play space meets the needs of a broader range of children and families in parks. It encourages grandparents, parents, and children to visit outdoor play areas more frequently. 
Pathways for Play is a breakthrough design concept that brings play to trails, greenways, and walking paths. By positioning pockets of play along a path, communities can attract families to underutilized trail systems, encourage physical activity and increase the diversity of play value.
Inclusion
Inclusive play used to focus on accessibility. Specifically, the effort was to ensure a play environment was accessible by children with a physical disability. This is important, and it is required by DOJ Accessibility Guidelines for public parks and play spaces, but access alone does not guarantee inclusion. Truly, inclusive play includes access, but it also considers a much wider range of needs – beyond physical disability. The idea is to create a space that allows every child to play together, and to participate fully in a variety of activities in a mutually beneficial way. And while the primary audience of a play area is children, an inclusive play space should be a multigenerational environment that allows people of all ages and abilities to play and recreate with friends and families.
Out of 1,000 children between the ages of three and 21, approximately 85 will have some type of disability. For example, one of those children will have a physical disability and 41 will have a cognitive disability. But numbers like one or 41, or even 85 out of 1,000 don't really give a full picture of the population of children affected by a disability. According to the US Department of Education, there are approximately 6.6 million children in the United States who are affected by some type of disability (physical, sensory, chronic health condition, social-emotional, communication, cognitive).
What makes a play space inclusive is creating a space that addresses the needs of those 6.6 million children, as well as every other child in the country. We think about the environment first, and how to make it usable and beneficial to all people to the greatest extent possible. We use the design guidelines found in Me2: The 7 Principles of Inclusive Playground Design, created in partnership with Utah State University Center for Person with Disabilities and our parent company, PlayCore. Me2 is a comprehensive design philosophy based on proven best practices.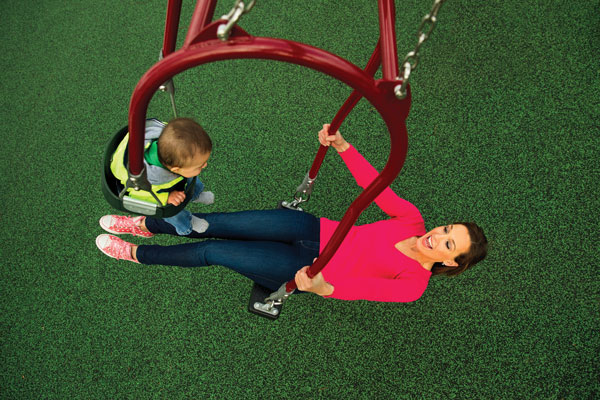 One of the most innovative commercial play products that promotes multigenerational play in parks is Expression Swing®. The patented face-to-face design positions an adult and child at eye level and allows a parent and child (or grandparent and grandchild) to interact visually and verbally while at play. When a parent and child's eyes meet while playing in this way it creates opportunities for significant emotional bonding (also called attunement) and enhances the cognitive and decision-making centers of the brain in both the child and the adult.  Expression Swing® is now available with an Adaptive Swing Seat so parents and caregivers can swing with children and young adults who need additional support.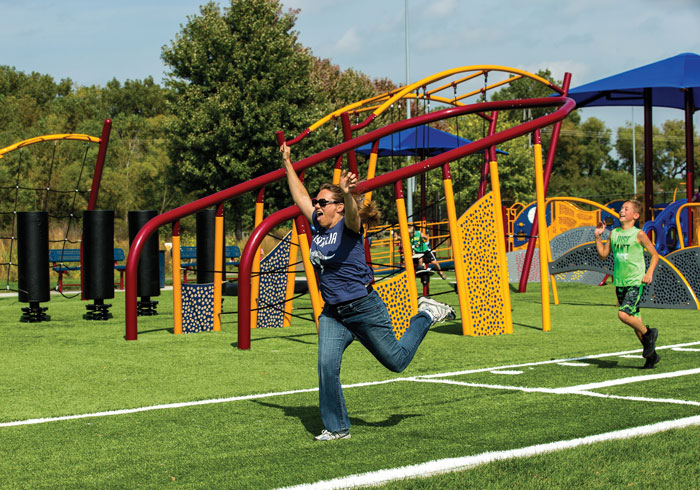 Fitness
Studies show that adults who exercise outdoors, and children who play outdoors, are active more often and for longer periods of time. By combining outdoor fitness equipment for adults, with a playground that is designed to keep children moving, communities can help people of all ages achieve their health and wellness goals. 
Using the Outdoor Adult Fitness Park program guide from PlayCore, communities can design a fitness park that combats obesity through well-rounded workout opportunities for people of all abilities and fitness levels and increases interest in related community services, such as nutrition education and health screenings. Outdoor fitness products are great ways to encourage people of all ages to be more playful together. Our Challenge Course® is a cross between a ninja obstacle course and a pro sports combined. With the addition of the mobile phone app and the professional timing systems, it's a social and competitive experience for the entire community. Challenge courses appeal to a wide range of users, from all walks of life, play styles, and socioeconomic backgrounds. 
Through incorporating best practice design strategies, communities can create opportunities for children and adults to interact in a meaningful way through play. Play is inherently social, and as communities create multigenerational recreation areas that promote interaction between adults and children, the benefits of play increase exponentially. By implementing best practice design strategies, and by utilizing neighborhood parks, you can create a more enjoyable living experience today and for generations to come.
Footnotes