Use The Resources Given By Manufacturers
A play structure, properly maintained, should last for many years. A set routine of maintenance procedures must be established and carried out by staff qualified to inspect playgrounds. A maintenance program should be customized to fit each individual play area. It should include a system for reporting inspections, problem s found during inspections, and the procedures for getting them fixed. The first step to getting your maintenance program off to a good start begins with a manufacturer's maintenance kit.
Play equipment manufacturers know what needs to be done to maintain and preserve a playground and keep your equipment safe and attractive, to extend its useful life. Most equipment manufacturers supply customers with a maintenance manual and a maintenance kit to help you start your maintenance program. If you do not receive one, ask your contractor or sales representative to supply one for each structure or set of equipment you have purchased.
Your maintenance kit should contain at a minimum, an installation manual that includes a top view of your play equipment, the product warranty, and the part numbers and descriptions that may be necessary when ordering worn, or vandalized parts. Most manufacturers require you to identify your job number when placing parts orders. Assembly information such as proper height requirements of decks, safety zones and positioning should be found here as well. Your paperwork should have inspection checklists that you can photocopy and use to record all inspections and maintenance performed. Keeping track of your maintenance manual information and updating the information as you pull inspections is critical in proving due diligence in case of litigation. Additionally, some manufacturers provide copies of the ASTM 1487-98 or the CPSC guidelines.
Maintenance Documents

When your playground is complete, acquire and file the following documents:

Inspection checklist - use for each inspection. You may have to photo-copy this
Part list and description
Installation Manual with your job order number
Product Warranty
Top view of your play equipment
Names, addresses, and phone number of parties involved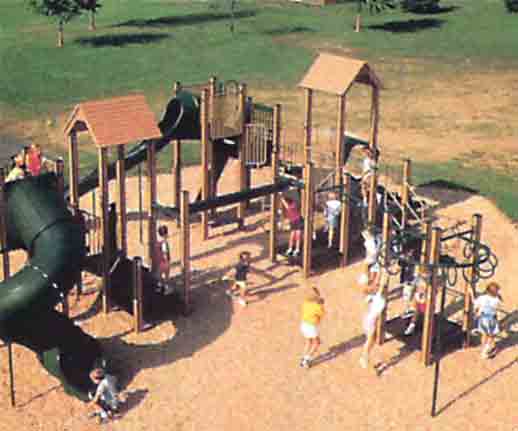 Proper use of maintenance kits, which are often provided by the manufacturer, will keep a play structure looking new for many years.
Many manufacturers supply wrenches designed specifically for use on your playground equipment. These are tamper-proof hardware tools designed to deter acts of vandalism and theft. As most hardware stores do not sell these wrenches, take care to keep them secured and available for use on every routine inspection. They may come with a variety of extra nuts, bolts or other small parts to keep on-hand for "quick fixes."
Graffiti remover and touch-up paint provided will match your uprights and accent colors. Be sure to prime any exposed metal before painting. Sandpaper and primer paint is often included in your kit. Take precautions to not over-spray as the paint tends to run. Use an even spraying motion from side to side at a distance of 8 inches from the object you are spraying. To avoid getting paint on connecting plastic parts or colored metal, cut templates from cardboard that fit around curved components such as an upright.
After you have secured your manual and kit, be sure to develop a filing system for accessing these tools and written documents. Keep names, phone numbers, and addresses of your sales representative, the equipment manufacturer, and the installation contractor. Establish policies and procedures for carrying out routine inspections that include instructions on who pulls inspections, how often a structure is to be inspected and steps to take when addressing repair of a product, removal of a safety hazard, and other problems identified during routine inspections.
Maintenance Kit

Use a qualified safety inspector to perform all inspections and maintenance to your playground*

Tamper proof hardware wrenches
Extra nuts and bolts
Touch-up paint 
Graffiti remover
Primer paint
Sand paper
Copy of the CPSC guidelines
ASTM standars information

*Nationally recognized certification with the National Playground Safety Institiute 
The manufacturer of your equipment has spent thousands and thousands of dollars backed by many years of experience to supply you with safety and maintenance information. Use it.
For example, if you were supplied with stickers displaying a safety message, be sure to apply these to the play structure where they can be viewed by the public. We may never know if such messages prevented a child from being injured, but we do know that poor maintenance or total lack of maintenance accounts for at least one-third of all reported playground accidents. Be aware of the condition of your equipment at all times and enjoy the benefits of a playground that will serve your needs and the needs of your children for many years to come.