BCI Burke Dedicated to Core Values, Costumers and Quality
It's one thing to have a set of core values written down on a piece of paper somewhere, and it's a completely different thing to consider those core values every day and on every project.
At BCI Burke, based in Fond du Lac, Wis., the core values that were put in place 82 years ago by founder John E. Burke are still in place-and more-still being used and considered on a daily basis.
"We continually talk about our core values-integrity, respect for people, teamwork, innovation, leadership, and performance," said Cheryl Van Den Bogart, marketing director for BCI Burke. "We always ask ourselves: 'Is this who we are? Does this meet our standards for excellence? Is this taking us where we want to be?'"
And it is this constant checking and rechecking of motivations and details that has made BCI Burke one of the leaders in the commercial play equipment industry. It is also one of the keys to the ever-impressive innovations that the company makes year in and year out. One popular playground component that BCI Burke introduced in the last two years is the Monster Slide.
The Monster Slide is a large combination of three slides connected at the top-each one taking children in a different direction. It comes in 12 different configurations, five different colors, and six different deck heights. It provides an added element of play to the playground and is different than what other companies are doing.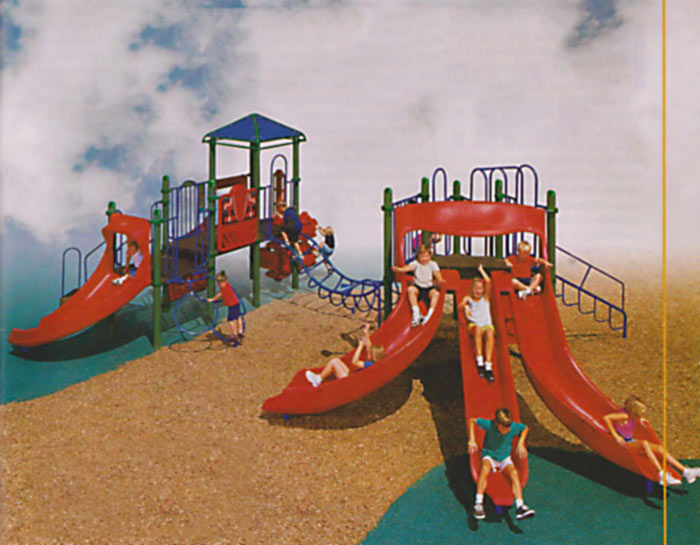 Innovation is a part of BCI Burke's commitment to play as is evidenced by the new Monster Slide.
Another new product that was released in January 2002, and also shows the innovation of the company, is the Rocky Mountain Adventure Climber. The Rocky Mountain Adventure Climber plays on the popular pastime of rock climbing and gives children the chance to " rock climb" from place to place on a realistic looking mountain.
"With the Rocky Mountain Adventure Climber we, basically, give children a fun way to get from Point A to Point B,11 said John Hansen, national sales manager for BCI Burke.
And the innovation is no accident. According to Van Den Bogart, BCI Burke takes advantage of innovation "teams" that include people from all areas of the company. From marketing and sales to manufacturing and engineering, all bases are covered.
"The teams enable us to get everyone's input on a project," Van Den Bogart said. "We decide on an idea; then the engineers take it and make it happen."
One area that BCI Burke is ahead of their time in is the use of recycled materials in their play equipment. BCI Burke's Plasticore Posts are formed using 95 percent recycled plastic materials.
"The neat part of this is that about 21 milk jugs per foot are used to make up the plastic outer layer that goes around the (steel) posts," Hansen said." It's a great way to use these milk jugs that otherwise would cram our landfills. In an average playground, there would be 3,000 to 4,000 milk jugs used for the posts."
And beyond the environmental advantages, Hansen explains that the posts are color impregnated throughout, so scratches don't reveal a different color substrate. Also, since they are extruded from plastic, they won't splinter, rot, chip, peel or rust.
But both Van Den Bogart and Hansen agree that the company's innovations and high-quality products would be for naught if the service were unsatisfactory. That is why BCI Burke places the utmost priority on customer service.
"One of the strengths of the company, and our reps throughout the country is service and customer management," Van Den Bogart said. "Our reps and installers take pride in serving the customer, all the way from planning to design to installation."
From the self-described " longest and strongest warranty in the industry" to the dedication to accuracy in shipping, BCI Burke is committed to the highest quality of service.
More than anything, when dealing with BCI Burke, you will be treated fairly and with a no-nonsense attitude.
"We are a company that has a great deal of integrity," Van Den Bogart said. "We strive to honor the relationships that we have with dealers, customers and partners that we work with. This is a grass-roots attitude that has been around since the beginning. What you see is what you get. We do what we say we' ll do and we do it very well."
And the future looks bright for BCI Burke as well.
"We aren't going to compromise quality in our playgrounds, but we are always looking for better ways to do things," Van Den Bogart said.
Hansen agrees that the future will bring more success and more innovation from BCI Burke.
"In addition to new product development, we are constantly looking for more and better ways to serve our customers," he said.
And in all that BCI Burke does in the future, you can be sure that they will ask themselves the same questions and refer to the same set of core values.