Backyard swings and playsets are popular with families with children, daycare centers, churches and neighborhood associations as a great way for kids to be physically active while using their imaginations. They are made from multiple materials, come in various sizes and can be customized with a variety of accessories. Quality backyard swing and playsets can cost a lot of money depending on the size, material, and features that can be added to each one. With so many options it is a good idea to compare these features before making a purchase.
Swing and playsets have several different base options. Angled-base playsets are designed to be sturdy, height-adjustable and create the most deck space, both above and below a clubhouse. They are popular for their ample space beneath the clubhouse portion of the playset, which allows you to create more play space by hanging a tire swing or setting up a picnic table. You can also customize the sloped sides with rock walls, rope walls or ladders. Adjustable-base playsets are optimized for backyards that are uneven or sloped. Each base-post is adjustable to fit the terrain of your backyard so you don't have to re-landscape your yard to make a flat, even surface. Multi-level playset designs combine different designs into one swing and playset. They have two or more features at different heights that are typically connected by features such as a slide, bridge or ladder. Multi-level designs give kids more space to customize and play.
Each swing and playset is designed with one or multiple features to enhance kids' experience while playing. Many companies offer large selections of pre-built designs that include multiple features made for that specific design. You can also find companies that have highly customizable designs, allowing you to change features as kids grow.
Slides: Slides can either be open or closed and are built in multiple styles that give kids different paths out of the playset. Be mindful of the material of the slide and try to avoid fiberglass, which can wear over time, loosening the fibers.
Swings: Different playset designs can accommodate a different number of swings, but most can be outfitted with traditional, individual swings, tire swings or bench swings.
Clubhouses: Clubhouses can stand alone as their own playset or be attached to a swing or playset at various levels above the ground. They can be outfitted with things like locking doors and doorbells, flower boxes, tables, and canopies.
Walls: Popular alternatives to ladders are various types of walls that lead up to the clubhouse. Rock walls, rope-ladder walls and solid walls with a single rope hanging down for climbing are common wall styles.
Bridges: Bridges are often used to connect multi-level playsets and can come with a solid floor, rope or clatter bridge design, which is made up of plastic moving pieces to form the bridge floor.
Miscellaneous accessories: Accessories help children use their imagination to transform their playset into different objects. By adding things like a ship's wheel, telescope, and a pirate flag, a child can pretend to be on a pirate ship. Additionally, children can add things like plastic or wooden telephones, flowers, and shutters to their playsets.
Parts and hardware: Parts and hardware can be added or replaced to maintain your playset and keep it safe. Things like adding additional handrails, replacing ropes and handles and replacing brackets can all help keep your playset in safe, working order.
Swing accessories: Swing accessories help keep your swingset relevant as your child grows. From full-buckets swings for infants to regular sling swings for children and everything in between, swings can be customized and interchanged fairly easily.
The total price of a swing or playset is determined by multiple factors, including materials, features, size and the number of accessories. Companies typically design multiple models of swing and playsets that vary in size and are grouped into a series. Each model in a series shares a similar style and price because they are relatively the same size. It is a good idea to check out all series when comparing prices so you can see what you get for each one. The material used in the components of a playset is a major factor in the final price. The most expensive material is vinyl due to its low maintenance and durability, followed by rot-resistant wooden and metal playsets.  Additionally, companies can tack on delivery and installation fees if you do not want to assemble the playset yourself. Some companies offer to install them for you for an additional fee.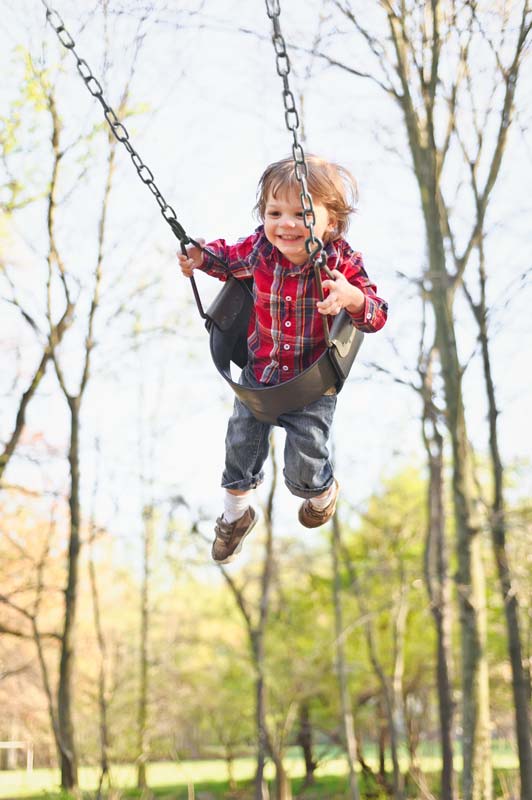 As is the case with most expensive purchases, warranties are important to consider when looking at swing and playsets. While the length of warranties can vary depending on the company, you should make sure the type covers the components, parts, and equipment.
Components: Make sure the components of your playset come with a warranty that includes the material of the components. A wooden playset, for example, should have a warranty protecting all wooden components from rot, decay, insect infestation and structural failure.
Parts: Most companies offer an additional warranty that covers defective parts and poor workmanship. These typically come with a shorter time frame than the company's components warranty.
Safety: Almost all swing and playset companies use multiple safety testing standards and are approved by the American Society for Testing and Materials (ASTM). Ask about the company's testing process and the safety features used to meet playground safety standards.
The ConsumerAffairs research team believes everyone deserves to make smart buying decisions, and they aim to provide readers with the most up-to-date information available about today's consumer products and services. The ConsumerAffairs Backyard Swings and Playsets guide is a good resource for anyone planning a playset purchase.