Playworld Systems Project Rejuvenates Florida Community Park
Florida's share of the Gulf Coast has always been a tourist's recreational playground. But now more than ever, the Sunshine State has lived up to its name for locals and tourists alike-thanks in part to the completion of a charming new playground project in western Florida's Lee County.
Rutenberg Community Park sits within a densely populated area of Fort Myers-area neighborhoods. It is here that the county has focused its efforts in developing a "Cityscapes" concept playground manufactured by Playworld Systems of Lewisburg, Penn.
Florida distributor Playmore Recreational Products handled the design and installation work for the 8,500- square-foot project. Now in finished form, the completed system features a number of design characteristics to balance durability, flexibility and fun for the expected heavy flows of local traffic.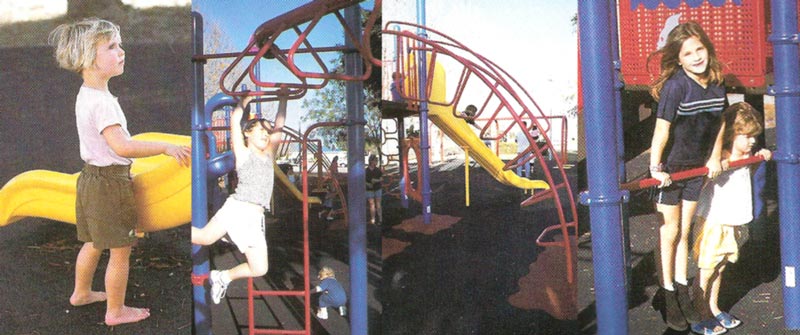 Nicole Edwards waits for a friend to come down the slide. (left) Alexis and Nicole Pombrio enjoy the benefits of the new playground at Rutenburg Park. (right)
According to Playmore representative Brandon Schroeder, the Florida company was also involved in the demolition of the existing structure, which had been in place-and under heavy use-for the past decade.
"Rutenberg is definitely one of the most used parks in the area," Schroeder said. " It has a nearby branch of the county library, three softball fields, a football field and tennis courts." And while the playground was definitely popular among local youngsters, it also hosted its share of minor injuries. Under changing safety guidelines, it was decided that the structure would need to be replaced.
As of Sept. 30 of last year, that replacement was complete, featuring not only the CityScapes concept, but also a number of features from Playworld's " GroundZerO" design.
"Cityscapes was an obvious place to look first- it's the most heavy duty system there is," Schroeder said.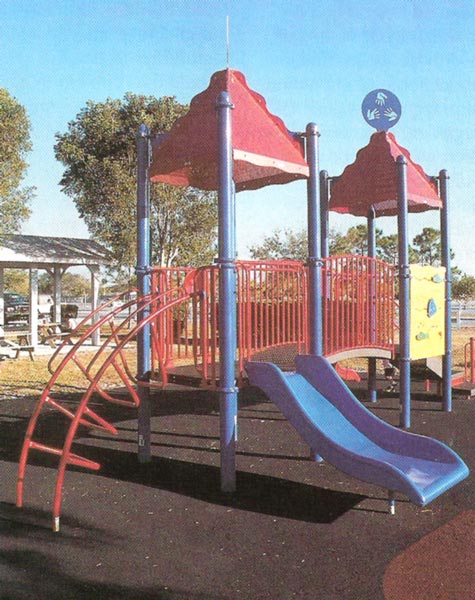 Last fall, Rutenberg Community Park in For Myers, Fla., was blessed with a new Playworld Systems playground. Playworlds Systems' Cityscapes line of playground equipment is designed to hold up under heavy use.
In addition to the durability of the hardware, Schroeder says another important factor was the plethora of icons to choose from in "dressing up" the playground. " It's great because you can really cater to the culture of the area," he said. These icons are added to posts, panels and roofs, resulting in a customized structure. There are over  70 of them in all, each computer-cut from heavy-gauge steel and zinc-dichromate plated for rust protection.
(And there are also plenty of colors to choose from. For example, there are over 22 available hues for powder coating alone.)
What Cityscapes did for design, GroundZerO did the same for pure fun- not to mention an added dose of safety. The most obvious example in the Fort Myers project is the U-Bounce. " It's a really unique thing," notes Schroeder. " Kids can bounce up and down on it, or even catapult right off it. You can just te ll it's a hit from a II the attention it gets." The kicker is, the recreational contraption has proven itself to be remarkably safe. " It's amazing just how much fun a kid can have only inches off the ground." And while the U-Bounce's spring-loaded action supplies plenty of bouncing enjoyment, a cushioned rubber platform provides a safe standing or sitting place for all kids.
According to Playworld promotional literature, there are actually several notable items of the GroundZerO concept that would make ideal playground fixtures:
The Sky Rocker, an overhead bar with multiple handholds, offers swinging action for as many as four kids. It combines the physical-development benefits of the horizontal ladder with the ease of a two-handed grip.
The Challenge Walk takes the best of existing curved balance beams and adds a weight-activated tilting motion, giving children an enjoyable way to develop their coordination and balancing skills.
The Sidewalk is a walkway that helps children develop a sense of balance as the interlocking sections rock beneath the child's feet.
Spring Training promotes upper-body development, all with the fun and movement of a bouncing action. It's designed with two different height units allow more children to play.
Needless to say, the sky's the limit when it comes to options. That limit can be much closer to ground level, however, when it comes to county government budgets.
Yet even in financial respects, the project was a winner.
"In Florida we have an interesting system for these kinds of projects," says Schroeder. " With any project of a certain price range, you have to take it to bid, but to save costs, counties can piggyback on what another county has done in the past, and basically just duplicate it."
At the very least, such a system saves time, especially in terms of research, purchasing and paper-work. Plus, buyers then have a better idea of what the fruits of their investment will taste like.
For Lee County District Manager Sara DeVilder, the taste has been sweet indeed. "So far so good," she says in reference to community reviews of the project thus far. "We've been getting some very good feedback, and by most accounts the playground has been very heavily used. That's obviously a good sign."
For more information regarding the Rutenberg Park playground project, Playmore Recreational Products & Services can be reached by calling 941-772-8301 or by logging onto www.playmoreonline.com. For background information on Playworld Systems' Cityscapes, GroundZerO and other design concepts, the manufacturer can be reached at 800- 233-8404. An excellent Web site is also available at www.playworldsystems.com.