If you are like most folks, you like to have fun. It started when you were a kid. Playing always will be a big and vital part of youngsters throughout the world. Now that we are older we refer to "playing" by many other titles, but it is an important activity to our well being nonetheless. Yet we will always remember our youth and the days we spent playing...especially at the playground.
And that's what makes this industry so fun. It's full of nostalgia. That, coupled with a genuine love for children and an understanding of what their needs are, makes working in the playground industry even better.
A year ago we introduced Today's Playground magazine.
Though the year has gone by fast, we have learned much about our direction and focus. We are transitioning into a phase of publishing where through our vision hasn't changed that much since our birth, we are now more familiar with the steps it takes to achieve that vision. One of the biggest adjustments we made was a fundamental one. We entered the world of playgrounds with a desire to promote safety and clarify all the confusing code that entangles each seemingly innocent play structure. And though we are still married to that mission, we have added another, equal in importance. It's one that we believe is the future of playgrounds and play structures. It's what we call the Value of Play. In short, the Value of Play answers such questions as, What does play mean to the children? What kind of effect does it have on their psyche? And, most importantly, what can we adults do to design play structures and playgrounds to encourage learning opportunities for the children. There is a difference between "just a playground" and a playground designed to encourage interaction, to challenge the children 's minds, to create opportunity for mental and emotional growth.
It's the kind of hokey-pokey stuff that many scoff at. "Just let the children play," they say. Yet there has been substantial research done that suggests using a play structure simply as a babysitter is selling their potential short-both the child and the structures. The cool part is, if done right, these golden learning opportunities can be packaged in a way that to the kids, they are just as fun as going down the slide.
So keep an eye on our Value of Play column.
However, we still see a bright future in the tried and true platform of safety and accessibility. Where? How? With the children. For the past decade, the adults of the playground industry and government have spent much effort making play structures safe. We have toiled over how to define the meaning of a "safe play structure" and have put those definitions into regulations and guidelines. We have a pretty good bible now in the ASTM standards, and of course, ADA has contributed in regards to accessibility.
But what about the children? Who is teaching them about safety on the playground?
Well, Slyde will be! As you have read in the January issue of Today's Playground, we have launched a national playground safety program aimed at children of all ages. It's called Slyde the Playground Hound. It's exciting and long overdue.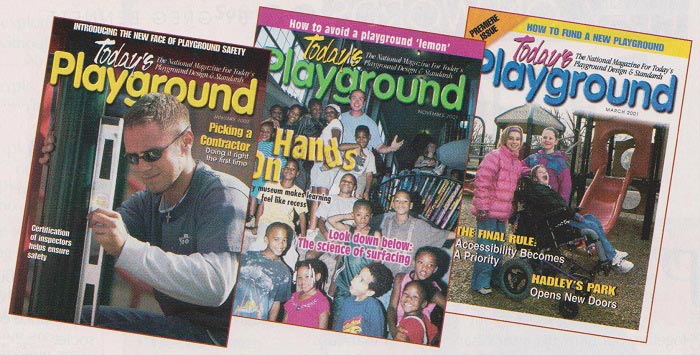 Yes, we are still a young publication. But we have a vision and passion for the industry. Our mission is to promote the correct purchase, maintenance, use and development of play structures, and the overall correct design of playgrounds.
Someone once said, "The world is our playground." Indeed it is. And it is in this very large playground that we learn some of life's most valuable lessons. So too can the children learn? They can learn to be safe even when the structure they are playing on isn't. They can learn how better to interact with each other and how to have genuine fun. They can subconsciously come to appreciate good design, shapes, and colors. The potential is endless and we are just getting started.