Adding color and designs to surfacing can beauty a playground
One of the major advantages offered by a unitary surfacing product is its ability to incorporate aesthetically pleasing colors and designs into your overall playground concept.  Progressive playground designers have long realized that a creatively designed surface can become one of the major play components in a given play environment. 
There are several ways of achieving a decorative surface, each offering its own unique advantages and disadvantages.
Surface Coatings 
One low-cost and simple way to add appeal to your playground is to apply a coating to the surface after it has been installed. This reduces the cost of creating a themed play surface in two ways. First, the use of a coating for graphics will save money on the surface itself by purchasing a lower cost color option such as a black surface, while still creating the desired appearance through graphics.  Secondly, the use of specialized application equipment or tools is not required. Creating the desired patterns and designs can be achieved simply, by using stencils or freeform. 
Select the type of coating you will use with care. Off-the-shelf floor paints have a history of poor adhesion characteristics when applied to a rubber surface. Another point to consider is the fact that a new tile surface may contain residual mold release from the manufacturing process, which will have to be removed with a solvent prior to coating. Older surfaces will not require this extra step as any residual mold release will have worn off through weathering and regular play activity. Most surfacing manufactures should be able to recommend a product that has proven to be compatible with their particular surfacing system.  
Our coating product of choice is a waterborne aliphatic polyurethane coating that has been specifically designed to be used with rubber sports surfaces. Two of the major advantages of this product include excellent adhesion characteristics and color stability.  Aliphatic coatings offer UV stability, ensuring the designs remain bright and vibrant and provide years of enjoyment. In addition to low cost and ease of application, this product can be used over a poured-in-place or tile surfacing system.  
The main disadvantage of using a coating is that despite good adhesion, any coating is subject to wear from weathering and abrasion over time. The potential for the graphics to wear off after several years is often countered by the low cost of re-coating.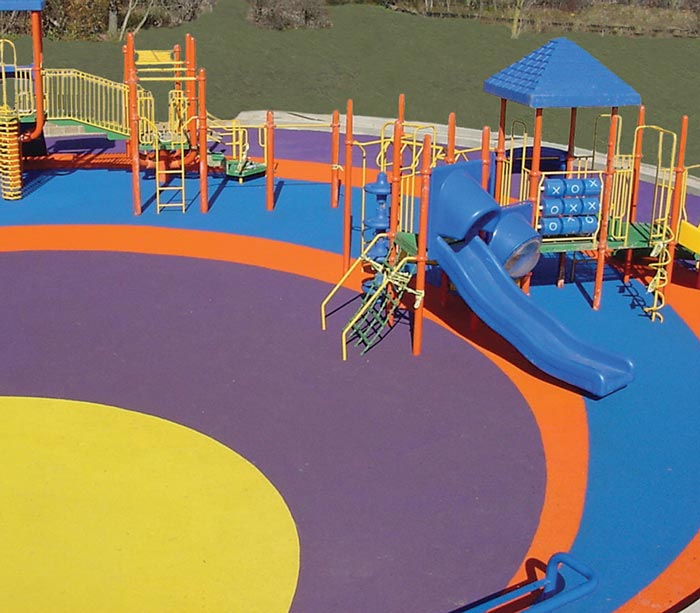 Poured-in-Place Designs
The second way of achieving creative play environments is unique to poured-in-place surfaces. Skilled installers can create virtually any effect by utilizing various colors of EPDM rubber in the wear course of the surfacing system. The advantage of this method is that the design is created using a full 1/2 inch depth of EPDM colored rubber, which ensures the longevity of the design. 
The disadvantage is the cost. Extensive designs can increase the cost of your surface by up to 25%. Another issue to consider is once a design is incorporated into your poured-in-place system, the surface is no longer a seamless surface. The method of installing the graphics involves allowing one color to cure prior to installing the adjacent color or graphic. This results in what is often referred to as a cold seam.  Even when the cold seams are well primed with adhesive, they can be subject to pulling apart, resulting in separation over time.
LaserJet Cutting
Some tile manufacturers also offer water or laser jet cutting options. This process involves cutting designs into the surface using specialty equipment. The designs cut out of one tile are then placed into another tile. The major advantage of this system is the "cookie cutter" appeal. Manufacturers will provide pre-assembled design packages that can be quickly and easily incorporated into your overall tile surface. Once again, cost can be a factor, and the scope of the design work may be limited, as most manufacturers that supply this option offer standard packages only such as a hopscotch or a letter/number configuration.
Multi-Colored Tile Surfaces
The fourth and lowest cost option involves using various colors of tiles in order to build patterns into the surface. This method limits your ability to create the freeform flowing type of designs that can be created with coating or poured-in-place, but it is surprising what can be achieved with a little creativity. Designs can be as simple as a checkerboard pattern or as complex as the enclosed design that involves the depiction of houses, skyscrapers, railroad tracks etc. Since incorporating different colors of tiles into a surface requires no additional labor or materials, there are typically no additional costs associated with this option. In fact, incorporating the use of less expensive color options into the surface to create the desired effect will reduce costs. This method is quickly becoming the option of choice for its ability to offer simple and cost-saving aesthetic appeal. Like poured in place, the color is typically a full 1/2 inch depth which also provides a permanent maintenance-free aspect to the design.