What do the ASTM Tests Look For?
So, you have decided that you need to bring your play equipment into compliance. But, what does that mean? Everyone is telling you that your play area does not currently comply and you are asking "comply with what?" After all, the equipment that you have now is probably a lot better than the equipment you played on when you were a child and the surfacing is not asphalt like back in your day. However, is the surfacing still safe?
One of the most important elements when looking at new play areas and equipment is the surfacing that will be placed underneath. And when looking at a child playing this makes sense because when a child falls onto a surface is when a life-threatening injury is most likely to occur. Because of that risk, it is more critical today to be educated on the types of surfacing available and what to ask for when making a purchase.
Every type of surfacing is unique in material, formulation, composition, and source of raw materials. Therefore, each will require testing to confirm conformance to American Society for Testing and Materials (ASTM) standards as identified. There are two ASTM standards that are currently written that all surface materials should be tested too. They are:
ASTM F-1292: Impact  Attenuation for Surface Systems Under and Around Playground Equipment.
ASTM F-1951: Determination of Accessibility of Surface Systems Under and Around Playground Equipment.
ASTM F-1292: standard specification requires that all surfaces installed as an impact attenuation surface (including all loose-fill materials) be tested in the laboratory at three temperatures prior to installation in a playground. When asked by a consumer, the manufacturer of the surface material should provide test results and possibly IPEMA certification, to show compliance to this standard. The owner/operator may also elect to require a field test (as detailed in ASTM F-1292) of the surface system to ensure the surface system meets the specification claimed by the manufacturer.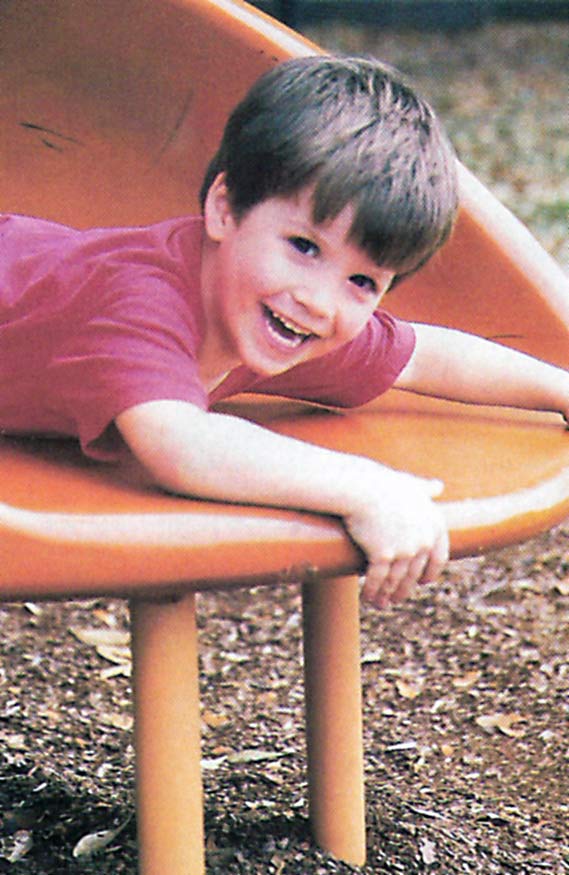 The increased attention placed on surfacing can help in the safety of children while playing on equipment.
ASTM F-1951 standard specification requires that all surfaces installed as wheelchair accessible surfacing be tested for straight propulsion and turning. The test results must show five trials for each of the maneuvers. When the material is tested in accordance to the standard (sections 5 and 6), the tested material must show an average work per meter value for straight propulsion and turning less than the average work per meter values for straight propulsion and for turning, respectively, on a smooth, hard surface with a grade of 7.1 + .03% (1 :1 4).
When specifying these two standards and requiring that a manufacturer has kept their testing up to date you have helped to eliminate some of the concerns but you are not done yet. When you are considering a wood surface you need to go beyond these two standards and look for a third written standard. ASTM F-2075: Standard Specification for Engineered Wood Fiber for Use as a Playground Safety Surface Under and Around Playground Equipment addresses the issues of both heavy metals and tramp metal.
The heavy metal test within ASTM F-2075 tests for the presence of Antimony (Sb), Arsenic (As), Barium (Ba), Cadmium (Cd), Chromium (Cr), Lead (Pb), Mercury (Hg), and Selenium (Se). These heavy metals are some of the contaminants that can be found within recycled materials. Because play areas are enjoyed by children of all ages, smaller children may put a piece of wood into their mouths and could consume hazardous toxins. We test for these substances in particular because they are not recommended for human contact or consumption.
The tramp metal test is included in ASTM F-2075 to test for the presence of nails, binding, and other magnetic foreign material within the engineered-wood fiber. Two methods are used to determine the presence of tramp metal. One involves using a powerful rare-earth magnet on the end of a probe specifically written for this standard. The second method is a visual inspection. If any metal particles over one-half inch are found, the engineered wood fiber does not comply with this standard.
A sieve analysis is also performed within the specifications of ASTM F-2075. This test is used to determine compliance of the particle size. Watching the consistency of the product size helps to ensure that you have limited possible injuries due to larger pieces of wood. The sieve analysis will also ensure that you have received a product with more substance than sawdust. Maintenance is always a concern when purchasing anything, and it is no different when purchasing a surface material. There is no surface that is completely maintenance free. An engineered wood fiber does require that you maintain your installed depth throughout your play area. Because children will push the material out from underneath slides and swings, rubber mats are available to help minimize the maintenance within these high traffic areas.
If your surfacing depth does fall below the manufacturer's recommendation you need to make sure that you order additional engineered-wood fiber immediately. Being able to top-off your play area is a benefit of a wood surface. You are able to top-off the areas instead of removing the entire sections if the impact attenuation criteria are in question. With a rubber surface, you may need to periodically vacuum the entire area to maintain contaminate free surfacing. Sand and gravel are known substances that can decrease the lifespan of a unitary rubber surface. You will also want to address the issue of how the manufacturer handles or repairs holes, that may be made by vandals, to a unitary rubber surface so that the surfacing maintains its original resiliency.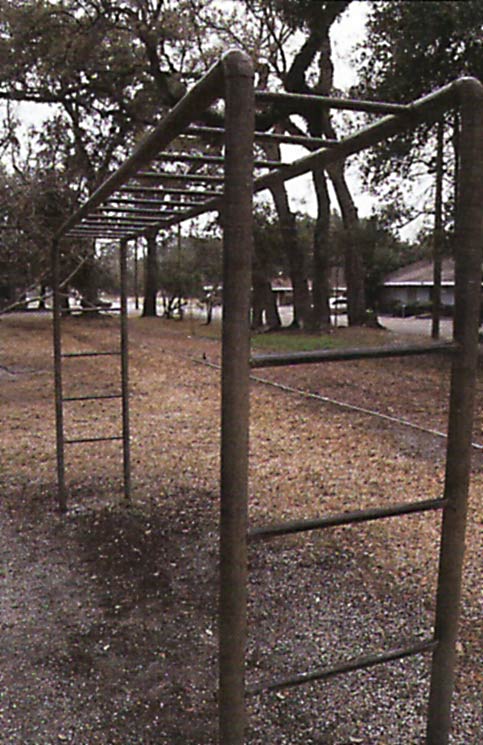 Much of the equipment built before the ASTM surfacing standards were in place still lacks appropriate surfacing.
Warranties are a must when searching for a reputable product and manufacturer. Make sure you receive and read the manufacturer's warranty thoroughly. You are buying a product that says it is resilient and when a child falls onto this surfacing they are less likely to sustain a life-threatening injury. Look for this in writing. You want to know that within a period of time (past the installation date) if the product goes hard or the UV rays break it down, that the company that sold you the product will be there to stand behind it. This is what you are paying a lot of money for.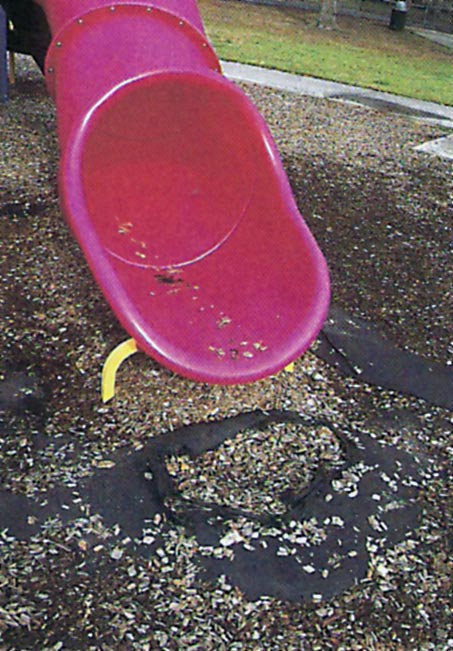 High-traffic areas require more attention to surfacing maintenance than areas where less children play.
Within ASTM F-1292 it is stated that if the surfacing is tested and fails, the playground structure must be taken out of service until the surfacing is brought into compliance. You will want to make sure you know what, if anything, will void the warranty. With an engineered wood fiber it may be necessary for you to periodically top off your surfacing and with a poured-in-place rubber surface, it may be recommended to apply a lacquer finish to protect from the UV rays.
When installing your surfacing you want to make sure that you follow the manufacturer's instructions and that your play area has proper drainage. It is necessary to make sure that water is carried away from your surfacing and out of the play area because standing water is detrimental to every play surface.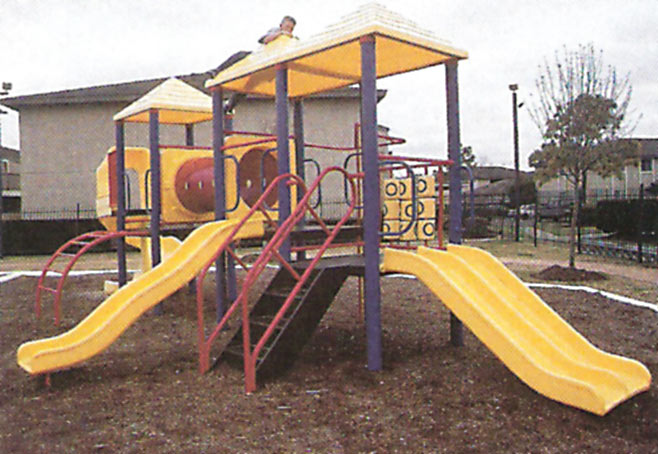 ASTM standards for wood surfacing requires testing for metals and other debris that can cause problems to young children.
Probably the most important factor to consider when purchasing surfacing is the background of the company that you are purchasing the material from. You will want to ask for the following:
An insurance certificate of liability of at least $10 million.
Installation instruction provided before the material is to be installed or that the installers are certified to install the surfacing.
Manufacturer's warranty.
Maintenance instructions in detail.
Up-to-date test results to the above standards.
References from previous customers.
Is it really necessary to take unnecessary chances with our children's future? The more you understand the surfacing that is under your play equipment the better you are able to decide if you are providing a safe place for the children to play. There are differences to look for between surfacing materials and surfacing companies marketing products. The playground surfacing is one of the most important factors within a play area and with a little bit of knowledge you are able to minimize the risks and provide an enjoyable play area.