Daycare and Summer Camp Director Finds a Perfect Solution for Water Integrated Fun
This Vortex water playground in Florida was designed to entertain children 2-5 years of age.
Childhood and water go together like peanut butter and jelly. From playing in a muddy puddle to splashing around in the tub, kids just can't seem to pass up an opportunity for a good time with H20 . That is exactly what Nancy Goldstein, director of the Boca Raton, Fla-based, Ruth and Edward Taubman Early Childhood Center and Keshet Summer Camp at B'nai Torah congregation was counting on to keep the 2 to 5-year-old kid that attend her organization's happy. Only in this case there was to be no puddles or pools of standing water, rather ample amounts of spraying water in a unique array of patterns from a combination of creative design and elements.
Nancy found the perfect solution from Mike Krohn, at Contract Connection Inc., a Vortex Aqua Structures factory representative firm based in nearby Hollywood, Fla. Actually, Nancy and Mike had already worked with each other to order sprayground equipment at the previous synagogue Nancy managed. Her experiences then were impressive so it was a no brainer to repeat the process. Only this time, the project was much larger. " I approached Mike about another project over here because I believe that water should be a part of a child's early development, " said Nancy.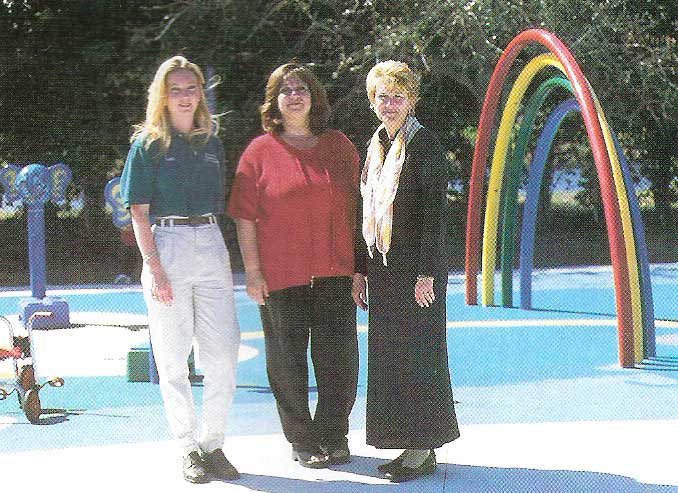 From left: Connie Penate, Adele Seissblatt, Nancy Goldstein.
The project actually consisted of three phases spread out over three years and in two different locations. New playground equipment was installed in each phase, some traditional structures and some sprayground. Phase III is where the Vortex unit came into play.
When it came time, Nancy worked closely with Krohn and Connie Penate, the Broward County area manager for Contract Connection, on design. Connie is mostly responsible for the design of the Splashpad-a task she designs on paper by hand first before ever breaking ground. "We took the equation of 'x' amount of square feet of play space per child and worked backwards to meet the budget," said Connie.
Nancy added, "I basically told them that I wanted a rainbow design because the word Keshet is rainbow in Hebrew and that is the name of our summer camp. They took that premise and went to work. Plus we went through some catalogs they had to get some ideas and to pick things out."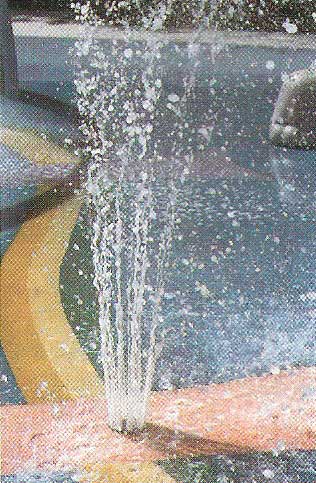 It's not like this was Nancy's first attempt at a Splashpad. "We came up with a pulley system with chains where the kids controlled the water so they were using their muscles and employing hand-eye coordination." She said speaking of the Splashpad at the previous location of . Keshet before moving to a larger site. "At the previous location, I called Mike and we went into phase I where we used some of the animals like dinosaurs and hippos which had hoses in them with water spraying out. Then when we moved to this location we installed the Splashpad with controls and computers.
The process of getting the Splashpad installed wasn't without its problems, however. "The challenges we faced didn't come with Contract Connection or the product itself," says Nancy. "It came from Palm Beach County. They had never had anything like this for a child care facility before so it took a while for them to figure out what regulations would apply." A while indeed. Connie said that the government approval process added about six months onto the project.
Spread out of 2,500 square  feet , the playground is covered with poured-in-place rubber surfacing.
In addition to lots of kid-friendly colors, the playground comes equipped with a variety of water-spraying animals from frogs to elephants to dinosaurs.
"The system uses a fiberglass equipment and reservoir vanet," Connie said. "A computer directs the oscillation and interactive play of the spray features."
A shower was installed as well as a cement walkway around the perimeter of the Splashpad, to enhance the design and usability of the spray pad.
"This project was a learning process from design to startup," stated Connie.
The end result is magical, however, and definitely worth the trouble. "It was the hit of the entire summer camp," says Nancy referring to the 8-week long kids camp Keshet holds every year. "The kids loved it."
It's no wonder. With four spraying dinosaurs, two spraying frogs, two spraying elephant heads on elevated poles all surrounding a 4-tier, arching, red, yellow, green and blue rainbow that sprays a mist of heavy dew down on those who play under it, even the school and camp instructors are tempted to get wet. The design is spread out over 2,500 square feet and is set in a colorful and well-designed pour-in-place soft rubber safety surface with hues of yellow, green, pink and blue.
The sprayground has only been operational for one summer, and according to Nancy, it was a hit.
"We will start it up in March [2001], once a week or so, and assign a particular age group for a water play day. Parents will send swimming suits and towels with the kids to school," says Nancy. That will offer a nice break to the indoor activities they normally engage in. Then when summer camp starts in June, the Vortex system will once again become the highlight of a memorable summer for each kid who attends making rainbows and kids toes a common sight at this day care/summer camp facility.