Kraftsman's SplashPad Texas gives Stone Gate Community something to smile about
If you know anything about Texas, you probably know that it's hot—really HOT—for much of the year and that means kids want to be able to cool off when they're playing outside. The Stone Gate housing community, one of five housing developments built by the Land Tejas Development group in Houston, Texas, features many amenities, including the SplashPad Texas water playground that opened in May 2003.
The SplashPad, manufactured by Vortex Aquatic Structures, Inc., and installed by Kraftsman Playgrounds, is a water paradise for children. It includes a Spray-Play pool that ranges in depth from 12 inches to five feet. The pool has geysers and spray toys as well as a "pirate's lookout." 
The actual SplashPad offers 6,000 square feet of surface to play and includes spray hoops, geysers, and water tunnels. The SplashPad isn't the only fun aspect of this five-acre play complex. SplashPad Texas also includes picnic tables, five covered pavilions, and benches so the family can rest or enjoy a picnic after a day of playing. You can also change your clothes in the SplashPad Bath House and Cabana that also has a full-service kitchen with a pass-through service window.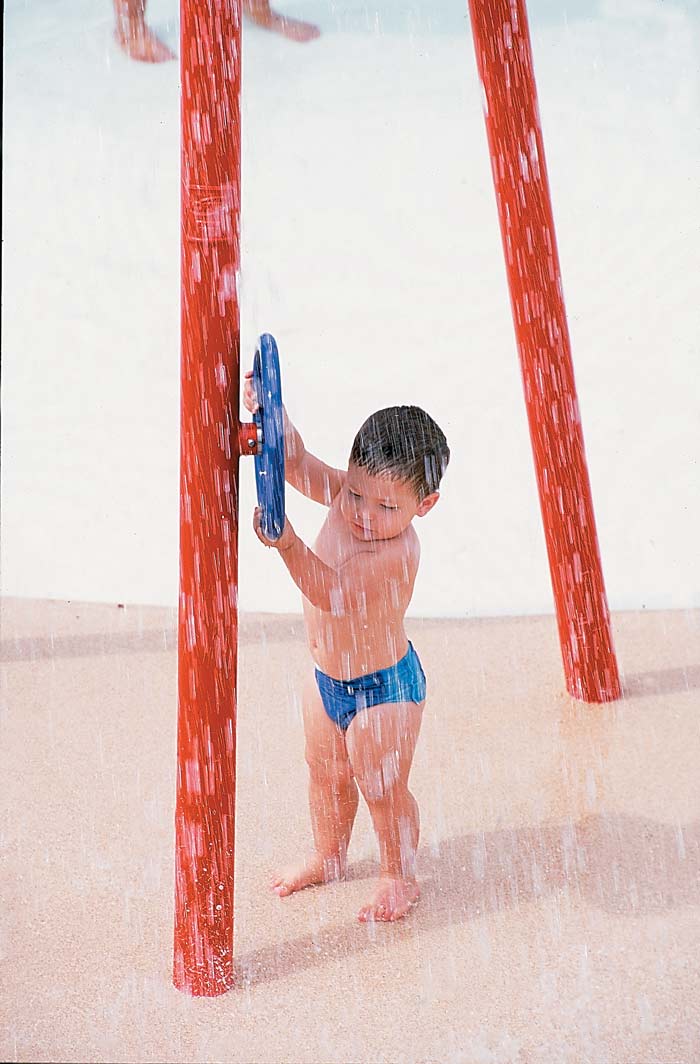 If you want to stay dry but still have a fun time, there's also a playground at the complex. The playground, manufactured by Playland International and installed by Kraftsman, includes wavy slides, a tube slide, bridges and platforms, tunnels, game panels, a "rock" climbing slide, as well as a shaded sandbox. This playground is also large enough to accommodate 20 to 30 children.
Another interesting aspect of the SplashPad Texas complex has to do with its safety features. Not only does the equipment comply with ASTM standards, the builders of the housing development have engineered the "Fingerprint Recognition Entry," which means that only residents of Stone Gate can use the water park. The Canyon Lakes at Stone Gate brochure says, "Entry to the facility will be controlled through fingerprint recognition technology, one of the latest innovations in biometric security systems." The use of this system helps to ensure the safety of your children by monitoring visitors to the site thereby preventing unwanted guests.
SplashPad features include a 25-year warranty from Vortex Aquatics as well as tamper-resistant parts, stainless steel construction materials, brass nozzles and spray heads, a UV-protected powder-coat finish that comes in nine different colors. SplashPads use very little water and you can choose from a drain-away system or a recirculating system. Using the drain-away system means that, "Water is provided by the city's potable water supply. The used water is then drained into the city storm or sanitary system or is collected and used for irrigation or other groundwater replenishing systems." With the recirculating system, "The Splashpad can be designed to either draw fresh water from the city's water supply or to re-circulate water using Vortex's unique Water Quality Management System, which features high-rate filtration and chemical treatment."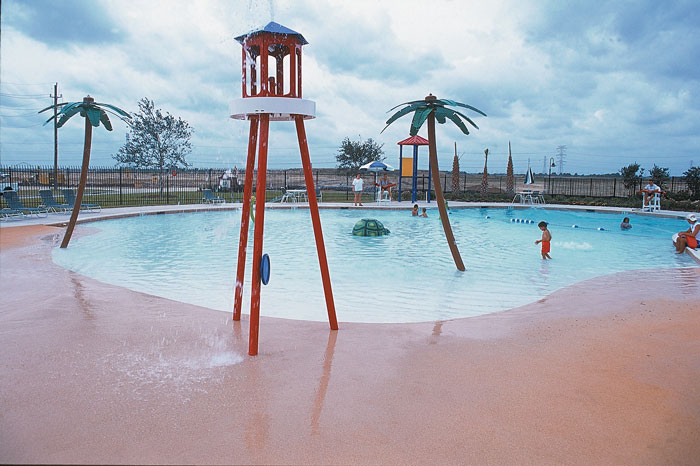 SplashPads are safe if constructed properly and can provide your community with hours of fun and economical entertainment.
For more information, visit www.kraftsmanplaygrounds.com.
Mark Soderberg of Kraftsman Playgrounds Answers Questions about SplashPad Texas
1) Does the SplashPad Texas water park have a re-circulation system or does it use the drain-away system? 
The SplashPad on this project is a city water supply and drain away design. The Splash pool that is located on the same site does have a complete filtration and recirculation system combined with the pool.
2) What type of maintenance is involved with regard to a water playground such as this one?
The system is provided with city water just as a home would be, so the supply of water is the same as turning on your shower or running your sprinkler on the lawn. With the water supplied by a municipal supply, there is no maintenance of a re-circulation system that would involve a water holding tank, pumps, filters, chemical controllers, etc. The features are controlled with a PLC sending a signal to open electronic valves when a user activates the system by touching an activation bollard. Very minimal maintenance of the system is required. 
The primary maintenance will require occasional cleaning of the SplashPad deck or surfacing, an increased level of picking up litter from trash receptacles on site due to increased users to the facility, monitoring for lost and found items left by users, and making sure that grounds maintenance personnel keep the area cleaned from grass clippings and debris that could clog the drain systems.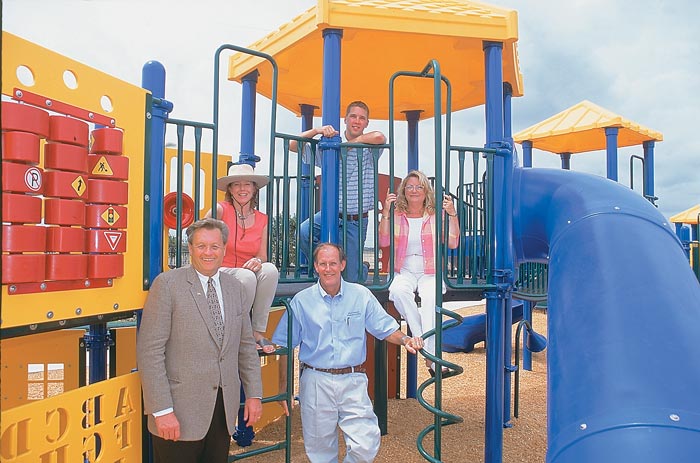 3) How safe are these parks compared to other forms of recreation for children? 
When a SplashPad is properly designed and constructed, I don't feel there are any more risks or safety issues than what would be considered on other traditional playground areas. The equipment and the placement within the area should comply with the CPSC guidelines for playground equipment with regards to head entrapments, protrusions, entanglement criteria, usage zones, etc. A good slip resistant surface should be included to protect against falls. If elevated play areas are to be included, a proper fall absorbing, impact attenuation, surfacing should be included to protect against head injuries from falls. Special attention needs to be paid to proper and adequate drainage to prevent standing, or the accumulation of water, which would create a potential of drowning. When a Water Quality Management System is included for the re-circulation and reuse of the water, equipment must be properly designed to facilitate filtration and chemical monitoring systems.
A SplashPad, when properly planned and constructed, can provide all of the thrills and excitement of a pool aquatic facility without the requirements for lifeguards and the increased maintenance that come with a complete pool.
And of special importance, as in all playground environments, parental supervision is essential in maintaining the safe use and play within the facility. 
4) Do you work closely with city planners and communities when building and designing water play areas?
Yes, we work very closely with all of the parties involved in developing SplashPads. This may include landscape architects, project engineers, city planners, parks and recreation departments, community groups, land developers and private or pay-for-usage recreation facilities. We assist with project concepts, feature selection, review of costs for comparing drain-away or re-circulated systems, review of site designs and construction details. We also offer turnkey construction of the complete SplashPad feature.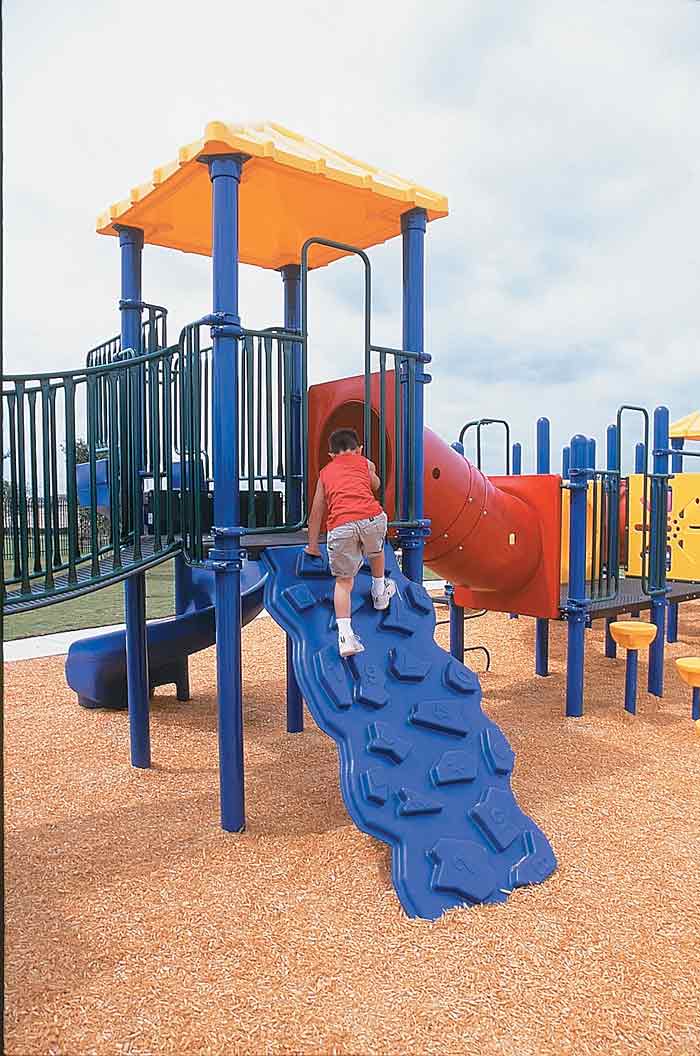 5) I know that SplashPad Texas is only open to residents of Stone Gate housing subdivision. What would a community have to do if they wanted to open a SplashPad in their neighborhood? 
Assuming that the land and budget are in place to support a SplashPad, their first consideration would be if it were constructed as a drain away system or with a complete Water Quality Management System. Feature choices and selections would be made based on age appropriateness, spray zone requirements, water flow demand requirements and operational maintenance. A review and selection of the type of SplashPad deck finish that was to be used, i.e. brushed concrete, textured cement top coating, urethane coating with rubber granules, stained concrete or unitary rubber surfacing, [would also need to be done].
Along with selections of equipment, a review will need to be completed for available utility services available for electrical service, water supply, and drainage. The criteria for these services will be determined by the selections listed above.
After selections were made, a drawing of the SplashPad layout and rendering can be produced for review and cost estimating. 
6) Anything you'd like to add? 
We are finding that the interest in the SplashPad concept is growing for municipal and other governmental parks departments, residential developers, child development centers, apartment complexes and religious organizations. The SplashPad offers a safe aquatic activity that is attractive to all age groups from toddlers to grandparents. As this concept grows in the marketplace the providers of the facilities need to carefully select the actual play features for durability and safety, along with properly designing any Water Quality Management Systems to support the system if a city water supply is not the source of water.
A SplashPad is different than a pool or wading pool that designers and recreational providers are accustomed to constructing. If a WQMS system is to be used, special attention and engineering should be done to facilitate proper water filtration turnover rates and chemical controls based on the higher usage in a small body of water. 
There is a review currently being completed by ASTM, and a draft copy has been completed for criteria to apply in constructing a SplashPad aquatic facility. Additional information on this could be supplied by Stephen Hamlin at Vortex Aquatics Internationalor by the ASTM staff.