The Door Knob Jam challenges your upper body and core.
by Sarah Lisiecki (SL), Brian Johnson (BJ), and Leigh Walden (LW)
Recently, playground equipment manufacturer Burke launched ELEVATE Fitness Courses, an outdoor obstacle course with eleven unique events that challenge a user's whole body. Sarah Lisiecki and Brian Johnson of Burke and Leigh Walden of fun abounds, the exclusive representative for Burke in southern Texas, spoke recently about launching a commercial fitness course.
What was the inspiration behind the development of the ELEVATE fitness courses?
SL: Believe it or not, Burke modeled ELEVATE after the fast-growing trend and popularity of obstacle course fitness as seen with American Ninja Warrior, Spartan Races, and Warrior Dash. These races have attracted a population that may not typically participate in standard racing. A recent report from the Running USA trade organization estimated that there were four million participants in alternative types of running-related events in 2013, while another report from Active.com showed that 53% of those types of events were mud runs or obstacle course races. And it's not just in the US—it's a worldwide phenomenon with an estimated 5,000 events and as many as 10 million participants in more than 30 countries in 2014. Read about an older challenge course here.
Who are the target users for ELEVATE, and what are the challenges with engaging this group in physical activity?
BJ: We saw an opportunity with ELEVATE – an opportunity to bring adolescents into the outdoors and engaging with teammates, family, friends and their community! Research shows that youth between the ages of eight and 18 devote an average of seven hours and 38 minutes to using entertainment media across a typical day or more than 53 hours a week. Our focus was competing with media and getting kids outside by making ELEVATE engaging and relevant to them – making it something they wanted to do.
SL: What we are finding since launching ELEVATE is that not only is our target age group loving the obstacle course, but we are also encouraged by how much everyone is using ELEVATE. Adults of all ages have taken an interest in ELEVATE, and they love using the events to get and stay fit and set goals for themselves. Often entire families and communities are using this to spend time together participating in a free and healthy activity.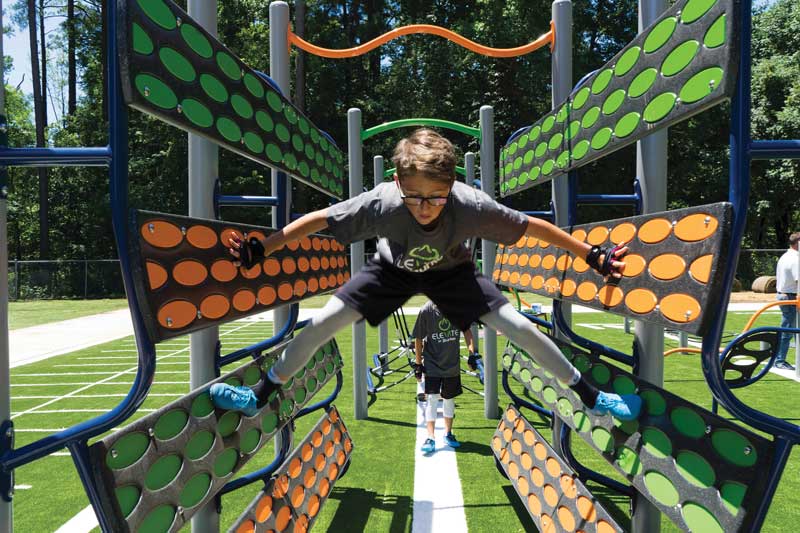 Exciting, challenging and fun, the Wall Clinger is a favorite amongst users of all ages and abilities.
Can you let us know more about the types of events in each ELEVATE course? Which is the most challenging?
BJ: Our website has excellent pictures and instructional videos of users on the ELEVATE course and we have an app that demonstrates the three different fitness levels on each obstacle. Some of the activities that those familiar with obstacle courses would recognize are Lava Leap, Summit Bridge, Over Under, Block Up, Jungle Pipeline, Twinkle Toes, and Doorknob Jam. The names of the events are designed to be edgy and fun as well as describe the obstacle.
SL: The Wall Clinger event is the one that I would say requires the most effort. It tests your fitness at so many different levels. Your legs, core and upper body are all thoroughly worked on this event, and I would say it is the most exciting and engaging.
How accessible is ELEVATE for individuals of varying fitness levels?
SL: That is one of the aspects that, as we designed ELEVATE, was top of mind. Whether you are active now or working towards a more active lifestyle, the course is designed to grow with you as your strength, balance, agility and overall fitness levels improve. Each event comes with specific use instructions depending on your current level of fitness and people of all levels can get the workout they seek within the same space.
In what ways can ELEVATE help middle and high school with physical education and sports training? 
SL: Taking adolescents and getting them outside is part of the Burke mission this new product line supports. We see there is a great opportunity for schools to provide youth with an activity that supports team sports training. Moreover, physical education classes can incorporate ELEVATE into their curriculum and track student improvement throughout the school year. 
BJ: To build on what Sarah just said is that ELEVATE is a creative, out-of-the-box tool to help solve the issue of childhood obesity. Youth ages 12 to 19 have the highest obesity rate of all children at 20.5%. ELEVATE Fitness Courses connect with this age group in a way that is fresh and approachable. 
LW: As the southern Texas Burke Representative, I hear all the time that schools are looking for new ways to approach physical education and work with students to help them develop lifelong fitness habits. ELEVATE is the answer to this and provides the experience, curriculum, and fun they are looking for.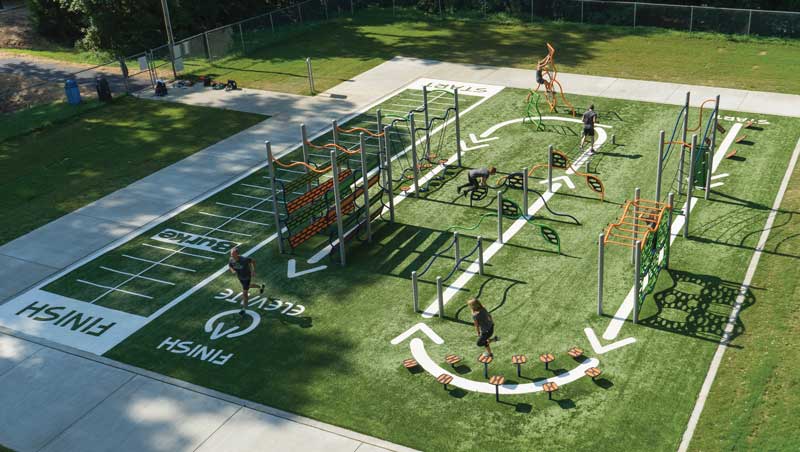 The ELEVATE Fitness Course engages the entire community in outdoor fitness and promotes healthy lifestyles for kids ages 5-12 and everyone 13+.
Which types of park and recreation equipment buyers are most apt to choose ELEVATE as their next project?
LW: I am excited about the possibility of introducing ELEVATE to public and private schools in our area, but I certainly would not want to limit ELEVATE to this group. City and county park and recreation directors have been very positive about ELEVATE and excited to bring it into their communities!
Neighborhoods and community associations also indicated that an obstacle course would be an attractive feature to residents. They could see how events centered around ELEVATE would be a unique and exciting way to build community engagement.
What types of health and community engagement benefits do you all foresee as a result of greater adoption of ELEVATE Fitness Courses?
SL: More than anything, we at Burke want to see our mission of getting youth outdoors exercising with friends and family fulfilled. We would also love to hear about events and programming centered on or including ELEVATE in communities and schools. This is already happening and we foresee more in the future. 
Is there any type of grant funding available for ELEVATE Fitness Courses?
BJ: Burke is offering a $25,000 in-kind grant on the largest, most robust fitness course available, the FIT-2628. Any group or organization interested in applying is encouraged to visit www.bciburke.com/fitnessgrants.
How can I find an ELEVATE Fitness Course near me or find out where new courses are being built?
SL: Inquiries into ELEVATE come in daily at Burke, and it is best to connect with the Burke representative for your area to see if an ELEVATE course is nearby or if new projects are planned. Visit: www.bciburke.com/connect/find-your-representative 
---
About the Authors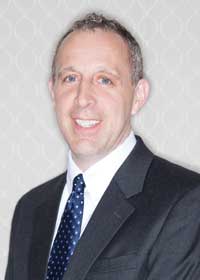 Brian Johnson
Brian Johnson serves as the Chief Marketing Officer for BCI Burke playground company, having joined the firm in 2007.  Here he shares his passion for play for all abilities and ages with the teams he oversees, including Product Development, Design, and Marketing. Prior to joining the company, Brian has held several senior sales and marketing leadership positions. Brian holds a B.S. in Business Management and Accounting from the University of Wisconsin-Parkside and an M.B.A. in Marketing from the Keller Graduate School of Management.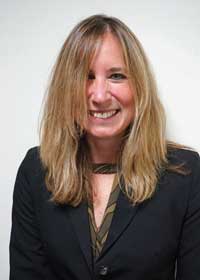 Sarah Lisiecki
Sarah Lisiecki serves as a Marketing Communications Specialist with BCI Burke and combines a passion for play, the outdoors and movement with years of marketing and speaking experience. Sarah studied Communications and Political Science at the University of Wisconsin – Eau Claire and has a variety of fitness certifications, including Indoor Cycling and Group Fitness Instruction.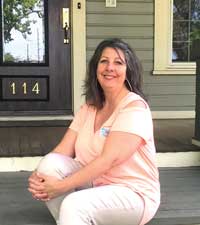 Leigh Walden
It all started with a … swingset.  12 years later fun abounds is still serving southern Texas' park and rec needs, and owner, Leigh Walden, couldn't be prouder of her company's success. After Leigh's husband experienced a layoff, she had no other choice but to help support her family. Emboldened by her daughter's love of swinging tinged with necessity, Leigh started selling playgrounds. Almost instantly, what started as a necessity transformed into a passion for helping clients create playground memories filled with fun. As a Certified Playground Safety Inspector (CPSI), Leigh also prioritizes safety and functionality in every project.