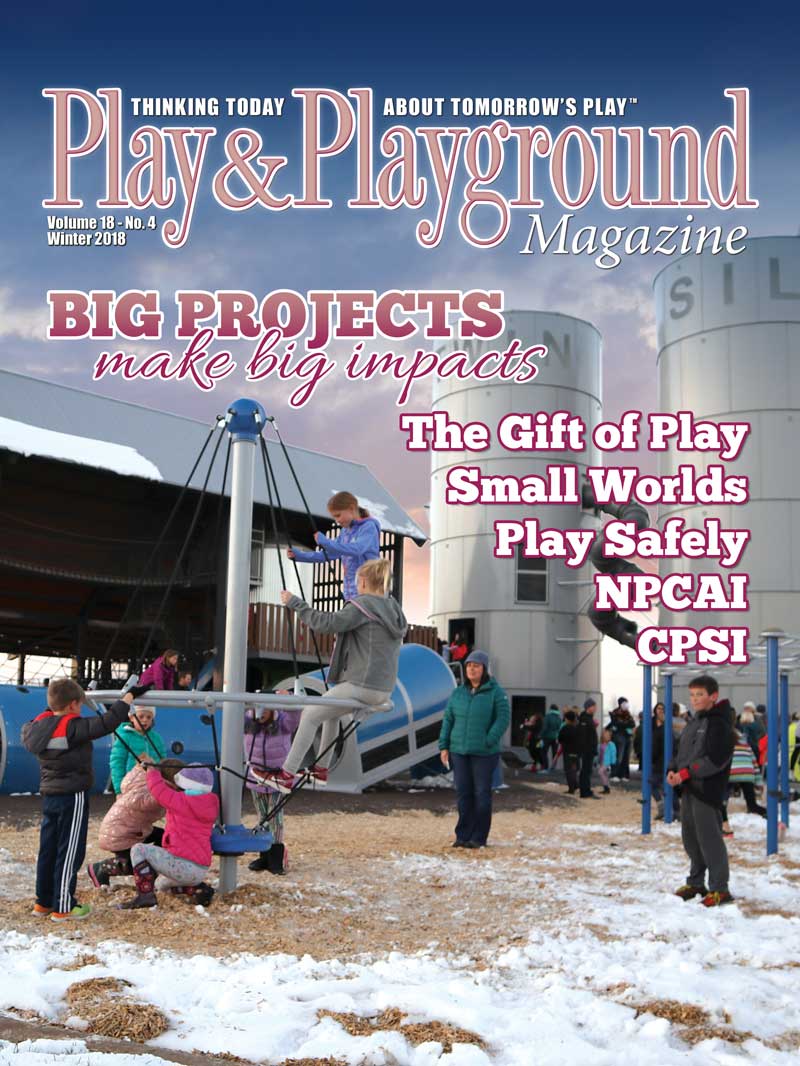 Winter has announced its presence in Idaho - I woke up to -17° F this morning. Brrrr. Is it time for my winter vacation yet? Unfortunately, no. But if it were, this magazine issue has made me want to visit quite a few new parks and playgrounds! I need to talk to my publisher about making sure we experience these places first-hand. I know he will tell me to sell more ads. ;) We do appreciate our advertisers because they are the ones who allow us to bring all of this great industry information to you.
As we wrap up 2018 with this issue we highlight some of the best things about our mission. A couple of our articles bring you some big playground and park projects put together by communities and recreation companies. You will read how they designed and implemented visions that provide exciting inclusive adventures for their communities. We love bringing these public/private ventures to you and hope that you find encouragement to tackle your own project after reading this issue.
We have great tips on safety for both play areas and toys. Speaking of toys, did you grow up playing with Small Worlds? Read how they help with children's development. Our friends at Cunningham Recreation are sharing a new product with us called Yalp which will engage the technical generation in outdoor play. We take a look at some organizations and roles that are important in the park and playground industries. The National Playground Contractors Association, Inc. is a wonderful resource for the industry. If you are building a new playground or managing an existing park area, you may need the expertise of a Certified Playground Safety Inspector.
Early in 2019, the US Play Coalition will hold their annual conference on the Value of Play. This year is special because they are celebrating their 10th anniversary. This conference focus is "Play for Life" and it will include how play is part of our entire lives, not just childhood. I am looking forward to attending this conference again this year. If you are engaged in the industry of play in any form, you should consider attending this event. 
We are excited for 2019 and the different opportunities it will bring for Play & Playground Magazine and our website www.playgroundprofessionals.com. If you are not already listed in our Professional Spotlight Directory, you should be. This is a great resource for people starting playground projects. They can search for the type of professional they need or for the state or country in which they live. We want to help bring together professionals and park or playground administrators with the people and groups that need their expertise. You just never know where these connections can lead. I had a request recently from a high school teacher looking for some help with a robotics project. I knew just where to point her!
Enjoy reading this issue as you begin your Christmas celebrations. We wish all the best for you and yours, and we're looking forward to continuing this journey together in the new year.