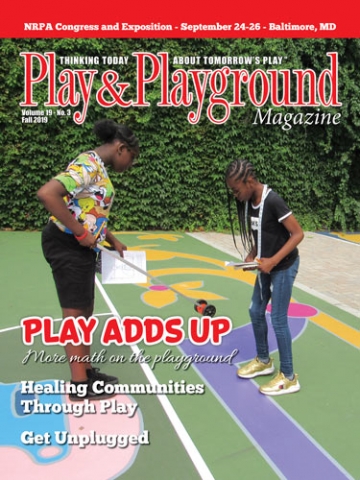 I visited the end of the earth last week. Well, a T-shirt pointed out that Cape Flattery is the beginning of the world. Either way, it was an almost surreal experience to see where the waters of the Pacific Ocean flowed into caves and up against cliffs in a northwestern rain forest! Hiking through lovely natural environments is one of my favorite ways to play. I get to relax and explore at the same time. I appreciate the Makah Tribe preserving this land. I also visited the museum and learned things about the cultural heritage of the first people of the Northwest.
This issue of Play and Playground Magazine explores several non-traditional benefits of playgrounds. The Trust for Public Lands and Urban Math Trails have partnered to expand outdoor educational opportunities. The Cunningham Recreation program "Healing Communities Through Play" seeks to bring residents and law enforcement officers together to build playgrounds in cities that have been damaged by broken trust. A Master's student performing an internship with Let's Play America tells us how play benefits the whole community.
We learn more about the YALP interactive play spaces and how they bring together people of all generations. Judd King shows us some good ways to get the kids outside and off of their electronic devices. Our friend Ray Wills gives us another installment in the history of Adventure Play in the UK.
This issue comes out just before the NRPA Annual Conference and Expo. We hope that you get to this marvelous event in Baltimore and visit all of our partners in their booths. We couldn't bring all of this great information to you if not for our advertisers and contributors. If you see them at the conference, please tell them thank you!