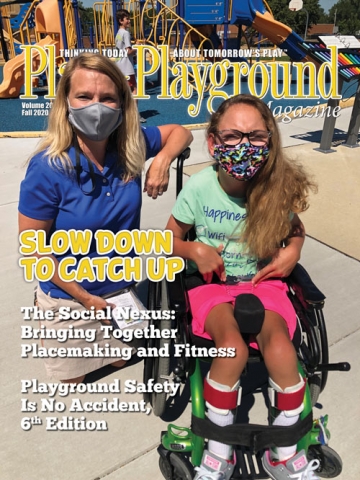 How is your new normal going? 
Are you worried about your students falling behind? 
Maybe it isn't such a bad thing. Peter Dargatz offers his suggestion to the problems facing millions of students worldwide, and his solutions may surprise you.
Are you and your kids remembering to play? 
Let's Play America has developed the digital Play Day Handbook filled with step by step planning details and ideas for bringing a Play Day to your community. 
Are you getting exercise and staying fit? 
Check out the amazing outdoor fitness court in San Diego's Imperial Beach community which is beefing up community involvement as well as personal performance.
Are your kids playing on playground equipment?
A couple of our partners are busy making sure that everyone can play, including small children and those with different abilities.
Is your playground safe? 
Playground Safety is No Accident, 6th Edition brings safety training up to date with new industry developments.