by Jeremy Hoffner
Unstructured, free play is easily lost these days unless you actively work to prioritize it in your routine. As a college student, the rigors of school work, internships, extracurriculars, family, and friends mean that my time is very limited for engaging in activities like play. Oftentimes I find that any remaining free time I have in my schedule is spent in static ways like watching television or playing video games because my mind is too tired to occupy anything else. That all changed in March as a result of the COVID-19 pandemic. In the course of one week, I transitioned from in-person classes at school to virtual classes from my childhood bedroom. The extracurricular activities that I was involved in became virtual. The internships that I was researching and to which I was applying for the summer quickly went from in-person to online. In a very short period of time, my life shifted from the chaos of college to sitting in front of screens all day, trying to emulate the in-person experience as much as possible. 
One aspect of my life that changed the most as a result of the pandemic was my search for a summer internship. I study Political Science, History, and English at Johns Hopkins University. Before the pandemic, I was searching far and wide for an opportunity to work in a professional field relating to one of my academic interests. However, most businesses, non-profits, and government agencies decided to scale back their summer internship programs or cancel them altogether. Almost all organizations shifted their summer programs online. Many of the leads that I had evaporated quickly. I had applied to dozens of opportunities to only hear back from organizations that their programs would not be happening. 
One night in mid-May, after I had finished my spring semester school work, I was browsing my university's internship postings for a way to get involved. I came upon a non-profit organization called Let's Play America. I was quite tired and quickly grazed over the mission and goals of the nonprofit. I saw they were working to bring free play back to people of all ages. That stuck with me. The next morning, I did more extensive research into LPA and submitted my resume for an internship opening. Having the opportunity to speak with Pat Rumbaugh, the Play Lady and founder of LPA, later that week solidified my interest in helping her. I did not realize when I accepted the position that I would be able to have such an immediate impact on the organization and that I would recapture my love for play.
The breadth of work that Let's Play America has accomplished this summer has been quite exhaustive. I have gotten to explore a wide array of media sources that write about play, from parenting blogs to health magazines, and connect them with Pat. I have done social media research into ways to increase the number of followers that our social media accounts have and develop a more consistent content brand. LPA has painted numerous hopscotch boards across Takoma Park, Maryland's town parks. Pat and I have had the opportunity to collaborate on an article about the benefits of risky play and how Let's Play America contributes to the development of risky play. Despite the COVID-19 pandemic, Pat and the team have begun planning a virtual play day for the fall and I have gotten to brainstorm activity ideas. The largest contribution I have made to LPA, however, is through the Play Day Handbook. 
The Play Day Handbook is an all-encompassing guide to developing a play event, similar to the ones that Pat Rumbaugh has been organizing in Takoma Park, Maryland since 2009. Play Events are phenomenal opportunities for the entire community to come together and experience free, unstructured play in a non-judgemental environment. Pat has seen the full span of a play event develop before her, from an idea in her head to a full-fledged annual event, and had the brilliant idea of sharing her knowledge with interested parties across the country. The Handbook walks through developing a Play Committee and recruiting people who may be interested in organizing an event, building a relationship with the local government, deciding on dates, locations, and activities for events, securing the necessary equipment, and much more. I have had the tremendous honor of helping Pat and the team revise, edit, and format the Handbook to allow people to receive it this summer! The Handbook is now available for order on the Let's Play America website. Working on this guide with the LPA team has really taught me about the importance of building play into our everyday lives and has inspired me to encourage groups that I am a part of to host their own play events.
After working with Let's Play America this summer, I am learning to re-prioritize play into my everyday routine. During the COVID-19 pandemic, I have been living in my hometown with my parents and two older sisters. My siblings and I have used this time together to be active and play. We have played tennis at our local community courts and taken my dog Otis on walks in town parks. We have gone to neighborhood baseball fields and played baseball with tennis balls and plastic bats. My childhood friends and I have gone on long, physically distant walks, exploring areas of our town that I have not been to in years. Sometimes during the day, when I am working on a project for LPA, it almost feels counterintuitive to sit in front of my computer, but Pat has taught me how to strike a good balance between work and unstructured free play. As I prepare to start my junior year of college in the fall, I believe that I am ready to succeed because I have a better understanding of how to balance my priorities and I have Pat's voice in my ear, encouraging me to get out and play. I am very grateful to Let's Play America for giving me an opportunity to work during such a tumultuous time and for helping to reawaken the playful child in me, who just needed the proper prodding to come out again. 
---
Message From Pat Rumbaugh, Let's Play America's Executive Director
Do you miss playing with your co-workers, friends, neighbors, students and folks in your community? The nonprofit Let's Play America has held over 25 Play Days over the past twelve years, and can help you plan your very own Play Day for your community. Let's Play America has distilled its wealth of experience into a digital Play Day Handbook that has step by step planning details for making your Play Day the best it can be.
If you are a play advocate looking to bring play to your community, you will want this electronic PDF Play Day Handbook. Do you have a Mayor, City Council representative, State Congressman or a Director of Recreation that would be thrilled to receive this Play Day Handbook?
Maybe you are a teacher of a preschool, elementary, middle, high school, a university administrator or faculty member. You know how much your students have missed being together. This Play Day Handbook is for you.
Let's not forget businesses whose employees have been working from home, or places of worship that have only seen their friends through Zoom. Planning a Play Day can be fun, and so rewarding. Senior communities, Let's Play America has organized six exciting Adult Play Days. Yes, we believe everyone deserves to play!
Play Days in person may still be a ways away, so why not consider planning a virtual Play Day? LPA is transforming our 12th Annual Play Day on September 26, 2020 into a blended virtual and in-person event. Many of the planning ideas for a Play Day transfer into planning for a virtual Play Day. For more information and to participate in the 12th Annual Play Day, please visit our website.
Whenever and however your community is ready to play together again, you can rely on Let's Play America's Play Day Handbook as a resource for organizing a positive, inclusive, and playful event for everyone.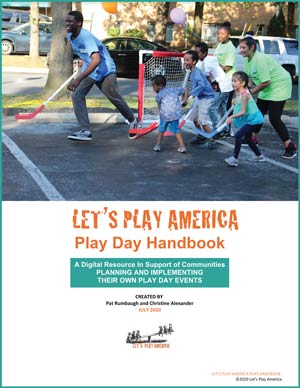 Let's Play America's Play Day Handbook Is Currently Available To Order On Our Website:
www.letsplayamerica.org .
For More Information Contact Pat Rumbaugh, The Play Lady
[email protected] 240-752-9176