Want to organize a Play Day in your community?
ChangeX
, a global nonprofit is inviting you to apply for the Play Day Project. Funding to start a project in one of these areas around the world begins in June, see below.
Denmark June 15
United Kingdom June 20
United States June 22
Ukraine June 31
Fifteen years ago, I founded a play committee in Takoma Park, Maryland because I had felt the decline in play for children and adults. As I discovered in my research, free self-chosen play had declined. The nonprofit Kaboom.org was naming cities A Playful City USA if you applied, mapped your playgrounds, and held a Play Day. Our city, Takoma Park was named A Playful City USA for nine straight years until the program ended.
Not only did we hold Play Days, but we closed streets to play and joined other events, like National Night Out, organized by our Police. We would bring our play equipment and invite people to play. Students aged twelve to eighteen are able to receive community service hours toward graduation for helping us. Over 2,500 students have invited people to play.
The ChangeX's CEO, Paul O'Hara and I were both on a webinar titled, "Resilient Cities." The focus of this webinar was bringing play opportunities to communities. I was eager to sign-up and listen to what the experts had to say. During the webinar I decided to share in the chat box who I was and what our nonprofit does to bring play opportunities to our community. I shared that I'm Pat Rumbaugh, known as The Play Lady. I'm the co-founder and executive director of the nonprofit letsplayamerica.org. We are known for our Play Days, closing streets to play and joining other events.
When the webinar was over, I checked my email and I received an email from the CEO of ChangeX. He was so impressed with our website and what we do that he told me we would be hearing from ChangeX shortly. Less than twenty-four hours I received an email from Karen, the head of social innovations. Karen shared that they wanted to help us create and fund a Play Day Project.
To clarify, ChangeX does not fund communities directly. They fund projects that help communities. I am overjoyed that our Play Days are being featured in June 2023 and that funding has become available for the countries I have listed above.
For people reading this article that may want to read Let's Play America's Play Day Handbooks, you can order them directly from us.
Get Your Play. Day Handbook Here
Another way that I have been encouraging people to play is through my children's books. My co-founder and the photographer for our books is Daniel Nakamura. On the link below you can see the covers for both books, find ways to order the books, and watch a voice trailer for the latest book, "Let's Play Outside." We are working on our third book, "Let's Play with Our Families."
Communities that receive funding from ChangeX for the Play Day Project will have a virtual Zoom meeting with me to share their plans for their Play Day. I have met with over twenty-plus communities that either held a Play Day or are still planning their Play Day. Every Play Day has been unique. I'm constantly surprised in a good way to hear of ways the play team is planning their Play Day. When communities are approved for funding they receive our Play Day Handbooks, so many people have told me how helpful these Handbooks are for planning their Play Day.
I urge everyone reading this article to let city officials, daycare directors, educators, librarians, recreation directors, and community organizations know about the funding for the Play Day Project. Your community will benefit in multiple ways from having a Play Day. As an organizer of thirty-five Play Days, I love seeing the smiles on children's and adults' faces at our Play Days, hearing the laughter from playing the activities and days, weeks and months later the stories from people in my community of how much they enjoyed the Play Day.
June 6-9 I traveled to Glasgow, Scotland for the International World Play Conference. I presented and led a playful activity. I feel honored to have attended and shared our story of the growth and development of our Play Days.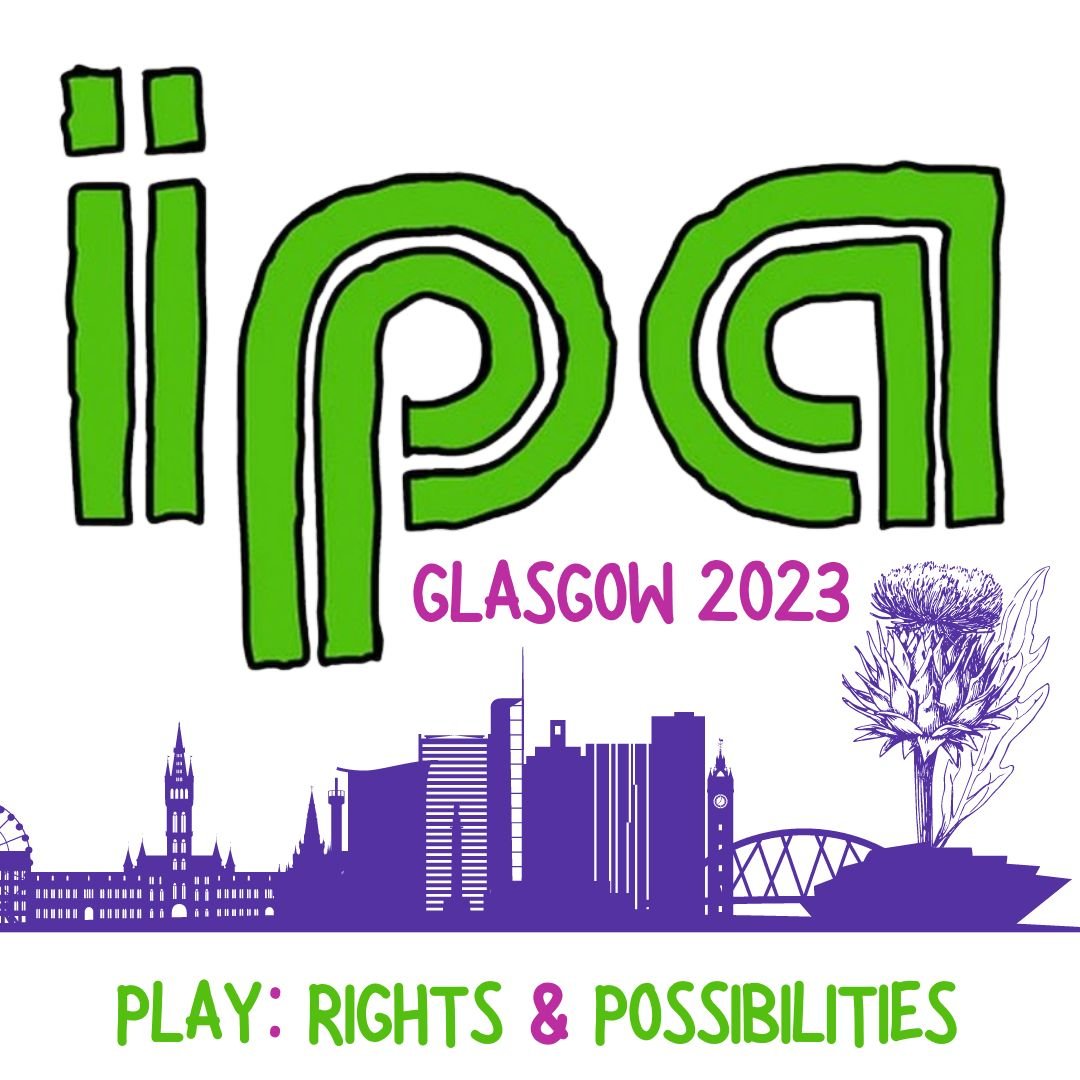 Go play!
The photo above is from our 2019 Annual Play Day. In the photo are high school football players who came to volunteer and play. I told the fellows they looked like twins, so go visit the Dress-up activity. Everyone deserves to play!
---
Let's Play American Launches New Brand and Tagline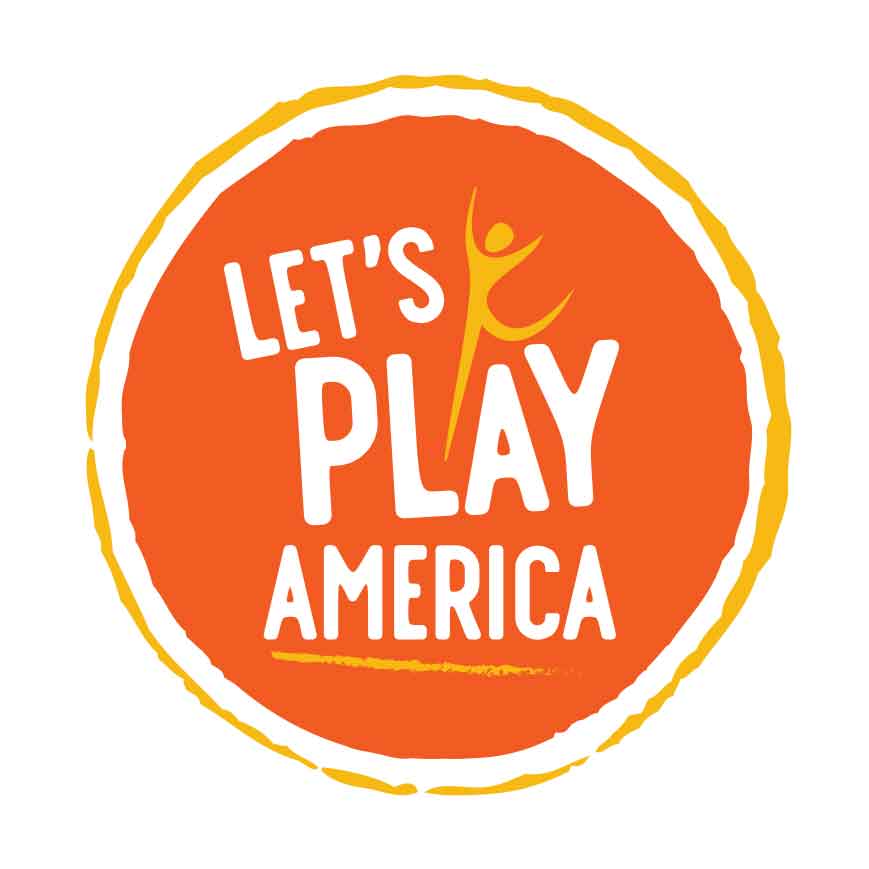 Through the history of hosting 36 play days, Let's Play America (LPA) has become a leader in providing proven play engagement opportunities for communities world-wide. The new brand look & feel is intended to best reflect LPA's experience-based uplifting spirit through the use of bright colors, simple font choice, hand-drawn lines, and asymmetrical angled visual elements. Additionally, the new logo format intentionally enables the possibility of branding future partnerships and collaborations.  
The expertise and resources built over the last 15+ years, has uniquely positioned LPA to empower and connect people of all ages, abilities, and backgrounds through play. Yet, the same core values from the beginning still stand true today: connection, community, empowerment, equity, & inclusivity. Let's Play America believes everyone deserves to play!