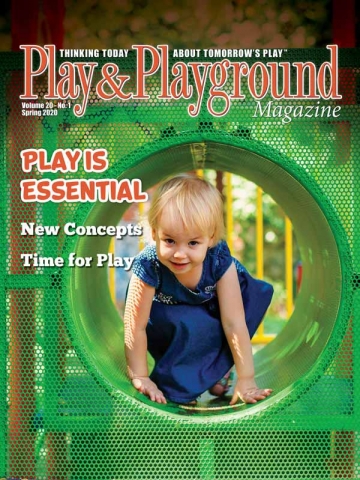 Message from the Editor: Sara Bowersox
Normally I share some of my playful activities with you in this editorial. Even though I did spend a week on the Big Island of Hawaii, it seems a bit trivial to talk about that now. We are in the uncharted territory of social distancing to flatten the curve of COVID-19 spread. We at Play & Playground Magazine and https://www.playgroundprofessionals.com/ have always strived to bring you the latest information on play and the playground and parks industries. We will continue to do that as well as share resources as we can to help weather this storm. I have full confidence that all of you playful people will find creative & resilient ways to help your families and communities.
I am very sad not to be at the Play Conference this year. Attending for the past couple of years has been a wonderful experience. I've gotten to know some great people, learned some interesting insights about human development and the need for play, and curated some excellent content for our website and magazine. If you are presenting a virtual session or attending one, that you think needs to be shared far and wide, please email me! We want to continue spreading the word of the good works of this conference and the US Play Coalition in general.
This issue covers how important play is in the lives of children along with the impacts of not getting the necessary play. You can also read articles about outdoor health, accessible playgrounds and the importance of partnerships. We value our partners in content and advertising. 
---
Message from the Publisher: Jake Amen
As a father of 3, the fast-moving developments of the Coronavirus pandemic have presented me and parents all over the world with a dilemma. Nation-wide school closures, with the potential for schools to stay closed for the remainder of the year, have forced millions into a home-school situation. For me, I was overeager for our school district to make the call, obviously because of the dangers posed by the virus. Now, my children are home indefinitely, and I am already fearful that the wifi will be on overdrive. 
This pandemic will force me to practice what Play and Playground Magazine preaches like never before. In order to facilitate play in my household, I will be reviewing and referring to our archive of informative articles available on playgroundprofessionals.com. 
The kids and I plan on a spring hike this weekend, which will provide us with about as much social distancing as you can get. Just this morning my 6-year-old daughter and I had a Jojo Siwa danceathon in the kitchen. We definitely broke a sweat, even though it may not have looked pretty (at least my dance moves didn't). We will strive to continue daily physical play. I hope you will do the same. Stay healthy and stay at play.