Do you feel everyone deserves to play?  Well, I sure do and so do all the interns and volunteers that help Let's Play America. 
In 2009 when seven of us gathered in Takoma Park, Maryland for the first play committee meeting one thing we were 100% clear on is that we wanted to bring fun, free play programs to everyone.  Let's Play America continues to believe that people of all ages, abilities, and backgrounds deserve to play.
Funk & Wagnalls New International Dictionary of the English Language defines inclusion as the act of including.  Just imagine a world where we included everyone.  Since you are reading this article I can only guess you care about people getting the opportunity to play.  I bet you love to play.  
Readers, ask yourself: am I giving myself time to play? If you are an adult I would be willing to bet that you enjoyed playing as a child. I hope you still give yourself time to play.  Are you making play possible for people in your community that may not be as privileged as yourself? Do you join people to play in your community? Do you share your play space? Do you share your play talents?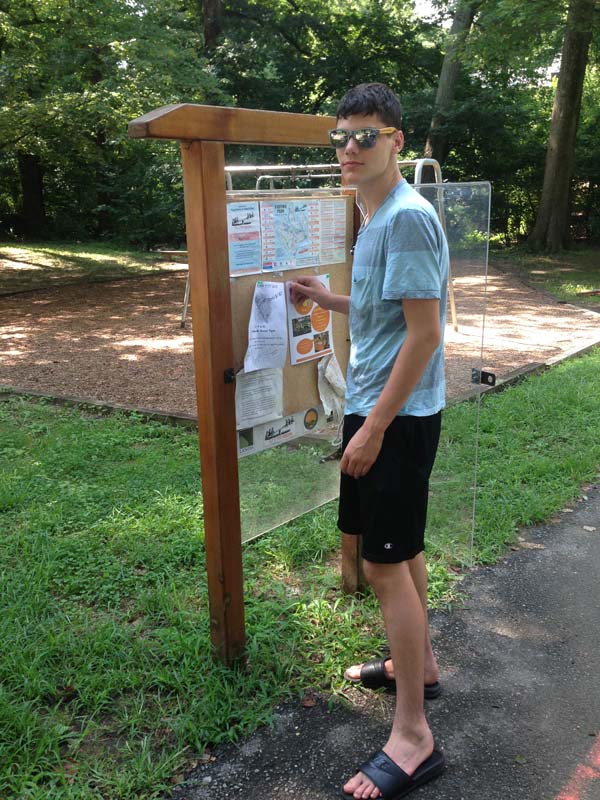 Interns Find Ways to Play
This is the third summer my nonprofit, Let's Play America has worked with the city's Summer Youth Internship Program. The past two summers I worked and played with two young volunteers, Cinnamon and Mikentha. Cinnamon enjoyed printing and drawing, so she created a Pinterest account and looked up jump rope songs. She then went on to create posters with words and drawings to help children and adults sing along when people were jump roping.  Mikentha loves to make videos.  On the homepage of our website is a video Mikentha created.
This summer Jason and Nick are interning with LPA. What I absolutely love about these guys is they always remember to play.  We could be organizing the play equipment in my garage and next thing you know they are bouncing a ball, playing badminton or shooting a basketball at the hoop attached to my garage.  The fellows worked super hard preparing for the annual Playful Yard Sale. If they needed a break they tried out a donated game or played catch in the street.  These guys are reminders of the importance to save play, give people play days, close streets for play and join already organized events by adding play.
Several teens interning with LPA to receive community service hours this summer have been a great help. At a play event we held indoors, LPA brought out the dress-up clothes, puppet theatre, and board games. All of these teens showed why LPA strives to include everyone.  They invited kids and adults to put on hats, beads and dress-up clothing, play with the puppets, and join in on board games.
Nutt, a student at the University of Virginia, is also interning with LPA this summer. He has joined several play events and programs.  Nutt is a quiet leader. This is what Nutt shared with me about his experiences, "I was really impressed by how play brings people together. I see this pan out in multiple events that I was fortunate enough to attend while I was interning for Let's Play America. It doesn't matter what age, skin color, or who you are. You can enjoy playing with others. In one of the events, I saw children range from primary school to high school playing hockey together. I can see that they are having fun and more importantly they care about each other. When one of the boys got hurt from an accident, everyone in the field stopped and tried to be helpful in giving him the first aid that he needed. I am really impressed by these scenes. Not only can play bring us together to enjoy the good time playing, but it also brings out empathy in us and bonds us together with other human beings."
Let's Play America has benefitted immensely from having interns involved in our mission to bring play to everyone. I dream of the day when LPA launches our Let's Play America Internship Program. To read about this program click on our website and then tap announcements. LPA is looking for ways to raise funds so we can make this program possible.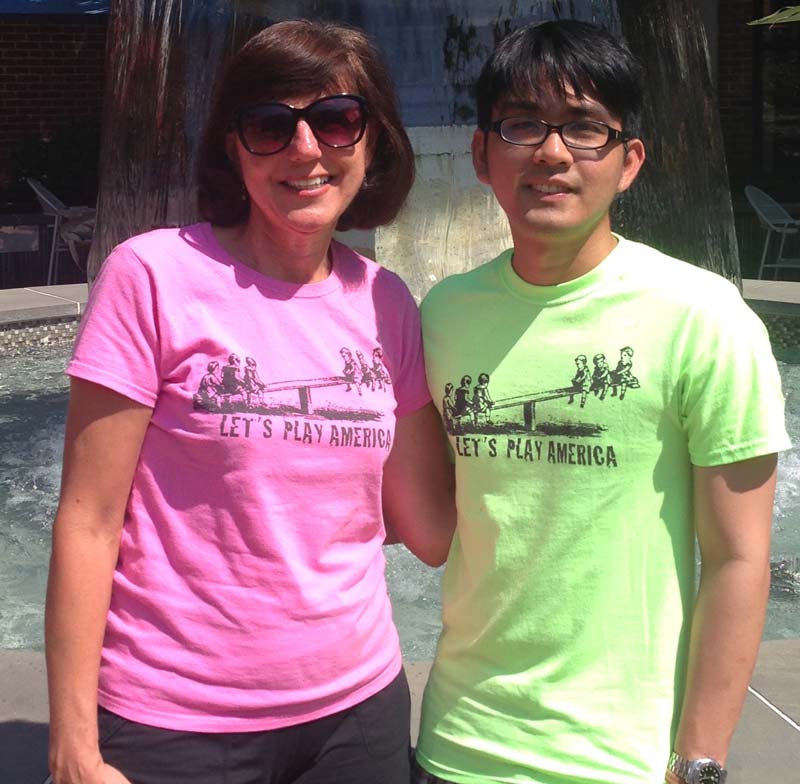 Volunteers Rock
Volunteers have been an integral part of LPA from the beginning. I believe we are born to play. I also believe those of us who give ourselves time to play are happier, healthier and more content with life. LPA's volunteers come in a wide range of ages. Lucy, who is 9 years old and has been one of our youngest volunteers, is a neighbor and friend. I know I can count on Lucy joining us when she can. 
Cherwanda, known as our Mud Pie Lady invites people of all ages to make mud pies at our Annual Play Day in September. Cherwanda always offers valuable suggestions at our monthly planning meetings and is always willing to join in on the fun. Just recently, Cherwanda joined 91-year young Colleen line dancing with her walker and several others at a play program at Victory Tower, an apartment building for elders.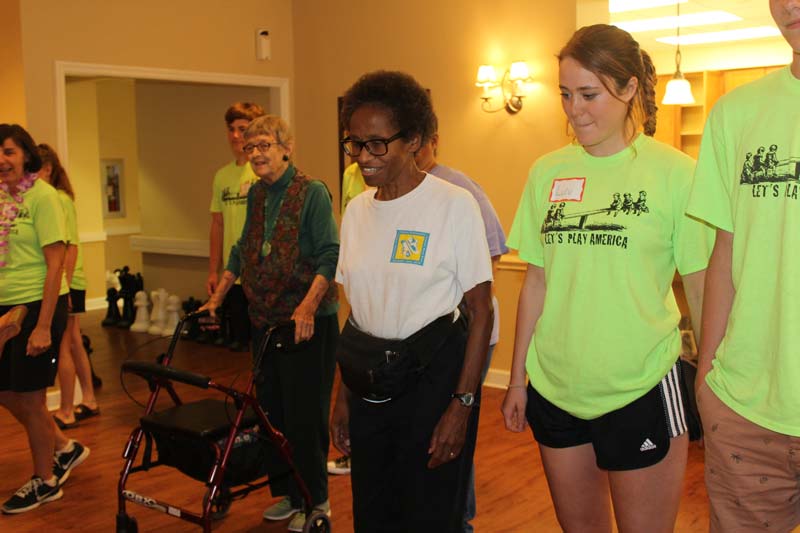 Phil is a computer specialist for the city by day, but when given the chance he can bring out his playful personality. Phil recently bought LPA a Wind Tunnel for play events and programs anticipating how much fun people of all ages and abilities would have with it.
Several play volunteers like Lynn, Roberta and others work tirelessly behind the scenes to bring play to everyone. Roberta helped LPA receive a grant to bring play to children and adults living in low to moderate income apartment buildings. The four play programs exceeded all expectations. Residents, interns, and volunteers all had a fabulous time playing together. Lynn recently helped LPA with a Request for Proposal for the funding of future play events. This laborious task took several people to put this document together.
LPA looks forward to continuing our mission to bring play opportunities to everyone. We rely heavily on intern and volunteer participation to help make this a reality. Visit our website www.letsplayamerica.org for ideas on how you can participate with us and how you can bring opportunities to play to your community.