In the spring and summer, it's easy to keep your little ones active. You can drive them to the park, swim with them at the pool or open the back door and let them run free in your yard.
Winter — and, sometimes, fall — bring on temperatures that are too cold or precipitation that's unpleasant. Therefore, your kids will often forego their outside time to stay indoors where it's nice and cozy. You can't blame them, of course, but you also wish there was a way to keep them active in spite of the weather.
Luckily, there are so many options that fit both of your agendas. Try warming them up with these six indoor activities through winter and beyond.
1. Sign up for Indoor Sports or Classes
This one doesn't take place in your home, but it's a great way to keep your brood active without sending them outside. Reach out to community centers and gyms to see what types of children's sports they offer. Your kids could join a basketball or indoor soccer league, or they might dive into swim team practice — in a heated indoor pool, of course. You can even make at home, inside versions of their favorite sports with balloons and a few household items you already have on hand.
On top of that, you can sign your children up for dance classes or yoga sessions. Use their interests or skills to help you determine which indoor hobby will be best at keeping them active this winter. If you're not sure, ask — they're much more likely to stick with an activity they've chosen because they're interested in it.
2. Turn up the Music
You've probably had a dance party before, so you know how fun it can be. You're also aware a good, old-fashioned boogie can work up a serious sweat. Therefore, make dance parties part of your family's wintertime exercise regimen. You can even make a game out of it by playing freeze dance or having a dance-off. No matter what, throw your inhibitions to the wind and move.
3. Encourage Creativity
Today's toys tend to require a charge or an electrical outlet, and the resulting entertainment tends to be sedentary. Rather than give in to the pull of video games, try encouraging your kids to be creative this winter.
You probably don't want to take away their iPads or consoles entirely. However, limiting time with them is a great place to start. Then, stock their playroom with toys that stoke their creativity, such as dress-up clothes or building blocks. They might not be as aerobically active as they are outdoors, but they'll be moving around nonetheless. And that's just the way you want to encourage them to play while they're indoors.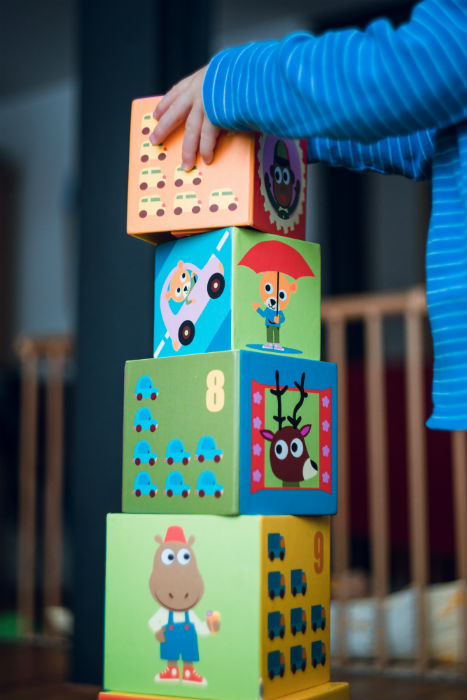 4. Invite Friends
With a friend over, your child will be much more likely to play actively. The excitement of having a buddy supersedes the buzz from video games or social media, after all. So, schedule plenty of play dates this winter, and be sure to encourage the kids to play without their electronics. What did you love to do as a child? Whether you built forts or played hide-and-seek, encourage your little one and their friend to do the same.
If no one's available for a play date, you can step in, of course. Take advantage of free time not by getting ahead on housework, but by taking that time to play alongside your family. Challenging them to a round of indoor basketball or rolling out the Twister board is not only an active activity for all of you to do, but it might become a tradition or a memory you'll cherish.
5. Try a Workout Video
As a grown-up, you've probably popped a workout video into your VHS or DVD player — or loaded one onto your smart TV. Now, there are plenty of routines that suit younger exercisers. Even better, you can cue them up on YouTube and let your kids follow along. Don't expect them to be dropping squats or cranking out push-ups, though — these workouts are tailored to kids, so they're super-fun takes on a traditional workout regimen.
6. Don't Forget to Check-In
No matter which of the above activities you include in your wintertime schedule, it's ultimately about your children's happiness and health. So, check in regularly to make sure they're still enjoying their chosen activities and they're not burned out on them. That way, you know they're pleased with their extracurriculars — and you can be, too.
Now, you have the resources and ideas to keep your family active this winter. With these six tips in mind, you're sure to make it through the coldest season of the year without breaking a sweat — figuratively, at least.