Rigamajig is a new large-scale building kit used for hands-on free play and learning. This collection of wooden planks, wheels, pulleys, nuts, bolts, and rope allows children to follow their curiosity through play. Engaging the inquisitive mind and creative spirit, Rigamajig empowers children to think three-dimensionally, building things larger than themselves.
Rigamajig Basic Builder is ideal for classrooms, children's museums and groups of children learning and playing collaboratively. The solid wood 3/4" thick planks range from 12"- 44", allowing children to build things larger than themselves. Children often say "this isn't a toy, this is real!" as they familiarize themselves with the scale and weight of working with wood. All the while they are cooperating and communicating to problem solve, pretend and play.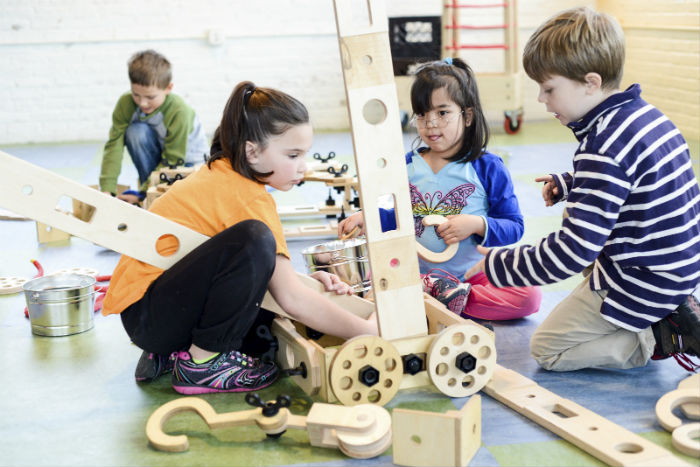 Rigamajig creates playful, cooperative learning communities, through means of collaborative building and child-directed play. The kit enables easily accessible, cognitively challenging play opportunities for children of any age in any environment.
Rigamajig fits with principles of STEM and STEAM education, which promote a focus on science, technology, engineering, math, and art through hands-on, inquiry-based learning to provide children opportunities for creativity, innovation, collaboration, and critical thinking.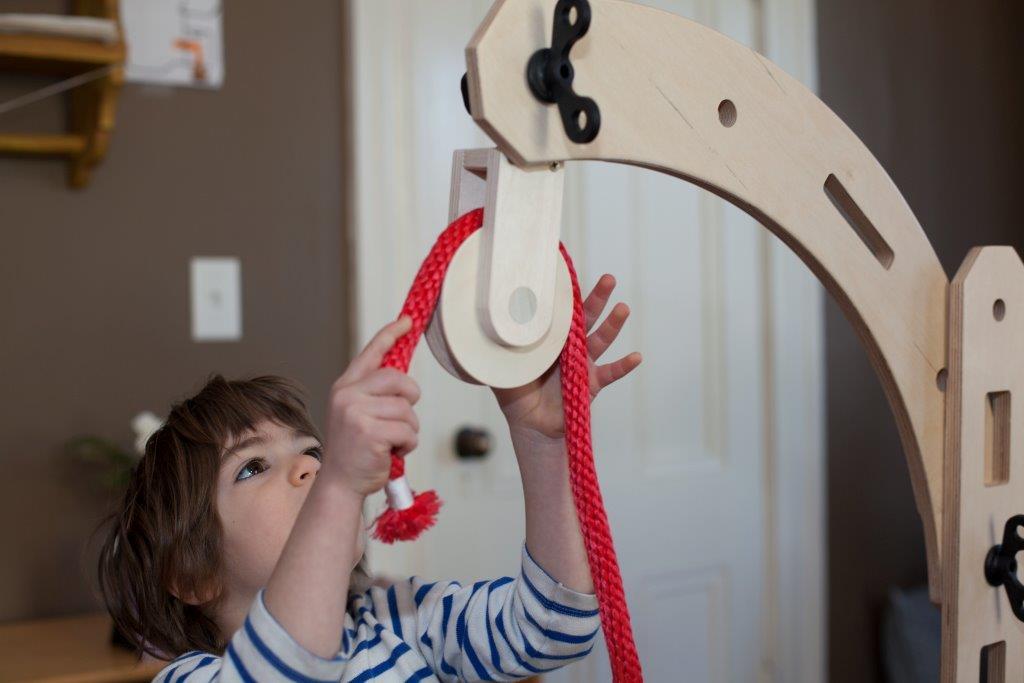 Children simultaneously practice problem-solving while designing and playing with their technological inventions. They create and work with simple machines (e.g. pulleys, ramps, and screws) as a means to create new, more complex machines.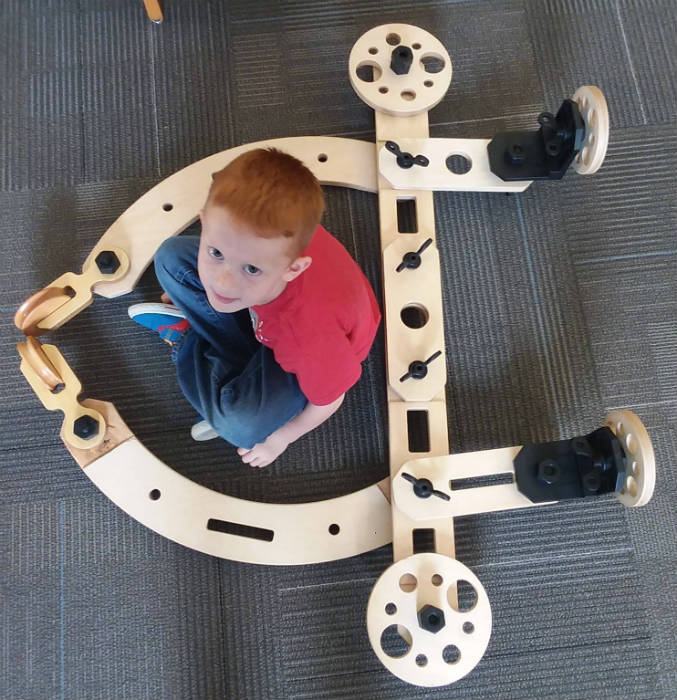 Play, fantasy, and imagination are all part of children's everyday cognitive thinking and investigations. It is when these are all manifested in a single activity that children invest and fully engage in problem solving and amazing feats of creativity.
Additional Rigamajig Products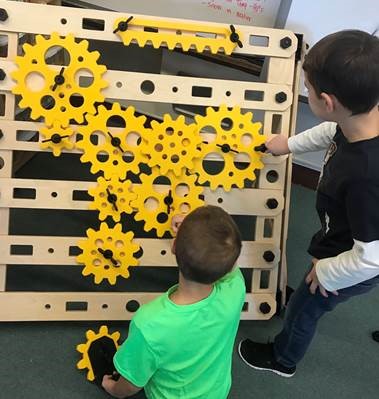 Simple Machines Add-on Kit
Rigamajig owners can also get their hands on the Simple Machines Add-On Kit, a brand new set of Rigamajig components to expand Rigamajig Basic Builder Kit. The Simple Machines Add-on Kit includes gears, a new wheel-pulley, levers, belts, cranks, and axles!
These thoughtfully crafted loose-parts were created with educators' feedback in mind with the goal to provide a new perspective and range of discovery, tinkering, and exploration inside a classroom, on a playground, or in any play space. Now, young collaborators can mechanize their Rigamajigs, making simple or complex systems that exemplify the principles of mechanics, direction, and force. Similar to Rigamajig Basic Builder Kit, the Simple Machines Add-on Kit lends itself not just to structures or machines, but also all kinds of sculptural creations!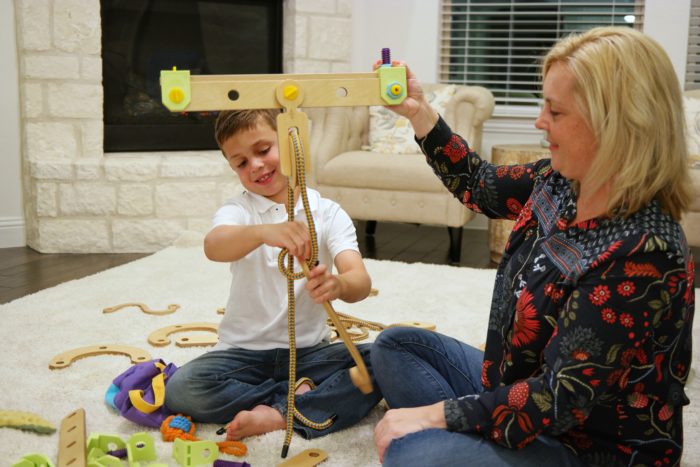 Rigamajig Junior
Rigamajig Junior is the table-top version of the Rigamajig Basic Builder Kit. It's a collection of wooden planks, wheels, pulleys, nuts, bolts, and rope designed to engage the inquisitive mind and creative spirit of children. Perfect for smaller spaces and for the home, the Junior Kit comes with 160 parts total and fits neatly in a colorful duffel bag.
Rigamajig Junior incorporates the same STEAM concepts as the Basic Builder Kit but on a smaller scale. 1/2" thick Baltic Birch Planks range from 6" - 22", making it large enough to make things to play inside of, but small and light enough to play in a lap or table top.
What people are saying about Rigamajig:
"The Rigamajig building set inspires a child's natural curiosity and provides them with an opportunity to exercise their creativity. When caregivers become involved in this process, they too have a chance to play, design, and engage with their children. It's fun for all!" Dena R. Milliron, Curator of Education at i.d.e.a Museum in Mesa, AZ
"When kids are making something, they are constructing knowledge. If they're actively engaged, and they enjoy and are having fun with that activity, it's much more likely that they're going to remember and learn. Meaningful learning and purposeful play." Nan Stifel, Librarian at Concord Hill School in Chevy Chase, MD
"Rigamajig is essential to help kids learn engineering. It's tough for a lot of classrooms to find something like Rigamajig that you can get that engineering factor in science. I absolutely love it." Byron Gilliland, Jefferson STEM Elementary School in Winona, MN
About the designer:
Cas Holman has spent the last ten years immersed in play, education, and imagination.
Through her company Heroes Will Rise, she designs and manufactures tools for the imagination. These materials are manipulable parts and pieces which inspire constructive play, imaginative forms, and cooperative interactions between people. Abstract in their identity, these tool/toys inspire children and adults to imagine the origin and story of the toy as well as how to use it.  "What is it?" and "What does it do?" are answered in intuitive details, play prompts, and semiotic clues, making the instructions implicit in the tool/toy.
She is a full-time faculty at RISD in the Industrial Design Department and recently relocated from Brooklyn to Hope, RI where she prototypes her playthings on five acres known as Camp Fun.
Cas is the founder and principal designer at Heroes Will Rise.  Heroes Will Rise is an independent toy company focusing on products designed in the spirit of invention and creativity. The soul of these products is idealistic, optimistic and rooted in the belief that imagination is an essential part of childhood. Our toys are never gender specific and encourage an exploratory, unstructured play. Their Hope, Rhode Island workshop is situated on a retired summer camp filled with toys, drawings, prototype structures, dreams, and dogs.
All Rigamajig products are available for purchase on the KaBOOM! online shop.