Over 30 years ago, Tom Lindhardt Wils and Hans Mogens Frederiksen started a company taken from an idea given to Lindhardt while engaging in a separate project.
Lindhardt, an artist, was commissioned to construct colorful sculptures to break up the monotony of the city landscapes prevalent in his homeland of Denmark.
The sculptures were also used to provide children with a reference point when trying to find their home amidst the vast stretch of similar-looking gray buildings. He noticed that not only did the children use the sculptures for landmarks to help them find their way, but they also played on and around the structures.
Shortly after that realization, Lindhardt joined with Frederiksen to create a play equipment company and, consequently, KOMPAN was born.
Now the company is the largest manufacturer of play equipment in the world and includes the parent company of KOMPAN A/S  and 14 subsidiaries scattered throughout the globe.
However, KOMPAN Inc., the U.S. subsidiary, is still a relatively small player in commercial play equipment manufacturing in the United States, especially in the popular plastic and metal play equipment market.
KOMPAN purchased BigToys, Inc., in 1991 and since then has been a major player in the American wooden structures industry, but now the company feels that the U.S. is a land of opportunity in all areas.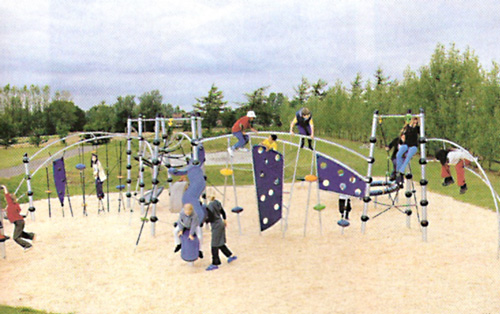 Creative design is the key to creative play. KOMPAN strives to provide children with a new play experience every time.
"Worldwide, yes (KOMPAN is the largest manufacturer), but not in the U.S.," Carsten Madsen, vice president of KOMPAN Inc., said. " We have had some success in the American market with wooden structures. Previously we have focused on the wooden structures and we are not putting less priority on wooden structures. We are just also going into metal and plastic structures. We have something unique to offer in wood, metal and plastic-based products."
Madsen estimates that about 80 percent of the purchases of playground equipment made in the U.S. is of the plastic and metal variety. That statistic alone may have been enough to encourage some changes in the company's approach to the American market, but Madsen said there is more to it than that.
" Most of the play equipment sold here is '80s style," Madsen said. It is basically the same equipment that has been around for 20 years. Play has changed a lot. We want to position ourselves as being unique. We are going into the 21st century in our design."
What the change of design philosophy brought together is a new line of equipment from KOMPAN-Galaxy.
Galaxy, according to Madsen, is a far cry from the standard play systems made up of posts, platforms, and panels. It is a unique play experience that changes every time a child enters it. "With the old equipment there is one way in and three ways out," Madsen said. 11 It's always the same. With Galaxy, every time is a different experience for the children. It's like a video game. That's why kids can play the same video game over and over- because it provides a different experience every time."
The Galaxy line was designed with two major focuses. First, the structure was designed with a priority on aesthetics.The play system had to be pleasing to look at. Madsen said that one of the great features of Galaxy is that you don't notice it because of its transparency.
"You can put it in Times Square (in New York City) and it will reflect Times Square," he said. "You can put it in a park and it will reflect the park. It doesn't have any panels. You can see through it. From an architectural point of view that is very important."
The second area Madsen mentioned that was considered in the design was the audience.
The Galaxy line is geared toward the needs of 6-12-year-old children-an important group Madsen thinks is underrepresented.
"There isn't very much out there for them," Madsen said. "Most companies just have larger versions of their early childhood structures. At that age, the kids are fed up with tube slides."
And not only does Madsen feel that the Galaxy line will include older kids in play, but he points out that it can accommodate all older kids, despite a disability.
The Galaxy was designed around the principles discussed in the conversations that preceded the Access Board's ruling on playground accessibility. All components are accessible to all people, even those in wheelchairs.
"The future is not to change what is already designed to become more accessible," Madsen said. "You have to design it that way from scratch." So what does Galaxy do for the future of KOMPAN Inc.?
Madsen believes if his company is able to educate the right people, the Galaxy line will turn KOMPAN Inc. into one of the major players in the United States, in both wooden structures and structures made of plastic and metal. "We have to help buyers understand that play is changing," he said. "Kids of today have different needs. If we can convey the message of new needs of a child to the buyers, we will be fine and (Galaxy) should be received very well. We'll be a major player right from early childhood on."