If only a representative from Wrigley's could see this. Like something out of a Doublemint gum commercial, 4-year-old twins Brian and Eric Matthews are shadowing each other around the playground. One minute Brian is sprinting towards the spring rider designed to resemble a stock car and the next, Eric is leading the way up the face of the pseudo-rock wall. They follow each other through tubes, down slides, and up ladders. And when Brian suddenly decides to wear his khaki cap backwards, Eric quickly follows suit and turns his around as well.
The only place the two twins breakaway is on the BigFoot slide. Urged on by their grandfather, Ed Newman, they get ready to race to the bottom ... only Eric fails, on three separate occasions, to wait for grampa's "Go! " signal before taking off. Eric, who one has to assume also beat his brother out of the womb, believes he is the victor each time, of course, while Brian doesn't even seem to care that he's been repeatedly cheated. He continues to smile and laugh just as much as his anxious sibling.
Such is life at a beautiful new playground on a beautiful June day. Finished in late April, the facilities at Eagle Watch Park, in the middle of the Eagle Watch subdivision in Woodstock, Ga., are proving to be a popular draw. While their fathers, and certainly some mothers, are drawn to the magnificence of the ArnoldPalmer-designed Eagle Watch Golf Club, which twists in and around their neighborhood, the kids are experiencing playground nirvana at the park. Contracted by the Eagle Watch Homeowners' Association, Dominica Recreation Products of Longwood, Fla., provided the Game Time equipment for the massive, 7,700-square-foot play area. Nestled in between a swimming pool, basketball and volleyball courts and a wide-open field, the playground couldn't be in a better location. In addition to the main structure, a custom-built piece which boasts four different types of slides, there is a smaller structure for children 2-5 years of age, two sets of swings and three spring riders including the stock car, a motorcycle, and a bumblebee. There's also a sandbox complete with benches where parents can keep an eye on their children while sheltered from the sun.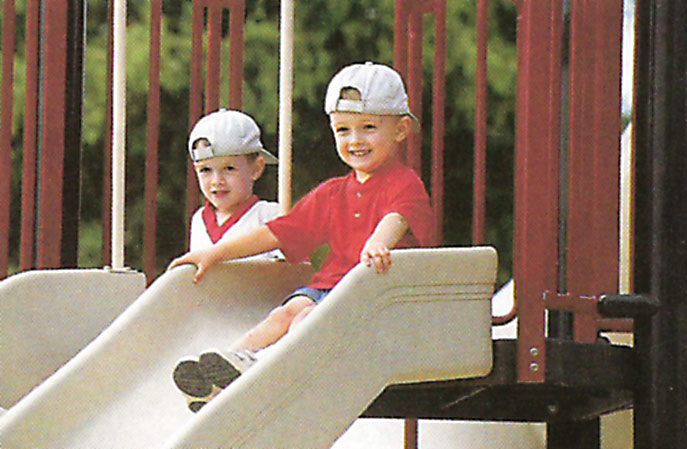 Brian and Eric get set to race down the Bigfoot slide.
"The customer had a specific area, and we gave them as much equipment as we could safely install," says Brad Schick, sales manager at Dominica Recreation Products. "They really weren't sure what they wanted, so we presented them with a couple of options and they chose the ones they thought their children would enjoy the best."
The play structures were put together using GameTime Megaloc system, the company's premier construction method that eliminates the use of collars and, therefore, the guesswork in installation. The main unit, designed for use by children 5-12 years of age, features a center climber, a MegaRock climber (complete with dinosaur fossil on the underside), a Peek-A-Boo- style crawl tube and Alpine slide, as well as two of Game Time's more unique slides. The BigFoot slide comes complete with three distinct types of runs (moguls, waves, and fast rail), while GameTime says it's Cyber Slide is "America's fastest compliant slide chute."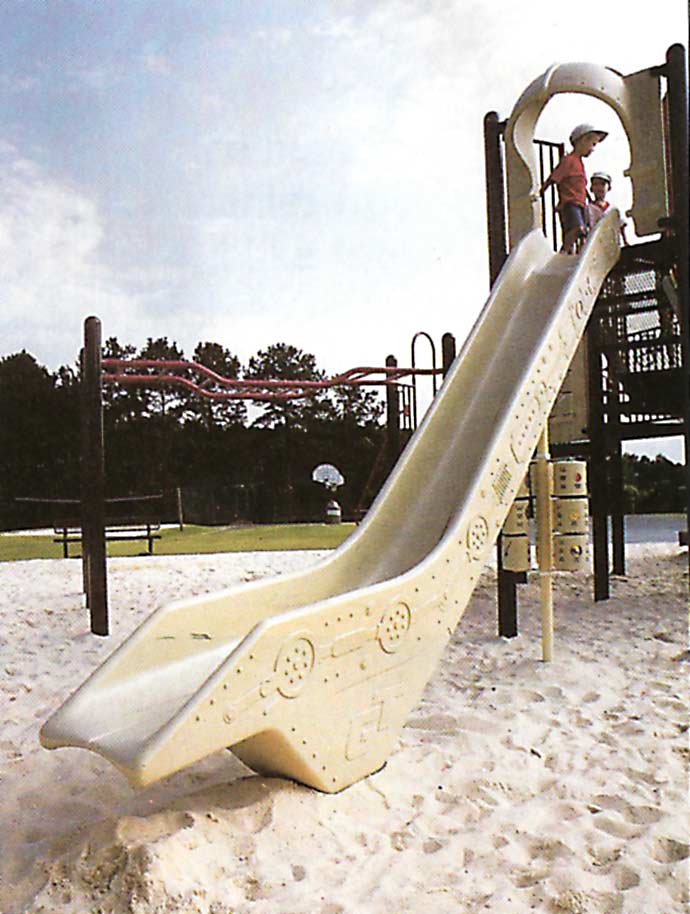 GameTime says its Cyber Slide is the fastest slide in the playground industry.
Against Dominica's advice, the homeowners' association elected to go with a sand surface instead of something which would meet the guidelines of the Americans with Disabilities Act. They did, however, make a good choice in selecting the stock car as a play amenity. Billed by Game Time as being the first ADA accessible spring rider, the play vehicle is easy to get into thanks to a low profile, a completely cutout side and a convenient hand hold.
The association also made certain that the play units came equipped with age-appropriate signs attached to the corresponding decks.
"We advised them that signage is always a good thing," Schick says. " Parents need to understand which unit is for who."
And who wouldn't want their kids to play on this attractive and amusing new playground?